"And yes, a new Mercedes engine comes with increased performance, but when you have a 27km/h closing speed and you have witness marks on the rear wing end plates, that have been marking up from wings that have been flexing, it's very clear to us what has been going on so of course, that's why it's down to the FIA.
"Does our car comply with the rules? Absolutely," he said. "Do we have concerns over the [Mercedes] gains in straight line speed that we've seen since Budapest, but really they've been exponential in the last couple of races? Absolutely."
"But if we feel that to make sure that the car are in compliance, [or] if they're not, you protest if you believe that a competitor isn't complying with the rules.
"Make no bones about it, if we believe the [Mercedes] car is not in compliance, we will protest."
Red Bull were themselves this year accused of using a flexible rear wing before the Azerbaijan GP, with Toto Wolff describing it as a "limbo wing".
"We've been controlled 14 times on this very particular wing," he said today in response to Horner's view. "The FIA has all drawings about it. There is no such thing as Red Bull expects there to be. So we are happy to send it, cut it, can send it if you want to Milton Keynes."
Horner then turned to Wolff and asked: "So how would you explain the score marks on the rear wing?"
"I think it's within what is allowed and therefore, that's OK," was Wolff's reply.
A tense atmosphere in the press conference was only intensified by what what both team bosses had to say about each other, as well as their respective drivers and cars.
"There is no relationship you know, there's a competition," said Horner when asked to comment on relations between the two team bosses.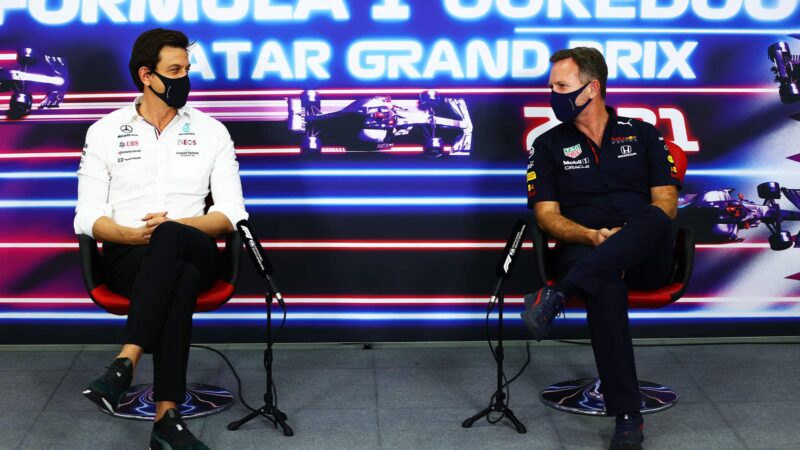 "It was interesting to hear Toto's views of the the sprint race last week on his team radio. It's the first time they've been challenged. It's interesting to see how people react under pressure, how they react when they're challenged.
"It's by far the most intense political title fight we've been involved in in our time in the sport."
"I don't feel pressure and I think I [have] felt pressure in my life at various other points," said Wolff when later queried on his response to the season's stresses and strains. "That is ridiculous compared to what I [have] had in my personal life."
"There is a respect for the capability that Red Bull has, definitely," added Wolff. "And it's clear that this is tough. It's the World Championship of the highest category in motor racing. What started as Olympic boxing went to pro boxing and is now MMA, but that's OK. We are in the ring they're trying to do the best job possible. Elbows are allowed now because the rules say so. And gloves off, and nothing else is to be expected."
"Am I going to be spending Christmas with Toto? Probably not, unless unless you're in panto, I might take the kids this year," added Horner cheekily towards then end of the press conference.