When BT Sport entered the football bidding fray with Sky in 2012, the next four years of broadcasting rights sold for £3bn: a 71% increase from the previous agreement. Come 2015 and that figure leapt to £5.1bn.
No wonder that Liberty has been salivating over this scenario for some time."The more broadcasters you have bidding, the more there is a sense of urgency, the more you can play the one against the other," said Liberty CEO Greg Maffei, last year
"Longer term one of the best upsides in the business is the entry of new, larger digital players who may bid for the sport, and that's only a positive for us."
British F1 broadcast rights have been contested for decades between local players but the battle is now going global. The BBC lost its F1 deal to ITV in 1997 before winning it back in 2009, when the cost to show live races was estimated at £40m per year. By 2019, Sky's new six-year agreement was reported to be worth around £1bn: £167m per season.
Liberty spoke of "untapped opportunities" when it bought the F1 rights from Bernie Ecclestone in a £6.4bn deal in 2017. Its focus on tapping those possibilities and increasing revenues hasn't always been popular, but the interest in broadcast rights shows that it has been successful.
TV audiences have held up through the pandemic and F1 has been making huge gains online, thanks to its personality-led snippets from races, such as funny radio messages; and rapidly served up highlights.
It recorded 4.9bn video views on its app, website and social media channels in 2020 — up by 46% on the previous year, and had 35m followers by the end of last year.
Some of the biggest gains have been in China, and among a younger audience, which has been helped by the success of the Netflix Drive to Survive series.
With this comes new ideas, such as shorter sprint races which require less commitment for viewers, as well as offering new sponsorship opportunities and improving race weekends for attending spectators.
It has all made the sport more accessible, particularly to young fans, essential to racing's future. And sponsors are pleased at the larger, broader audience.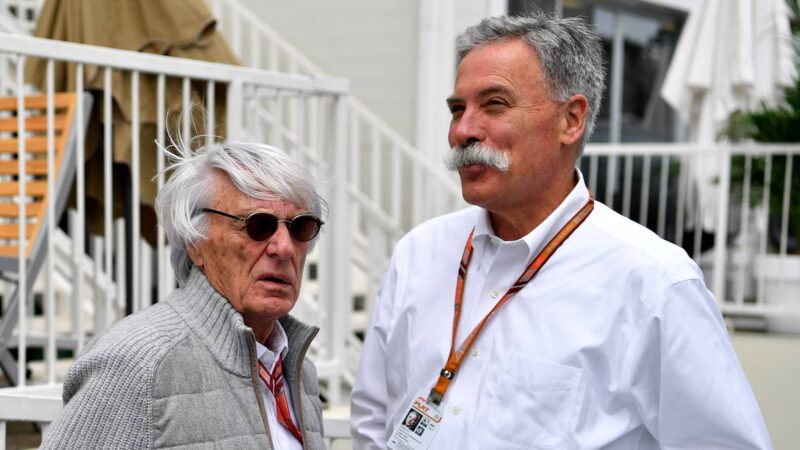 "You see what Netflix has done for Formula 1," says Christoph Grainger-Herr, CEO of the IWC watch company, which sponsors Mercedes. "You see how the average age of fans has gone down. You see how Mercedes has gone from 3.3m to 7.5m Instagram followers.
"Whenever I went to the US before the pandemic, not once did I ever get asked about Formula 1. I went back three weeks ago for the first time since before the pandemic and every single person was asking about Formula 1.
"They've all watched Drive to Survive through the pandemic. That storytelling approach is so important, not just linear TV people talking lap after lap after lap."
There's much more commercialisation to come. DAZN's plan to recoup its broadcast rights fees includes an expansion into online betting as well as charging subscriptions.
F1's commercial partnerships also continue with a £195-per bottle F1 perfume collection; silver Asprey ornaments, including an 18cm car for £16,000; and 8in plastic driver statues costing £110.
The arrival of private equity — in the form of Dorilton Capital buying Williams — will only reinforce the shift. These investors come with a simple goal: to sell the team for (much) more than they bought it for, which will influence how they vote on F1's future.
And with money pouring in from bigger broadcast deals and more sponsorship, F1's new Concorde Agreement, which brings a franchise-type model to the teams, looks set to ensure that their value does grow, bringing them to the attention of even more investors.
It may be light years away from the sport you fell in love with but there's no point shouting into the wind. F1's commercial rights have been sold on and the owners are set on a return on their investment.