Fernando Alonso's greatest drive - the 2012 European Grand Prix
On two-time Formula 1 champion and Le Mans winner Fernando Alonso's birthday, we look back to 2012 and likely his finest drive, at home on Valencia's street track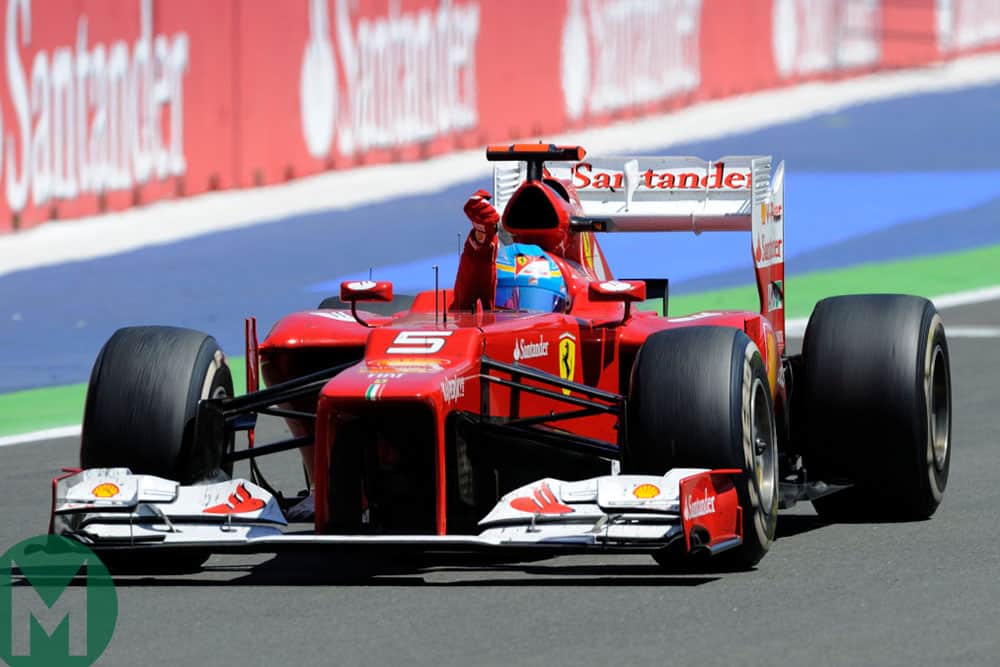 Fernando Alonso celebrates victory in the 2012 European Grand Prix at Valencia Photo: Motorsport Images
"In terms of what he did with what he had, Alonso's campaign will stand among the very greatest, by any driver, ever."
So said Nigel Roebuck of Fernando Alonso when reviewing the 2012 Formula 1 season for Motor Sport. And it's hard to argue.
It was a campaign which Alonso ended three points shy of the world championship, in a recalcitrant Ferrari not nearly up to the task. At no round was the red car the class of the field; nor even all that close to it. Roebuck descried it as "middling".
"In 20 races there were 13 podiums and – while necessarily on the edge – very few mistakes," Roebuck continued. "He is simply the best driver in the world right now, end of story."
Alonso's relentlessness does not prevent his daring to dream. What if he pushed like hell?
And his drive in Valencia was that season's crowning glory. Indeed likely it's Alonso's crowning glory from any year,
It's fair to say Paul Fearnley was impressed. "How good was Fernando Alonso in Valencia. (No question mark required.)," he wrote for Motor Sport at the time.
"As capable as the current Formula 1 crop is, only he is capable of 'If you go there, he'll go there and I'll go here' performances.
"Only he has the sufficient spare capacity to monitor and assess rivals' tactics and strategies while keeping track of and/or amending his own. Yes, he rode his luck. But one knew from the moment he conjured gaps at the start that Alonso was going to be a major factor."
---
More: Beneath Alonso's team-mate dominance
---
And as with many great drives it faced long odds. Alonso, after a super-tight qualifying session, started just 11th, albeit with a best time only 0.6sec from the pole.
It faced long odds also in a more general sense. The Valencia street track, used since 2008, was considered certain for dull-as-ditchwater fare. And it absolutely wasn't thought a place to do much overtaking. But on this visit, which was F1's last, the place more than made up the shortfall.
Alonso's race even started sedately. Granted he'd jumped to eighth on lap one, but there he sat behind Nico Hülkenberg's Force India for several laps, only passing on lap 12.
It was after his first stop on lap 16 that he really came to life. "Alonso's relentlessness does not prevent his daring to dream," Fearnley continued. "What if he pushed like hell? And so – once more on softs – he continued to drive like an angel. Mark Webber. Michael Schumacher. Bruno Senna. Consecutive laps. Consecutive zaps! No mercy for nursers of decaying Pirelli carcasses."
All of a sudden he was fourth, though the gaps ahead remained large – about 6sec to Lewis Hamilton's McLaren in third, approaching a further 10sec to Romain Grosjean's fine-driven Lotus in second, then another 20 to leader Sebastian Vettel in his Red Bull. Vettel indeed had streaked away from pole and had the race apparently in the palm of his hand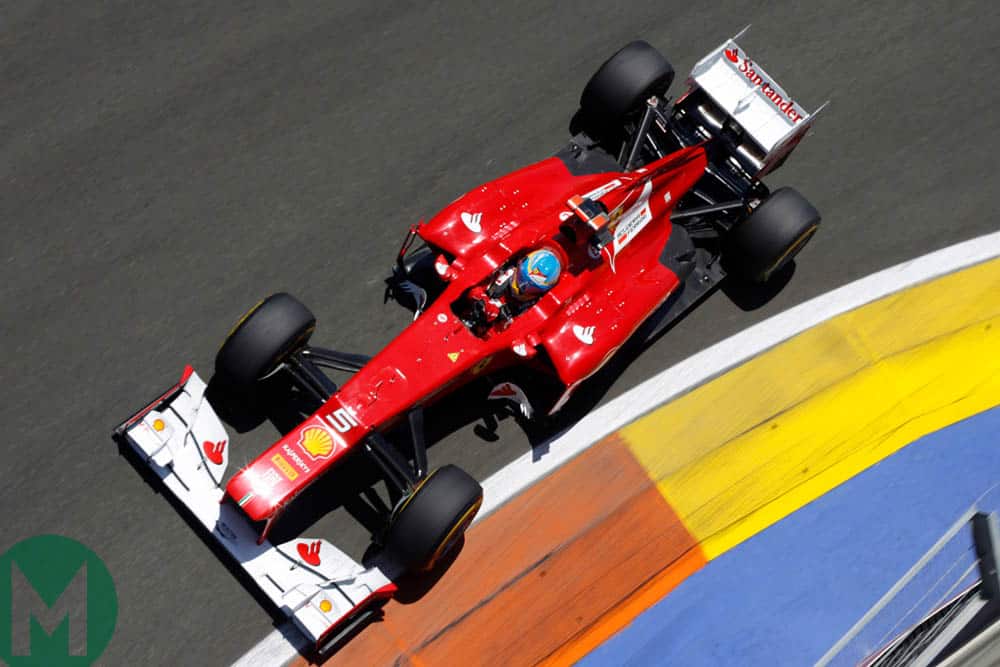 Alonso presses on in his Ferrari Photo: Motorsport Images
Then matters changed again. At half distance Jean-Éric Vergne's Toro Rosso swiped at Heikki Kovalainen's Caterham, then post-contact scattered Vergne carbon fibre over much of the track. A safety car. The gaps were zeroed. And everyone pitted again.
And Alonso got another spot, as McLaren botched Hamilton's stop – one of a long line of Woking fumbles that season.
Alonso was now third, and at the restart it immediately became second, with a brilliant ambush pass of Grosjean around the outside of the first turn. The noise from the assembled hordes for their compatriot was audible, and almost immediately the cheers got even louder as – amazingly – Vettel was slowing. His alternator had failed and he was done for the day.
Grosjean remained though on the tail of new-leader Alonso and likely had the faster package – certainly the Lotus had other-worldly tyre-handling capabilities. These were vital anyway with that season's gumball Pirellis, and would be especially so with the extended stint to this race's end in the sapping Valencia heat.
But as if to show what happens when things are going for you, Grosjean dropped out not long afterwards too. Another alternator…
---
More: Gil de Ferran: 'Alonso is one of the best drivers who's ever lived'
---
This left Alonso performing a delicate tightrope walk to the end, eking out the highly limited resource of his tyres while keeping the rest at arm's length. This of course he did supremely.
It was round eight and he was the year's first double race winner. Changed days. He took the title lead with it, and wouldn't relinquish it until the midst of autumn.
Alonso indeed rode his luck in Valencia, as Fearnley noted. But you know what they say about making your luck.
And perhaps in an even greater triumph in the notoriously-impassive Alonso on the podium showed he was human too.
"Valencia roared when Vettel's Red Bull sighed then died," Fearnley added, "and roared again as its red matador soaked up the adulation that his drive – the best of his 29 wins – deserved. I've seen Alonso's top lip curl, and pout to the point of pettiness, but I can't recall it trembling before. Emotional scenes."
---
2012 European Grand Prix Report
---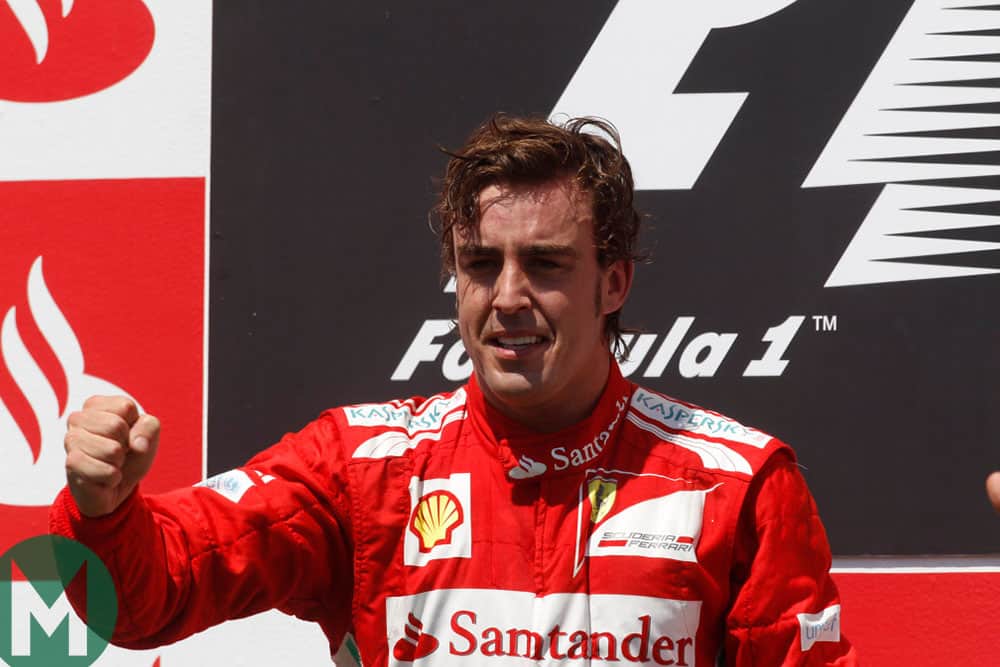 An emotional Alonso on the podium as he's cheered by his home fans Photo: Motorsport Images