Despite chalking up 11 wins and almost winning the driver's title for the Scuderia, the Brazilian found himself a victim of the team's internal politics.
"They were part of the mentality, especially with Michael," he says. "It was impossible to fight against the politics.
"Michael had the team in his pocket. They were a team that said 'We are here to win, and we are here to support the driver that we need to support.' And definitely Michael deserved it, because he was an amazing driver."
Massa said that the atmosphere changed when the more relaxed Kimi Räikkönen became his team-mate.
"The team was completely open for both drivers," he says In 2007 we had a deal that until Spa-Francorchamps we were free to fight, after that race we would decide who was the number one driver.
"Actually in the race before, at Monza, I was in front in the championship ahead of Kimi. I was ahead of him (during that race) then had to retire.
"Then we went to Spa, I was two points behind, I was supposed to be eight points in front. I was a bit unlucky with that situation."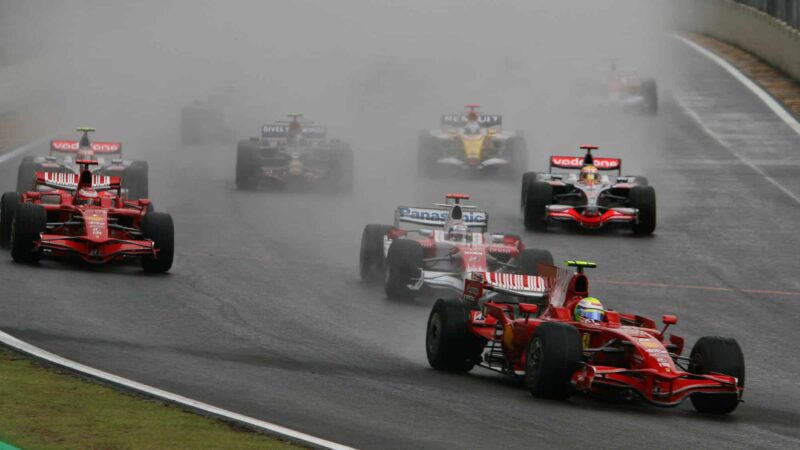 Massa respected his team's wishes, and implies that this fairer attitude paid dividends for him the following season.
"Also in 2008 the team was completely open – that year I fought the championship."
It wasn't to last. When he returned to the team after his 2009 accident, where he suffered a skull fracture when his helmet was hit by a loose suspension spring, he found himself sharing a pit garage with Fernando Alonso.
"Things changed a little bit – the politics started to go back to how it was when Michael was there. It was so difficult to fight against the politics, against what the team put in the papers even before the championship starts.
"Now it's difficult for me to say if it's like that [now at Ferrari] because I'm not working for the team. But I think it was part of the mentality of the team to have strong politics inside the team."