Lap 5 brought the restart and no major position changes at the front — not from a lack of effort on Leclerc's front. He was harrying Norris from the off, as the Red Bulls began disappearing onto the distance; Verstappen more than 3sec ahead of Norris by the start of lap 6
Fernando Alonso was slipping back through the field with sidepod damage from the Schumacher impact. He lost eighth position to Sebastian Vettel and bodywork flew off as he was being passed by Lewis Hamilton. He pitted into retirement on lap 7.
Charles Leclerc made the move on Norris, going into Tamburello on lap 8, already 3sec behind Perez and 6sec ahead of Verstappen.
George Russell was looking to move up further on lap 11, looming large in fifth-placed Magnussen's mirrors. After a lap of ducking and weaving, the Mercedes raced ahead in the Tamburello braking zone on lap 12, but overshot the left-hander and Magnussen reclaimed the lead. But there was no response in the run-up to Variante Alta later in the lap: Russell pulled alongside, on the inside and was past.
Magnussen's slide down the rankings continued on lap 14, as Bottas overhauled him on the run to Rivazza, claiming the inside line and sixth place.
Lap 15, Verstappen complained of sliding, but was now 6.5sec ahead of Perez, who was slowly being caught by Leclerc — now 1.2sec behind.
Yuki Tsunoda's ninth place was being eyed by the following Lance Stroll and Lewis Hamilton on lap 16, the trio running on behind the other but with apparently little prospect of getting past.
Daniel Ricciardo was the first to jump to slicks on lap 17, despite more light rain being predicted.
Asked his thoughts on changing to slicks, Hamilton said: "It's still too early".
But as Ricciardo started setting personal best times on medium tyres, the cars flooded in. Gasly switched on lap 18, as did Vettel and Albon.
Lap 19 brought Perez in from second, along with the majority of the grid — Verstappen and Leclerc were among those who remained out for a further lap.
Amid the hubbub, Esteban Ocon was released into the path of Lewis Hamilton and the pair made slight contact, with Ocon retaining the advantage, although a 5sec penalty imposed by the stewards would later be imposed on the Alpine driver.
Esteban Ocon has been handed a five-second time penalty for an unsafe release 👇 https://t.co/C5ilFnlpIA

— Sky Sports F1 (@SkySportsF1) April 24, 2022
A problem with Bottas's front right cost the Alfa Romeo driver several seconds, but he retained sixth.
By lap 20, everyone had switched to slicks, leaving Max Verstappen in the lead but Perez sitting third after a slow warm-up lap.
But his older, warmer tyres were more than a match for Leclerc's and he re-took second place.
He wouldn't be comfortable for long. By lap 23, Leclerc was right underneath his rear wing, the continued lack of DRS seemingly the only factor that was preventing him from going past.
Back in midfield, Tsunoda was now at the head of a longer train of cars, the ninth-placed AlphaTauri barely ahead of Stroll, Ocon, Albon and Gasly. Following these cars, with less than a second between each, was Hamilton languishing in 14th.
By lap 27, impatience was starting to tell, as Lance Stroll challenged Tsunoda, before then being attacked by Ocon but there was no change in order, with Hamilton also unable to find a way past Gasly.
Perez was lucky to hold on to second after a trip across the grass at Variante Alta, but Leclerc still couldn't find a way through despite closing up.
Sergio Perez had a little moment at the chicane 👀

He's still keeping Charles Leclerc behind him, with his Red Bull teammate Max Verstappen still out in front 👇 pic.twitter.com/XGS9WTIvi8

— Sky Sports F1 (@SkySportsF1) April 24, 2022
Lap 30 saw Verstappen start to lap the backmarkers. The Red Bull was 9.5sec ahead of Perez, who had successful resisted Leclerc's Ferrari, which was running 1.5sec behind.
Those three looked to have wrapped up the podium places, with Norris 14.5sec behind Leclerc and Russell 6.5sec further back — his balance affected after a problem adjusting his front wing flap during his pitstop.
DRS was enabled on lap 34, but it brought little relief for Hamilton, less than a second behind Gasly, as the Alpha Tauri was also within a second of Albon ahead, and got the low drag benefit too.
He was still there on lap 40 when he was shown the blue flags for the charging Verstappen, who lapped last year's title rival, with a 12sec lead.
🗣️"Ouch, that is going to hurt"

Max Verstappen laps Lewis Hamilton in Imola 👇 pic.twitter.com/ed1NirB3Xv

— Sky Sports F1 (@SkySportsF1) April 24, 2022
DRS also appeared to come too late for Leclerc who could have done with some more assistance when Perez went off earlier. "Plan D, how does it look?" asked Leclerc on lap 44 as he remained in third, 3sec behind Perez. "Not good. Stay out until the end," was the response.
Further back, Lewis Hamilton also seemed to be stranded in 14th despite closing right up to Gasly on the approach to Tamburello, on both lap 45 and lap 46, he could not find a way past.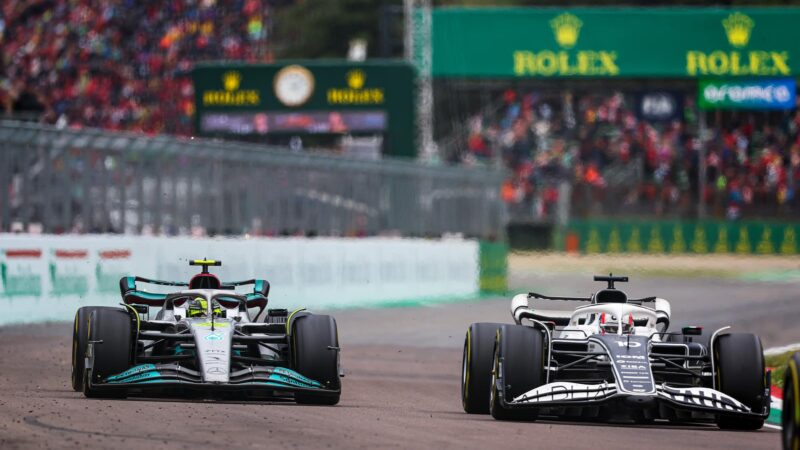 Leclerc pitted again on lap 50 for the soft tyre, in what may have been Plan D. It dropped him behind Norris and put him 45sec behind Verstappen, but Red Bull covered the move by pitting Perez, who remained second when he emerged on soft tyres on lap 51.
It didn't take long for Leclerc to pass Norris on the same lap, and his pace saw him close 5sec on Verstappen. The reigning champion was brought in for soft tyres on lap 52, coming out 13sec ahead of Perez who faced a charging Leclerc just 0.7sec behind.
Setting the fastest lap, the Ferrari driver looked to have the bit between his teeth, but he pushed too far on lap 54, clattering over the yellow sausage kerb at Variante Alta and span into the wall.
"I was too greedy and paid the price," admitted Leclerc.
Despite front wing damage, Leclerc rejoined but pitted for a new nose, dropping him to ninth, behind Kevin Magnussen, who he rapidly dispatched.
"It's all gone horribly wrong for Ferrari!"

Charles Leclerc spins into the barrier but manages to keep the car going and Lando Norris is up into the podium places! 😮 pic.twitter.com/2HzI5ukoLM

— Sky Sports F1 (@SkySportsF1) April 24, 2022
Further ahead, Tsunoda, who was no longer holding cars up behind him, passed Vettel on lap 55 to move into sixth.
Ahead of the AlphaTauri was Bottas, in search of the fourth place occupied by his Mercedes replacement Russell. The Finn feinted a move into Tamburello on lap 60 but remained behind.
Leclerc continued his recovery by passing Vettel at the same spot, then set about closing the 3sec gap to Tsunoda, going past on lap 62.
Verstappen reported a few drops of rain on the same lap, but nothing was going to prevent him taking the chequered flag with a commanding win that cut his deficit in the championship from 46 to 27 points.
Hamilton finally made progress after the flag: when Ocon's penalty for his unsafe pit release was applied, the Alpine driver moved down to 14th, promoting Albon to 11th, with Gasly and Hamilton also moving up a position.
2022 Emilia Romagna Grand Prix results
| | | | | |
| --- | --- | --- | --- | --- |
| Position | Driver | Team | Time | Points |
| 1 | Max Verstappen | Red Bull | 1hr 32min 07.986sec | 26* |
| 2 | Sergio Perez | Red Bull | +16.527sec | 18 |
| 3 | Lando Norris | McLaren | +34.834sec | 15 |
| 4 | George Russell | Mercedes | +42.506sec | 12 |
| 5 | Valtteri Bottas | Alfa Romeo | +43.181sec | 10 |
| 6 | Charles Leclerc | Ferrari | +56.072sec | 8 |
| 7 | Yuki Tsunoda | AlphaTauri | +1min 01.110sec | 6 |
| 8 | Sebastian Vettel | Aston Martin | +1min 10.892sec | 4 |
| 9 | Kevin Magnussen | Haas | +1min 15.260sec | 2 |
| 10 | Lance Stroll | Aston Martin | +1 lap | 1 |
| 11 | Alex Albon | Williams | +1 lap | |
| 12 | Pierre Gasly | AlphaTauri | +1 lap | |
| 13 | Lewis Hamilton | Mercedes | +1 lap | |
| 14 | Esteban Ocon | Alpine | +1 lap** | |
| 15 | Zhou Guanyu | Alfa Romeo | +1 lap | |
| 16 | Nicholas Latifi | Williams | +1 lap | |
| 17 | Mick Schumacher | Haas | +1 lap | |
| 18 | Daniel Ricciardo | McLaren | +1 lap | |
| 19 | Fernando Alonso | Alpine | DNF | |
| 20 | Carlos Sainz | Ferrari | DNF | |
*Includes additional point for fastest lap
** 5sec penalty applied after the finish