Glory, guts... and rain: magic moments from the British Grand Prix
With the latest Formula 1 British Grand Prix taking place this weekend we look back at some memorable moments from the race's long history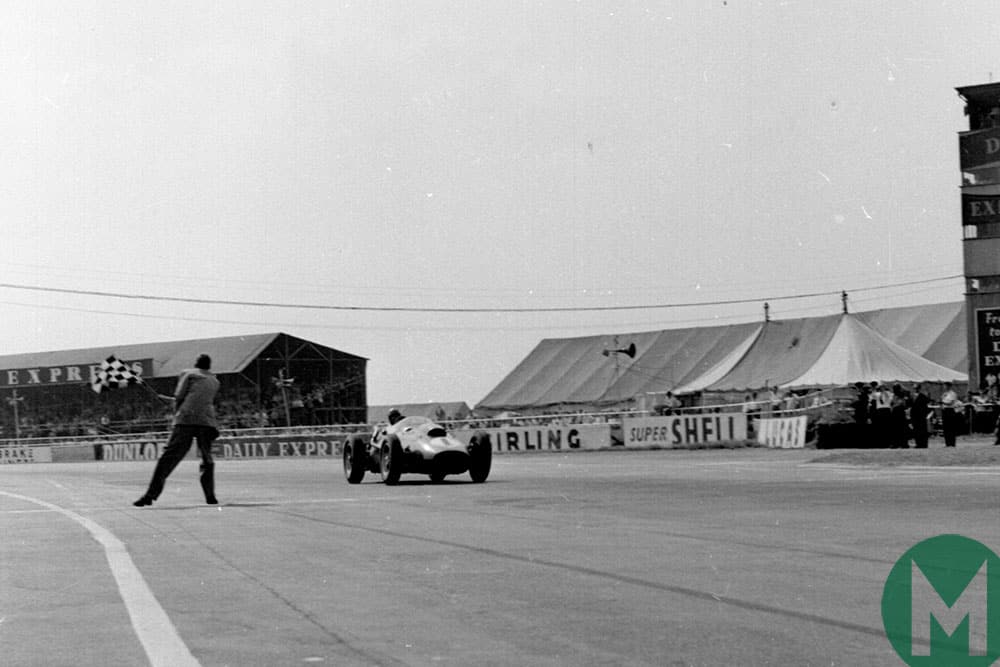 Peter Collins' Ferrari takes the flag in the 1958 British Grand Prix Photo: Motorsport Images
1958 – Collins confounds the Commendatore
Heading into the 1958 British Grand Prix at Silverstone few expected much of Peter Collins. Least of all his boss.
Collins was once the Commedatore Enzo Ferrari's darling, almost a surrogate son, but the relationship was now sour. Enzo disapproved it seems of Collins' marriage to Louise King. Then the suggestion floated around Maranello that Collins with team-mate and friend Mike Hawthorn deliberately wrecked a clutch at Le Mans so they could knock off early.
Collins [was] driving with that spirited air of full-opposite-lock that he enjoys so much, and which recently seemed to have gone from his driving
Likely the suggestion was nonsense, but the Commendatore believed it. At the French Grand Prix Collins was humiliated; demoted to take part solely in the F2 support race, and only reinstated only after a dramatic ultimatum by championship-contending Hawthorn.
And – related or not – it was followed swiftly by Collins' greatest victory, at Silverstone in the next round. Practice running suggested his tepid form was continuing, as Collins qualified only sixth. But on race day somehow he summoned extraordinary speed, passing habitual pacesetter Stirling Moss in the Vanwall by Becketts, and leading the rest of the way.
"Once out in the front he really motor-raced in a big way, and though Moss had the Vanwall in full-lock slides round many of the corners and was driving as hard as he knew how, he could make no impression on the leading Ferrari," Denis Jenkinson noted admiringly in his Motor Sport report.
"Collins had led for the entire 75 laps and done a real job of work, driving with that spirited air of full-opposite-lock that he enjoys so much, and which recently seemed to have gone from his driving."
Some though, witnessing Collins' abandon, feared for him. And the fears sadly were justified as Collins was killed in a German Grand Prix accident at the Nürburgring just two weeks later.
1968 – Rob Walker's private party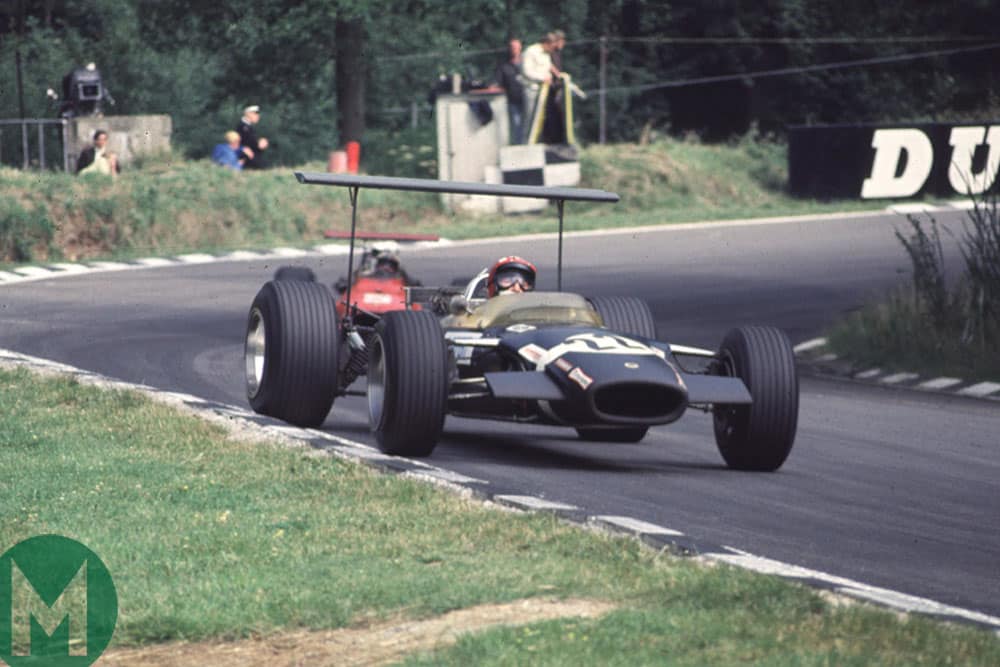 Jo Siffert in the Rob Walker-entered Lotus 49B leads Chris Amon's Ferrari in the 1968 British Grand Prix Photo: Motorsport Images
By 1968, Rob Walker's popular private team had not won an F1 race since 1961, when Stirling Moss triumphed at the Nürburgring.
And this wasn't the only reason why British Grand Prix victory at Brands Hatch looked unlikely. Walker had purchased a class-leading Lotus 49B earlier in the year, only for his driver, Jo Siffert, to smash it up almost immediately in the Race of Champions. Then to make matters worse Walker's race shop was destroyed by fire the next day.
Only a frantic 11th hour effort got a replacement 49B ready for the British Grand Prix at the very same Kent circuit; indeed they missed the first 90 minutes of practice.
Still it looked worth it as the 49B was the thing to have. The two works Lotuses filled the first two starting places, Graham Hill ahead of Jackie Oliver. Tenacious Chris Amon's Ferrari was third, with Siffert starting fourth.
The red-and-gold Lotuses cleared off in the race, but then faltered. Hill dropped out with a broken driveshaft and suspension then Oliver, whose car trailed smoke for several laps, had his transmission cry enough. And just at that moment Siffert sneaked ahead of Amon to lead. Then stayed there.
"Being in the lead, Siffert made quite sure that he left no opening on any of the corners, and though Amon followed him like a shadow there was nothing to do but follow," Jenks observed in his Motor Sport report.
"I felt it was our greatest grand prix win ever," Walker told Motor Sport. "After that terrible Brands Hatch meeting only a few months before when everything seemed to be wiped out, I thought I would have to give up racing. Now the whole thing turned round and I'd won the greatest grand prix I could hope for."
It was a highly popular victory for driver and team, with the only note of bitterness being that Amon missed out. The New Zealander, infamously, would never win a Formula 1 world championship race. It also proved to be F1's final privateer victory.
1975 – Fittipaldi walks on water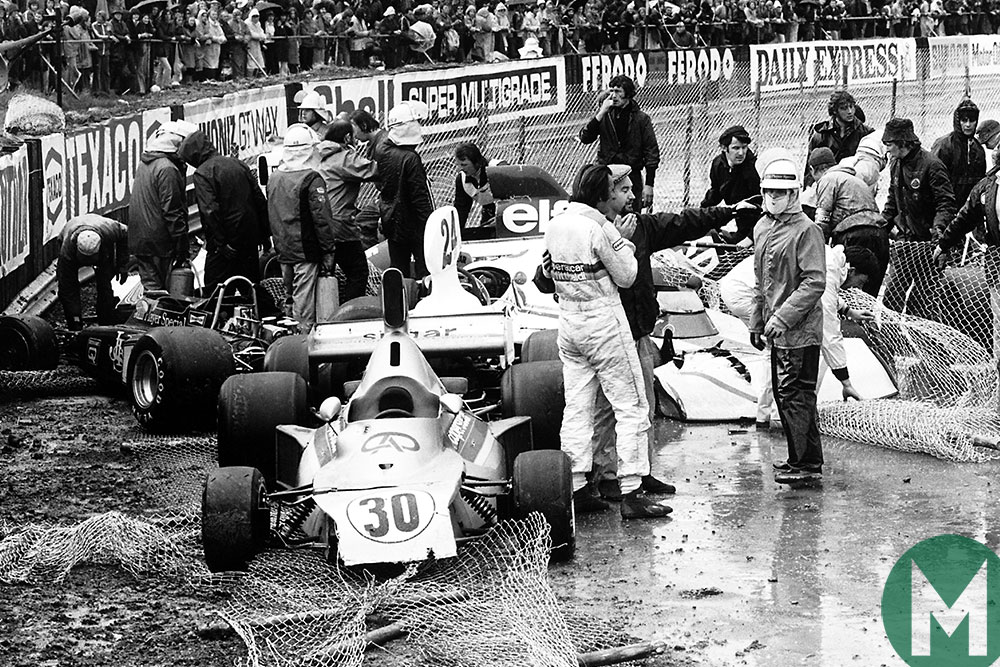 Crashed cars pile up at a very wet Club corner late in the 1975 British Grand Prix Photo: Motorsport Images
Another perennial of the British Grand Prix, indeed of the British summer, is the weather's vagaries. And rarely can it have impacted a race as acutely as at Silverstone in 1975.
Relative to what came next, the race started sedately. Tom Pryce took his only pole in the Shadow; Carlos Pace's Brabham led off the line, then Clay Regazzoni's Ferrari moved past both in the early laps.
Then the first of the rain arrived. It accounted in effect for Regazzoni, who bent his rear wing on a barrier after a slide, then definitively accounted for new leader Pryce who left the track in a big way. It also accounted in effect for the Ferrari of Niki Lauda – who dominated much of that summer – as he pitted for wets but departed with a wheel not attached.
Pitstops became the thing even more than you might expect, as in those days they took much longer, so decisions about whether or not to stop were particularly weighty.
And reigning champion Emerson Fittipaldi got them right. First he chose not to pit when the rain first came down and the track was saturated. The likes of Jody Scheckter in the Tyrrell did, and while he was able on his wets to catch, pass and pull away from the Fittipaldi eventually, but then the track was good for slicks again. Scheckter had to return to the pits and dropped to sixth.
Fittipaldi then moved past James Hunt's Hesketh, hobbled with a broken exhaust, to lead. But just as that looked that, the rain – likely inevitably – had the final say.
More arrived, and first dumped itself in vast quantities on Club corner, so that it had a river running across it.
And Fittipaldi made his second inspired call of the race, now pitting for wets. And as he did so the whole field it seemed was flying off at Club corner, including the cars placed second to fifth. The race swiftly was stopped and not restarted. And while there was some confusion about the order, there was no doubt about the victor.
---
More: Watch Rindt and Stewart's greatest F1 battle
---
1986 – Making plans for Nigel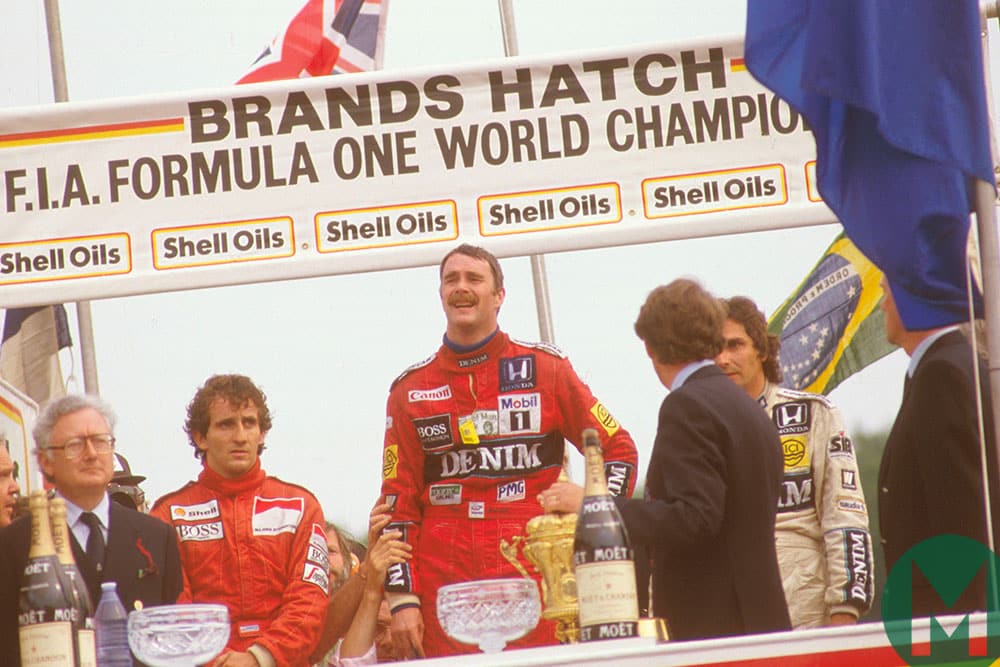 Nigel Mansell, Williams team-mate Nelson Piquet and McLaren's Alain Prost on the 1986 British Grand Prix podium Photo: Motorsport Images
If the weather is synonymous with the British Grand Prix, for a time it was challenged and likely surpassed in word association tests by 'Mansell Mania'.
Likely no British driver has captured the local imagination like Nigel Mansell. And his record at home became imperious. His first British Grand Prix win of four came in 1986, the final one at Brands Hatch.
Mansell's F1 existence was a slow burner. At the start of the '86 season his reputation was rather that of a mediocre trier. But entering Brands he'd won three of the previous four grands prix. Frantic reassessments were taking place.
And simultaneously Mansell Mania was quickly taking root. "With British sport needing a hero at present, Nigel has been given a great deal of attention in the mass media and it has fuelled his confidence," observed Mike Lawrence in his Motor Sport report.
"National newspapers fell over themselves to give prominence to the British Grand Prix, the sport has never received so much attention in the popular press. It all added up to a crowd of well over 100,000 and, perhaps more significantly, a crowd of at least 50,000 for the second day of practice.
"The majority were rooting for Mansell and Williams and the normally taciturn Brits have discovered the tifosi spirit."
And at Brands Mansell won yet again, with little room for mitigation. As he beat his two-time champion team-mate Nelson Piquet in a straight fight, and in a spare car borrowed from, and set up by, Piquet as Mansell's own had a driveshaft break at the first abortive start.
"We all know that Nelson Piquet is one of the very best drivers, a thoroughbred, and dear old Nigel is a plodder, a big-hearted Shire horse who does everything by grit and will power," Lawrence continued. "It's perhaps time that we revised that opinion."
---
More: Roebuck's greatest Silverstone moments
---
1995 – Herbert's luck comes in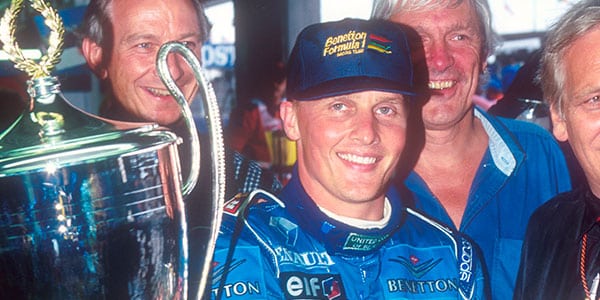 Johnny Herbert's Benetton takes the flag in the 1995 British Grand Prix Photo: Motorsport Images
This was a win that, in Motor Sport's words, "exorcised years of anguish".
Less than seven years previously the prodigious Johnny Herbert had been told he'd never race again after a horrific Brands Hatch F3000 shunt. It was a smash so great that Herbert's initial thought was that he'd lost his legs. Not quite, but his injuries remained fearsome.
His intervening years consisted mainly of struggle. He'd got into F1 ahead of time, in 1989, and even scored points on his debut, but it was by Herbert's eventual admission all too soon for his recovering limbs and he was soon dropped. He fought back though and by 1991 was back full-time in F1, this time with Lotus.
He did well there, but come 1994 the famous old team was flailing financially and threatening to drag Herbert down with it. "We were struggling and he was becoming quite dejected towards the end at Lotus," team stalwart Bob Dance admitted.
Still for 1995 Herbert was picked up by Benetton and, while it was an improvement, being Michael Schumacher's number two was rather a graveyard shift. But at Silverstone for the British Grand Prix Herbert's luck, at last, went some way to rebalance itself.
Damon Hill drove into the side of Schumacher when contesting the lead, removing both of them. This thrust Herbert into first, but with Hill's Williams team-mate David Coulthard right behind.
Coulthard indeed got by, but only shortly after he'd been told he faced a drive through penalty for pitlane speeding. This left Herbert set fair.
"The flags were all waving, and it was so, so nice," Herbert said of the moment he took the flag. "The thoughts of the last six or seven years drifted back. All that came over me on the in-lap."