Goin' up, goin' down: 2021 Dutch Grand Prix
The Flying Dutchman put on a show-stopping performance with his eyes almost closed, but what about the rest of the field fighting by the beaches?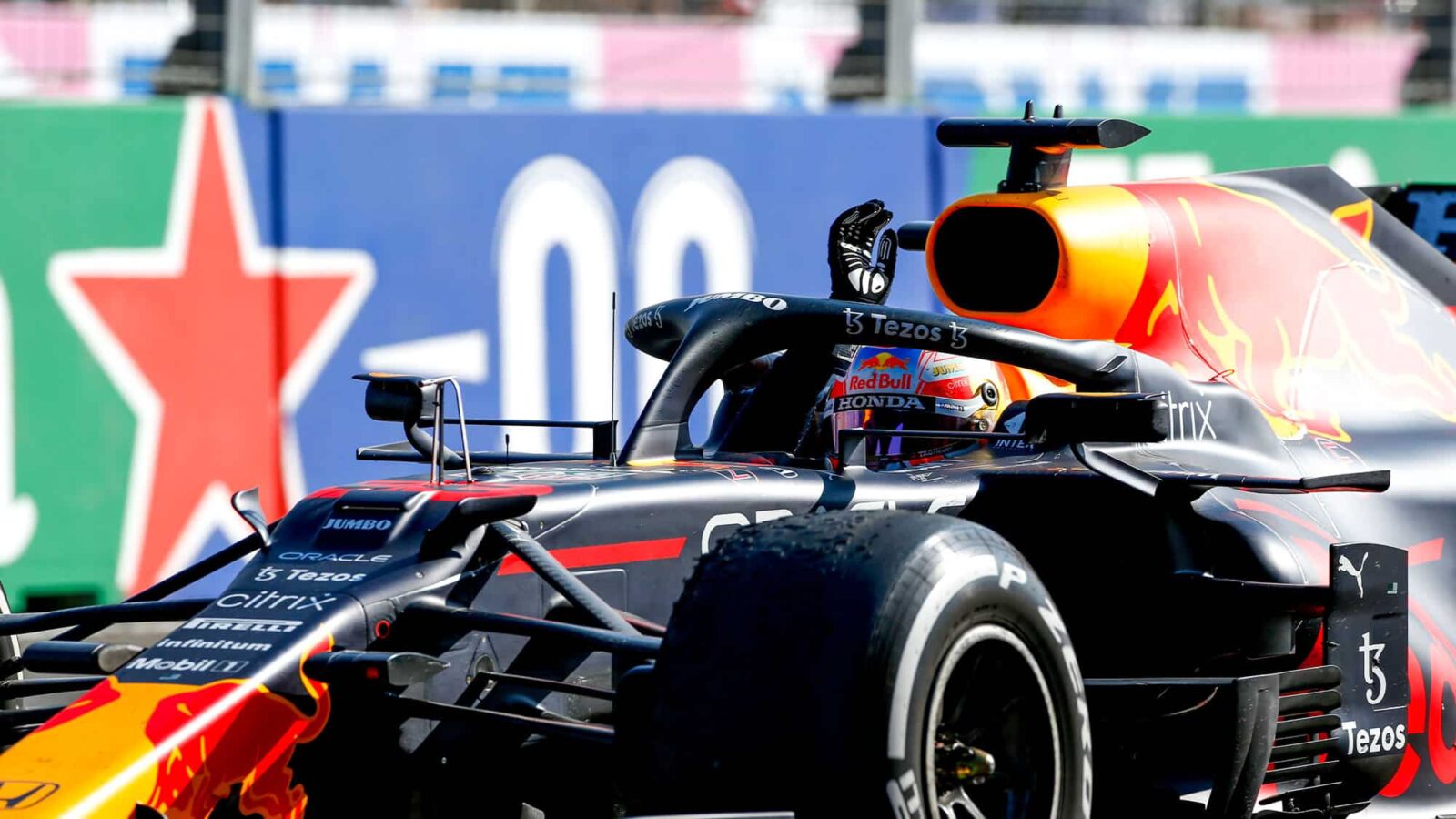 The Dutch darling stole the show on track – was it ever going to be any other way? A high downforce circuit meant the Red Bull was the perfect chariot to bring home a win in a gladiatorial arena that is Zandvoort.
Disaster for Gio, 'Nando going full Wall of Death, Vettel getting one step closer to bee-keeping – here's what was going up and down at the first Dutch Grand Prix for 36 years.
Perez our saviour
Where would we have been without dear old Sergio Perez? He might have been knocked out in Q1, then attempted to do an impression of a dark satanic mill as he locked his front right C2, but thereafter proceeded to slice through the field like a hot knife through Queso Fresco.
Round the outside of Turn One, both sides of the chicane, anywhere else he fancied – the newly-tyred Mexican was on a mission as he looked to make up for a lacklustre showing thus far in the weekend – eventually finishing eighth.
Overtaking might have been at premium for some, but not Checo, whose lunging hither and thither to kept us entertained throughout the race.
Oranje Boom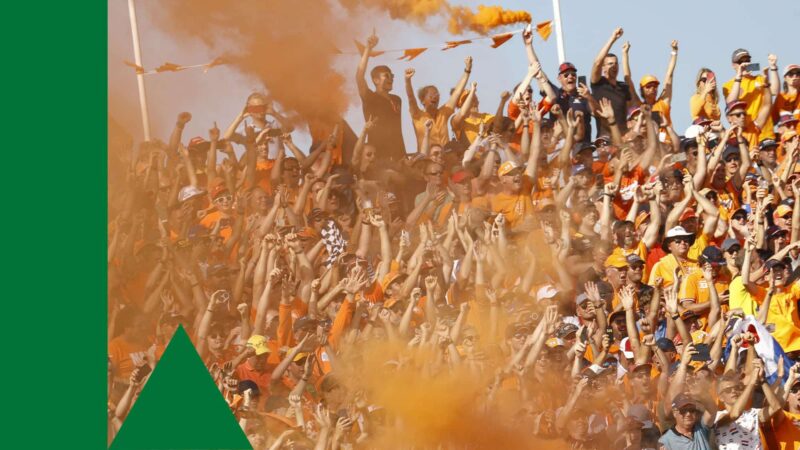 What the on-track action action may have slightly lacked was made up for in atmosphere by Max's adoring Oranje Army.
Call it Oranjekoorts, dub it Oranjegekte, the whole of the stadium-like Zandvoort rocked in support for its hero straight out of Gladiator, Max Verstappen.
You almost expected Joaquin Phoenix to appear on the podium to give a thumbs up/thumbs down, with Oliver Reed cackling on the sidelines.
Smoke from flares swirling round the track only upped the ante, and though you slightly worried they might delay the race due to lack of visibility, there's unlikely to be an atmosphere like this anywhere else on the F1 circuit this season.
Indy-spec Alonso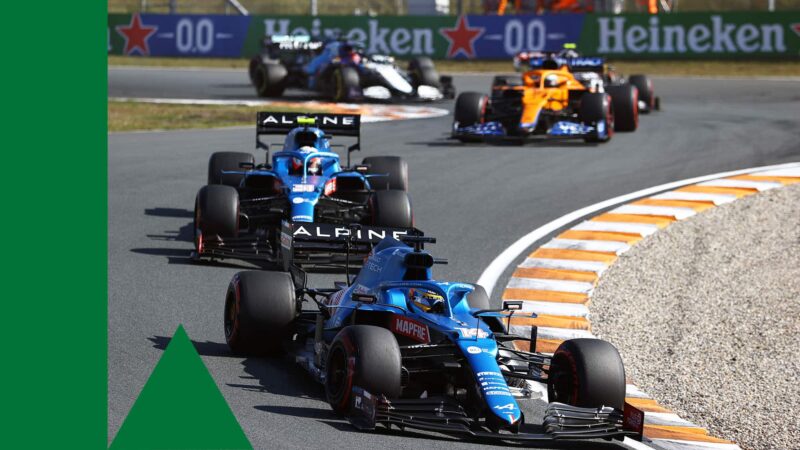 A trio of Indianapolis 500 appearances clearly came in handy for 'Nando, as he pulled off yet another incredible first-lap set of overtakes. Should we even have been surprised?
The Spaniard went full 'Wall of Death', ringing the outside of the banked Turn Five to slingshot himself from ninth on the grid to seventh – scraping wheels with team-mate Esteban Ocon then almost losing his bucking bronco of an A521 before getting it back under control. Thrilling stuff.
Absolutely Gassed
One of the current continuing redemption stories of the season is of course Pierre Gasly. A man who looked all at sea on the not-so-good-for him ship Red Bull two seasons ago is now one of grand prix racing's ultimate swashbucklers. Nothing seems to faze him, the Rouen native having speed and chutzpah in spades.
The race on the beaches was simply a breeze for AlphaTauri's main man. He qualified fourth, he finished fourth, single-handedly seeing off the Scuderia pair and both Alpines.
Goin' down
Giovinazzi's curse
Antonio Giovinazzi clearly thought it was time to get a move-on amid rumours of him becoming Formula 1 flotsam floated around the paddock.
The affable Italian took Alfa's best-ever qualifying position in the turbo-era by lining up seventh, and looked feisty on the first lap, briefly in sixth.
However, it all went downhill from there. He was 10th at the end of lap 1, then a poor pit stop put him further down the order, before a flat-tyre punctured what was looking like a promising performance.
It just never seems to go right for Gio, and after three years of toil, it looks like his time in grand prix racing might just be up.
Woking woes
Unable to get a clear run in qualifying, Lando Norris found himself 13th on the starting the grid for the Dutch GP – the first time he hasn't made Q3 all season.
Don't worry though, they had seven-time grand prix winner Daniel Ricciardo to help save the day – or maybe not. He wheezed to 10th in qualifying, but his car suffered a mechanical nose bleed from reaching such heady heights, spewing smoke and flecks of oil onto the track at the start of the race.
It was all the Australian could do to hold off George Russell before facilitating a solitary point for Norris, who commendably made a humongous first stint work to at least score for his team.
The Macca has now lost third to Ferrari in the constructors race – Bruce would not be amused.
Slight lack of overtaking spots
It wasn't quite Monaco, but overtaking wasn't easy at Zandvoort. Hopefully next year's smaller cars, less hampered by dirty air, might be able to find one or two sports to nip past each other and make the 2022 Dutch GP marginally less processional.
Going green
Not a great weekend for Aston Martin. Its favoured son Lance Stroll started 12th, finished 12th.
Sebastian Vettel began in 17th, then showed all his years of experience by trying to go up the inside of Robert Kubica at the fiercely-cambered Turn Five, lifting his inside wheel off the ground and spinning off.
The fifth time the Silverstone squad has failed to score points this season, the fight for fifth in the title race looking evermore tough, not one to remember.