Goin' up, goin' down: the 2021 Spanish GP
Mobile chicanes, real chicanes, some interesting approaches to face-mask wearing – it's what's going up and down at the 2021 Spanish Grand Prix
Maybe, perhaps, quite possibly…the Spanish Grand Prix was actually reasonably exciting compared to its usual standards.
Admittedly, there was still a fair amount of processional running, but the fact that the majority of the most exciting action was happening in the battle for the lead says a lot about F1's current state.
Who or what weathered the Cataluynan winds though? Who made their tyres last the longest? Who knows how to actually wear a face mask whilst making billions from supplying it around the world? Read on below…
Goin' up
Is this a mixed-strategy race I see before me?
What contributed so beautifully to an astoundingly not boring Spanish GP was a mix of strategies – to two-stop or not to two-stop, that was the question. It was all looking a bit one-stoppy until Lewis Hamilton realised that despite being way faster than Max Verstappen, F1's charmingly road-relevant aerodynamics and a track which is trickier to pass on than the last Wagon Wheel in the packet meant that himself and the Brackley boys had to think out of the pit box – and how they did so.
A second stop gave Hamilton the pace advantage he needed to close a 26sec gap in 16 laps. Virtuosic stuff – going all out for the win? In F1? Who woulda thought it?
Others tried the same, with Williams also coming agonisingly close to grabbing a first point in ages with George Russell before he eventually fell short. Ultimately two-stopping turned out to be the way to go. The fact we didn't know that beforehand actually made for decent viewing.
Ferrari's new dream team
On a weekend in which Gilles Villeneuve was remembered after his tragic death at Zolder in 1982, it's appropriate that the current apple of the Scuderia's eye, Charles Leclerc, put in a storming drive in the improved but really still mediocre Ferrari to finish 4th – not unreminiscent of some of Gilles' drives, particularly in 1980. Carlos Sainz brought home his red car in a solid 7th to boot.
Even more appropriate is that this looks to possibly be Maranello's most harmonious pairing since Villeneuve and his South African team-mate Jody Scheckter drove for the team in 1979/1980. Let's hope for more scarlet near the front in Monaco.
Rejuvenated Honey Badger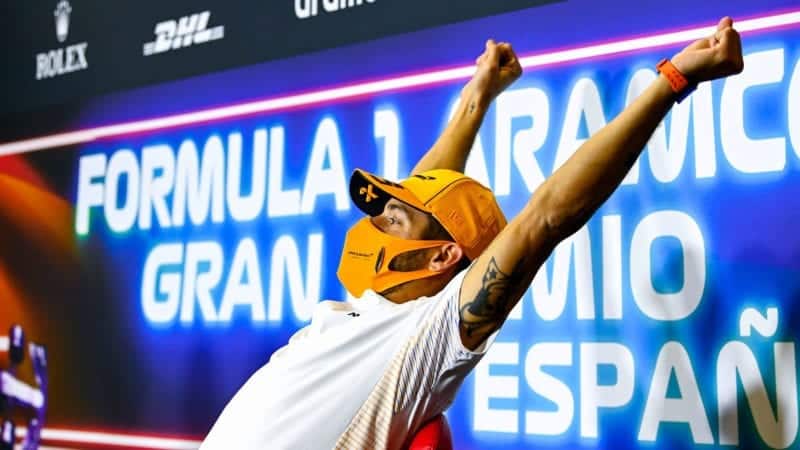 The 'Honey Badger' actually started to look a bit more like his usual self this weekend. His trainer/friend/motivator Michael Italiano (yes, that is his real name) must've had a word with him, as Danny Ric bounced back from a Q1 exit last week in Portugal to qualify 7th and finish a credible 6th.
He still looks a bit sluggish compared to Lando Norris, who had his first run in Q3 blocked by Draco Malfoy and would've maybe started ahead of his Australian team-mate were it not for that. However, Ricciardo's a Monaco specialist, and it's therefore looking like it might be a promising principality weekend for the McLaren boys in two weeks.
Team to FIA radio
Broadcasting Toto Wolff calling F1 Race Director Michael Masi to complain about the 'Bolshoi on Wheels' (see below) was a piece of TV genius. Soon we might get even more interesting interactions like Ferrari asking: 'Can we turn our engine back up now?' or an engineer accidentally mouthing off about yet another of Crofty's insufferable anecdotes.
Goin' down
Jim Ratcliffe's avant-garde approach to face mask-wearing
It's true 😞 #F1 #SpanishGP https://t.co/GDimneYo6L pic.twitter.com/2DbLHSwWnW

— Gaël A. (FranceRacing) ✍ (@paddock_inside) May 9, 2021
Nothing says "F1 isn't elitist" like a billionaire businessman who owns part of arguably F1's best team, and is also currently busy snapping up every other sports outfit he think of, walking around the F1 paddock without his mask on properly.
A billionaire who has become even more of a billionaire by supplying sanitisation products to the world during a global pandemic. In a sport which is still being affected by Covid-19. Nice one Jim, great work.
Going down the mountain
It all looked so promising for Alpine after qualifying. An impressive 5th for Ocon, slightly less impressive 10th for Fernando 'I am better Hamilton and Verstappen' Alonso.
The race was only downhill though. Ocon immediately dropped to 7th, whilst Alonso held station in 10th, but that was as good as it got. Unfortunately, the former would fade to 9th whilst the latter dropped like an indignant Oviedan pebble to finish 17th. Oh dear. It's back to the easel for the Viry et Enstone boys.
F1's mobile chicane
Some more great compliments for the Nikita Mazepin scrapbook this week. "This guy will never learn" exclaimed Charles Leclerc after being blocked during practice by the Haas driver – probably one of the nicer things people have said about him over the years.
Then we heard more praise from Toto Wolff himself via the newly featured team to FIA radio: "This guy is costing us the position." Lovely stuff Nikita. At least he's doing services to social media by providing more meme material. The Russian also blocked Lando Norris in qualifying and got a time penalty for it. But, oh wait… he's already last.
The actual chicane
Count the cars! 🔭#SpanishGP 🇪🇸 #F1 pic.twitter.com/4br6JkH0pS

— Formula 1 (@F1) May 8, 2021
If racing at Imola taught us anything, it's that removing the final chicane from your not-laden-with-overtaking-opportunities track is a real good thing. Autodromo Enzo e Dino Ferrari had a thrilling run down to the first turn as a result, and surely the same would help at Circuit de Catalunya.
Drivers could line themselves up for a big swoop at into Turn 1 as a result, instead of gasping for grip in the dirty air as they lose ground in that migraine-inducing final chicane.