Goin' up, goin' down: 2021 Styrian GP
It might have been a bit of a dour drive yesterday compared to other races this F1 season, but there's still plenty going up and down on our grand prix barometer
OK, so the race wasn't that great. Red Bull Ring = great track. Horrific weather forecast = probably great race. But sometimes, you just can't force it.
Maybe the F1 field will find some kind of inspiration next week, and we'll be treated to a cracker.
You just had to look closely this past weekend though, and there was still movement on the Styrian mountains on our up and down scale.
Goin' up
Grove in the Groove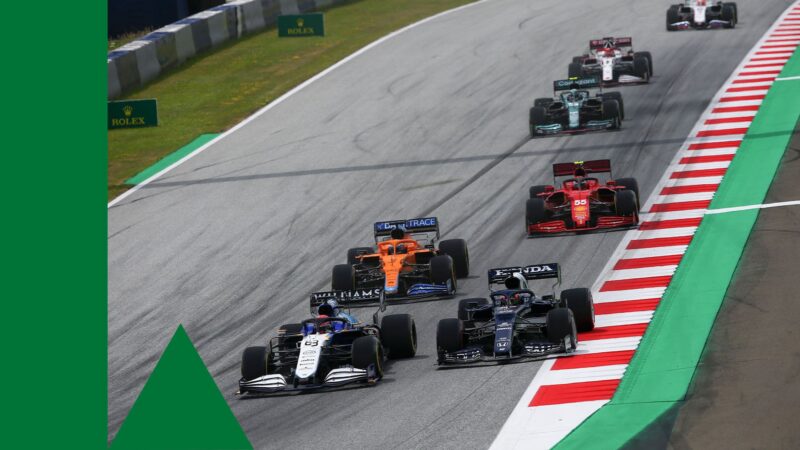 The progress is real for Williams. With the old VW boys getting the band back together to reorganise the quintessential British race team, and George Russell hauling a slowly improving car to places it really shouldn't be, things really were impressive for the Grove gang in Styria.
A top ten slot on the grid courtesy of a Yuki Tsunoda penalty was followed by another upward trend in the race for 'our George'. Even Nicholas Latifi looked alright in qualifying.
George said "eighth was the minimum" in the Grand Prix for himself had the car not conked out. Looking good for next weekend on the same track…
Gunther Steiner's Mazespinning top
.@HaasF1Team boss Guenther Steiner presented @nikita_mazepin with his own "Maze-spin" spinning top 😂👏#SkyF1 #StyrianGP 🇦🇹 pic.twitter.com/beLuhAXPTd

— Sky Sports F1 (@SkySportsF1) June 27, 2021
When your F1 car is starting to represent an old '60s Lada on pace terms, and is being driven by someone from Mother Russia who seems to think they're negotiating a roundabout in downtown Nizhny Novgorod, all you can do is laugh really.
Credit to Haas boss Guenther Steiner for providing to providing more Netflix fodder – he really does care.
Lovely, lovely long runs
It took an absolute Sam Allardyce (i.e. not very adventurous or exciting) of a strategy to get both Ferraris and one Aston Martin some points. Credit to the teams for exploiting the realities of rubber racing, if that's how you've got to do it. Still doesn't exactly scream 'Essere Ferrari', does it?
Life in the old dog yet
Wherever and whenever it is, Fernando always seeks an advantage. Never (we assume) have you seen a man more competitive. Ruthless.
Nice undercut 😎. #racinglife pic.twitter.com/DIBMUVZuOi

— Fernando Alonso (@alo_oficial) June 28, 2021
Goin' down
DRS train
For those watching at home, a lot of the Grand Prix was spent staring at trains of cars running obediently line-astern, wondering if anyone is ever going to fancy a pass, a cheeky dive down the inside.
"No", it seemed, was the answer, most of the time.
Crash Leclerc
Charles Leclerc, of course, has prodigious pace. But he is also a bit crashy. Needlessly swiped into the back of Pierre Gasly at the start of the race, who then, hampered by the resulting right-rear puncture, went full F1 bowling ball into Turn Three and took out two more cars for good measure.
Leclerc then put in a long-run masterclass to finish seventh after that, which must've been particularly galling for Gasly.
Forecast
For all F1's incredible number-crunching, mind-bending, fabric of the universe-tearing technology, no-one seems to be able to predict the weather. Ever.
Meteorological movements always seem to do the opposite of what's predicted as far as grand prix racing's concerned. You'd think they'd worked it out by now.
Catching Valtteri's drift
On the subject of spinning…
BOTTAS IN A SPIN pic.twitter.com/EvcUIaJk2Y

— cas (@riccnation) June 25, 2021