Hamilton on pole as Verstappen hits trouble: Saudi Arabian GP qualifying as it happened
Lewis Hamilton took a crucial pole in Jeddah while title rival Max Verstappen hit the barriers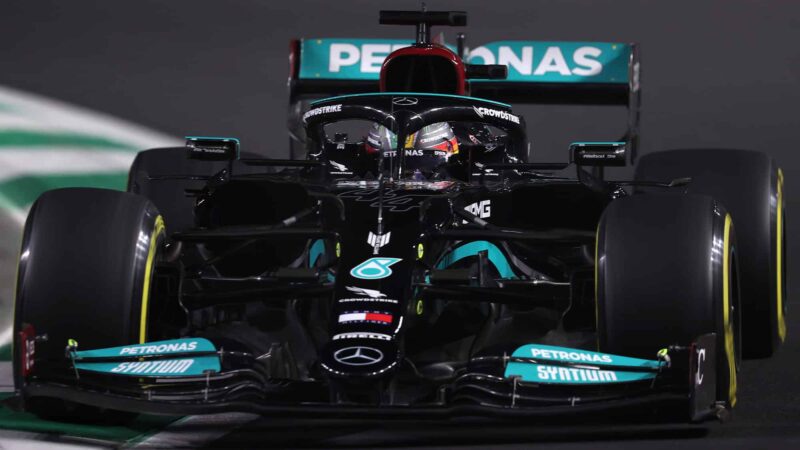 Lewis Hamilton will line up on pole position for the Saudi Arabian Grand Prix alongside team-mate Valtteri Bottas in a Mercedes one-two.
Max Verstappen looked set to steal pole right at the death with a superb final flying lap but hit the barriers out of the final corner and will line-up third if his gearbox survived the hit.
Sergio Perez will be on the third row of the grid in fifth, behind Charles Leclerc.
Bottas had a scare in Q1 and Q2 but managed to make the final session. An engine cut-out in Q1 and contact with Kimi Räikkönen in the second session made for a lively night for the Finn.
Here is how qualifying unfolded in Jeddah for the Saudi Arabian Grand Prix.
Q1
George Russell led the drivers out onto track with a sizeable queue behind him.
Mercedes was the last teams onto the track after a frantic period between final practice and the lights going green for qualifying.
Valtteri Bottas's engine was changed after the team had found an oil leak post-FP3 while Hamilton avoided sanctions for an alleged yellow flags rules breach following a stewards hearing.
The queueing ahead of the final corner was still happening despite race director Michael Masi requiring drivers not to slow too much after Turn 22.
The times were tumbling with every lap but Verstappen's opening effort on softs was comfortably quickest on a 1min 28.659sec, 0.4sec clear of anybody.
Hamilton was forced to abandon his first flyer after running wide at Turn 1 on his first attempt. His next attempt was 0.2sec clear of anyone though to go fastest of all.
Yuki Tsunoda and Pierre Gasly showed that AlphaTauri had lost none of its one-lap pace since FP3. Tsunoda went third-fastest ahead of Gasly in fourth with under 10 minutes remaining of the session.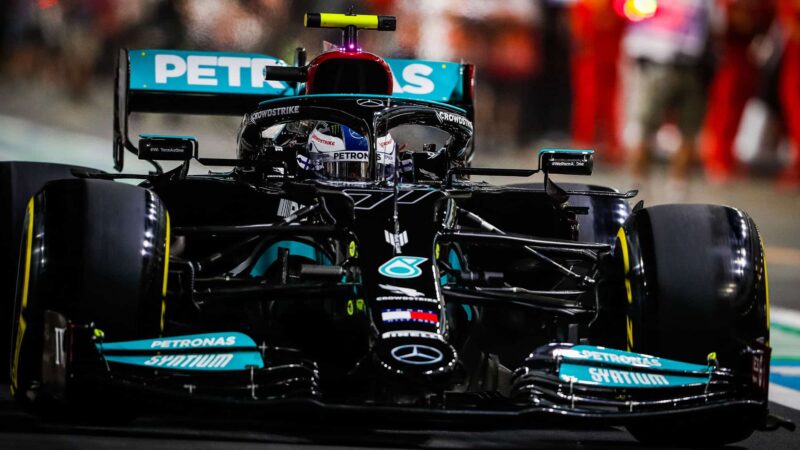 Lando Norris popped up to P2 with Daniel Ricciardo following him into third temporarily as Bottas then closed the gap to Hamilton to just 0.060sec in second.
Carlos Sainz showed how much the track was improving too to go fastest of all just a minute later leaving Sergio Perez sweating down in 12th position.
Verstappen went again on the same set of softs and edged ahead of the lead Ferrari to retake the top spot with 6mins 30sec left of the session. Perez followed him over the line moments later to lift himself up to fourth.
Bottas went quickest for Mercedes by 0.2sec over anyone as the track evolution continued at a rapid rate.
With five minutes left, Mick Schumacher had moved himself out of the drop zone in the Haas by 0.029sec but plenty of laps were yet to be recorded. Russell immediately displaced him while Nicholas Latifi bumped the German down to 17th after both Williams ran again.
The Aston Martins have struggled all weekend and couldn't get out of the drop zone entering the final runs with Lance Stroll 16th and Sebastian Vettel following in 17th.
Verstappen was on a flying lap to go fastest but found plenty of traffic at the final corner and had to abandon his effort. Bottas meanwhile was reporting misfiring from his Mercedes engine and stopped at the entry of the pit lane as the chequered flag flew.
Latifi, Vettel, Stroll, Schumacher and Mazepin were the drivers eliminated from the first session.
Q2
Bottas was back out on track in Q2 and the track was busy early on. Only Alpine and Antonio Giovinazzi opted not to get out straight away.
Everyone barring Russell opted for the more durable medium tyres as opposed to the softs.
Verstappen was into the 1min 27's immediately. His 1min 27.953sec was almost a second quicker than Perez, whose time was bettered by Charles Leclerc.
Traffic in sector one cost Hamilton time opening the lap but he fell further away from Verstappen's marker as the lap progressed. His 1min 28.715sec was good enough only for third.
Sainz was the first driver to have a time deleted for track limits for exceeding the margins at Turn 4. His next lap went no better as he suffered a spin out of Turn 10, clipping the rear wing endplate against the barriers but escaping without further damage.
Bottas put in a time good enough for second but Hamilton was struggling, complaining of no grip as others found improvement, including Perez who slotted in ahead by 0.005sec to go P2.
Hamilton eventually found some pace and went second-quickest, 0.115sec behind Verstappen. Perez made a second attempt as well and found even more time to go quickest of all on a 1min 27.946sec.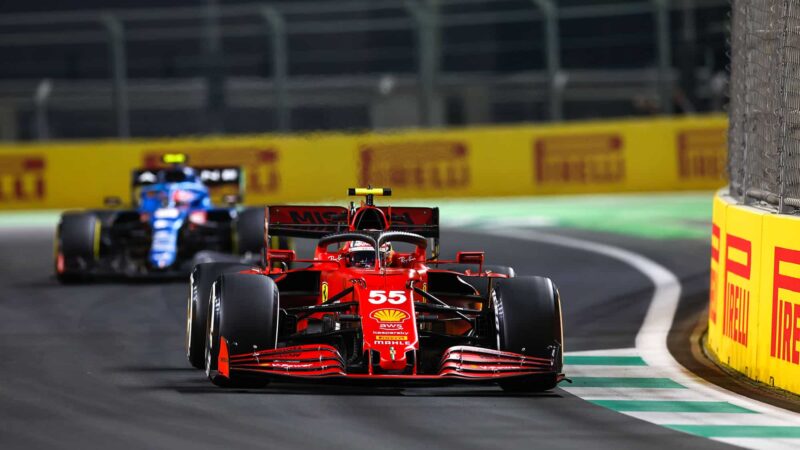 Entering the final three minutes of the second session, Sainz, Alonso, Russell, Norris and Tsunoda were the drivers in the drop zone.
Norris was the first to move himself out of danger, setting a time good enough for 7th to knock team-mate Ricciardo into the knockout places. Tsunoda also improved putting Räikkönen at risk in the Alfa Romeo.
On his final effort, Sainz had a huge snap of oversteer at Turn 10 and only just managed to gather it up without hitting the barriers.
There was almost an all-Finnish crash after Bottas clipped Räikkönen's rear left tyre while team-mate Giovinazzi was the first to leave tyre marks on the wall but lived to tell the tale.
Hamilton meanwhile went fastest of all by 0.2sec over both Red Bull's on his final flying lap. Norris was the only driver to make the top 10 on soft tyres.
Ricciardo, Räikkönen, Alonso, Russell and Sainz were all eliminated.
Q3
Leclerc led the field out for the final session of the night followed by Bottas and Hamilton and the AlphaTauris.
Hamilton was the next to suffer a sideways moment at Turns 9 and 10. He caught the snap of oversteer but had to abandon his first flying lap attempt.
Bottas finished off his effort up ahead and set a 1min 28.143sec for the rest to beat, slower than the ultimate time in Q2.
Tsunoda put his AlphaTauri P2, just shading Leclerc's time.
Hamilton's second attempt was a 1min 28.035sec, good enough for provisional pole but was an untidy effort, down on his best time of the night.
Verstappen was flying for Red Bull and went comfortably clear at the top on a 1min 27.653sec. Perez couldn't match that pace and slotted into third position. Bottas went for a second attempt and moved himself up to second place, 0.3sec down on Verstappen.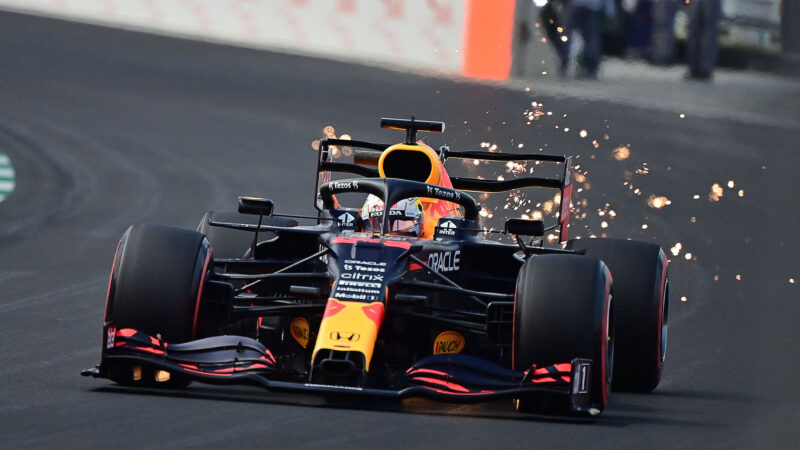 The Dutchman requested a tow after the first runs were completed while Hamilton requested a turn of front wing to cure some understeer he was experiencing under the lights.
Gasly left his effort late but went fourth-fastest for AlphaTauri with Perez, Norris, Tsunoda, Leclerc, Ocon and Giovinazzi the order heading into the final three minutes.
Hamilton was 0.05sec down on Verstappen's provisional pole time after sector one and set a purple middle sector in the second section. Arriving at the line, he found the time he needed to go fastest on a 1min 27.511sec.
Ball in Verstappen's court, he started his final attempt with 45sec remaining of the session.
Sector one and he was wide at Turn 2 but escaped without damage. His S1 pace was a tenth up on Hamilton's time and even quicker through sector two, 0.2sec up but at the final corner undid his hard work.
A lock-up into the final corner left him with a lot to do but on acceleration out of the final corner, he hit the barriers with the rear of his Red Bull and was out of the session, P3.
2021 Saudi Arabian Grand Prix qualifying results
Position
Driver
Team
Time (Q3)
1
Lewis Hamilton
Mercedes

1min 27.511sec

2
Valtteri Bottas
Mercedes

1min 27.622sec

3
Max Verstappen
Red Bull

1min 27.653sec

4
Charles Leclerc
Ferrari

1min 28.054sec

5
Sergio Perez
Red Bull

1min 28.123sec

6
Pierre Gasly
AlphaTauri

1min 28.125sec

7
Lando Norris
McLaren

1min 28.180sec

8
Yuki Tsunoda
AlphaTauri

1min 28.442sec

9
Esteban Ocon
Alpine

1min 28.647sec

10
Antonio Giovinazzi
Alfa Romeo

1min 28.754

sec
Q2 times
11
Daniel Ricciardo
McLaren

1min 22.346sec

12
Kimi Räikkönen
Alfa Romeo

1min 22.460sec

13
Fernando Alonso
Alpine

1min 22.463sec

14
George Russell
Williams

1min 22.597sec

15
Carlos Sainz
Ferrari

1:53.652

Q1 times
16
Nicholas Latifi
Williams

1min 29.177

sec
17
Sebastian Vettel
Aston Martin

1min 29.198sec

18
Lance Stroll
Aston Martin

1min 29.368sec

19
Mick Schumacher
Haas

1min 29.464sec

20
Nikita Mazepin
Haas

1min 30.473sec