"Unfortunately there's a yellow flag, he just didn't see it. He saw the white one (panel), he saw the car, he even saw a green light on the right hand side. I think it's just a rogue marshal that stuck a flag out. He's not instructed to by the FIA, they've got to have control of the marshals. It's as simple as that. That's a crucial blow in the championship for us. We're now starting P7 at a track you can't overtake at. That is massive."
But both Verstappen and Hamilton are making light of "massive" moments in recent weeks, and Qatar was no exception. When the lights went out, Hamilton easily repelled the threat from Gasly and Fernando Alonso – both on softs – to streak away on his medium tyres. And Verstappen duly nailed his own start to cut to the inside and run fourth at the first corner.
It so nearly became third but Fernando Alonso chopped back across the track – seemingly unaware of Verstappen's progress – ahead of Turn 2, causing the Red Bull driver to take evasive action.
Alonso's move was part of an attack on Gasly that saw the Alpine driver go round the outside of the Frenchman, taking second place but ending the opening lap nearly two seconds behind Hamilton.
It only took until the third lap for Verstappen to radio "A little bit stuck here", and Gasly conveniently ran wide at the final corner moments later, allowing Verstappen a simple overtake using DRS to take third. Second was then earned in similar fashion on the following lap, but by now Hamilton was already four seconds up the road.
It had been a disastrous start for Bottas as he slipped to 11th at Turn 1, while Sergio Perez climbed two places to ninth and set about matching Verstappen's progress. Yuki Tsunoda, Sainz and Esteban Ocon were dispatched in quick succession, and when Perez cleared Gasly – struggling on his soft tyres – he was fifth by lap 12.
And it was the pair of second drivers that were being watched more closely as Hamilton appeared to have Verstappen comfortably covered off at the front.
Bottas was slower to get going as he looked after his tyres but soon made further progress as he worked his own way past Tsunoda, Lance Stroll, Sainz and Ocon with the latter move coming on lap 17 just as Verstappen triggered the first round of pit stops.
Hamilton covered and Perez followed suit a lap later, with all three switching to hards, but as Bottas continued he was clearly seeking a one-stop strategy.
Alonso fell in between the two options, as he stopped for hard tyres on lap 23 and retained position ahead of Perez. He held the Red Bull off for six laps before an entertaining scrap through the first two corners saw Perez take fourth, although by now he was some 20 seconds behind Bottas.
That looked to be a strong position for Mercedes, with the Finn set to enjoy a clear tyre advantage once he made his pit stop. Only he was three laps away from that point when disaster struck, with a front left puncture forcing him to limp round to the pits, damaging his floor and front wing.
Degradation wasn't an issue but tyre wear was, and Mercedes pushed the mediums too far. It wasn't the only team to do so as both Williams drivers later suffered failures, but it was the most costly as Bottas was demoted to 14th and later retired.
"I don't really know what happened, there was no warning, no vibration, the pace was still consistent, grip was still OK and it just happened," Bottas said. "Initially I thought it was the wind getting stronger down the pit straight, because I felt the car was getting a bit sideways, but then I got the puncture in the first corner and, obviously, it was in the most unlucky point, just after the pit exit.
That made it a three-car race for third once Perez made his second stop – following Verstappen in on lap 41 – partly in response to the failures. That meant Alonso led Norris while Perez had to negotiate Stroll and Ocon before he could set off after the McLaren.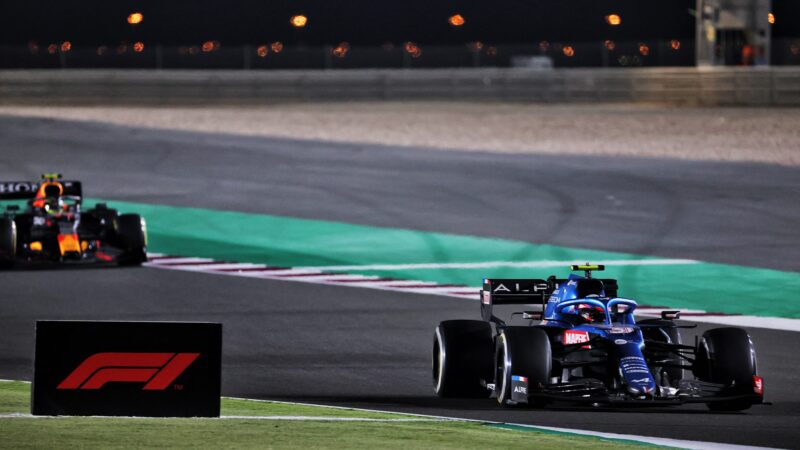 "Tell Esteban to defend like a lion!" Alonso said on team radio, knowing the importance of Perez's progress being slowed.
"We must defend against Perez, we need to keep Perez behind us as much as we can," came the radio message to Ocon. "Elbows out."
But Perez was too quick, fighting Ocon through the first sector after clearing the Aston Martin using DRS, and then working to close an eight-second gap to Norris. But then Norris suffered a puncture and was forced to pit, leaving a clear run at Alonso.
While the double world champion appeared to have the pace to keep Perez at bay, he was asking his tyres to go further than any of those had that failed on the other four cars. But one of those – Nicholas Latifi – suffered his failure out of the final corner and had to park up by a gap in the barrier, leading to a Virtual Safety Car that ended Perez's hopes.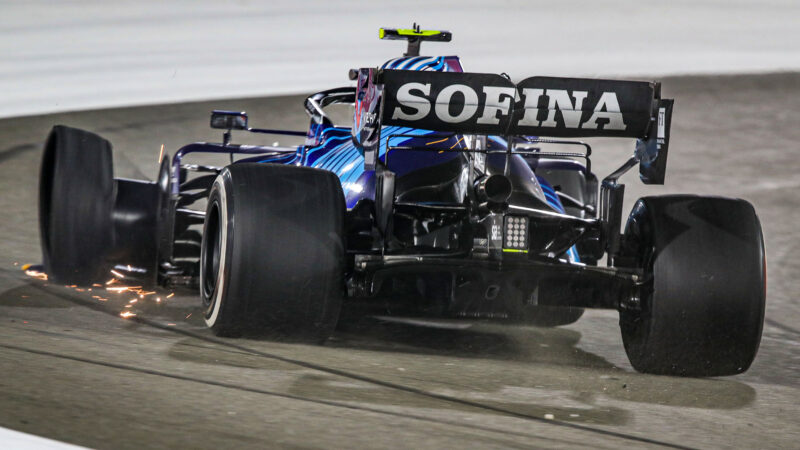 "We played it safe with the explosions with the tyres out there," Perez said. "I think we were thinking more of the long-term picture. I think when we saw what happened to the other cars we were a bit concerned [about] that, so we played it safe and in the end, I think we left some points on the table today but we managed to minimise the losses from today's race.
"I think what happened to Valtteri put the thought in our heads. At the end of the day, it's better than nothing.
"[The VSC] actually prevented us and I think helped Fernando to probably not get a blow up. But if there is someone I am happy to give the podium to, it's probably Fernando. He drove a fantastic race and he deserves to be up there. He's a good mate."
For Alonso, it was a first trip to the podium in over seven years, although it came after he failed with his first target of the day.