That was a corner that had already seen a lot of action, with Max Verstappen particularly impressive on the brakes. If Valtteri Bottas's tactical power unit penalty – demoting him to 16th on the grid – was designed to influence Verstappen as well as get more power unit components, the first part of the plan failed, as the championship leader cleared him confidently.
Pierre Gasly and Sebastian Vettel were dispatched in the same manner either side of a close call when passing Charles Leclerc, and Verstappen's decision to start on the hard tyre was paying off.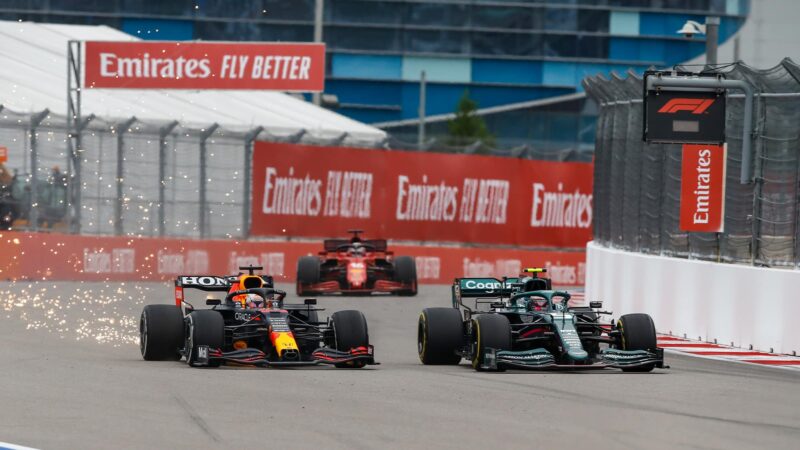 A lap after Sainz lost the lead, he stopped to switch to hards himself, with a long stint possible to get to the end of the race. Russell and Stroll soon followed, and as more drivers did the same, it was a McLaren one-two once again with Ricciardo now holding back Hamilton and Perez. Only Alonso stood between Verstappen and his team-mate, and Red Bull was sitting pretty, too.
The problem was, in traffic Verstappen was using his hards too much, and after stating "I can't turn the car", he was frustrated to watch Hamilton disappear into the distance as a slow stop for Ricciardo released the Mercedes.
Hamilton's pace at this stage showed his threat, but Norris had built up a lead of 12 seconds. So when the two title rivals stopped on the same lap around the halfway stage – Hamilton for hards, Verstappen for mediums – Norris could extend a further two laps and emerge safely ahead.
But as Hamilton quickly cleared Sainz and Stroll, the radio message from Toto Wolff came in: "Lewis you can win this race!".
Perez, Alonso and Leclerc led, but only the Red Bull was a threat to the two British drivers, and that was removed when his pit stop took nine seconds. With 18 laps remaining, it was a straight McLaren v Mercedes fight, or so it seemed.
Hamilton closed in quickly but found Norris in fine form. The McLaren's straight line speed advantage was always going to make it tough to pass, but Norris kept allowing the gap to close and then nailed the key parts of the lap to stay out of DRS. Even on the few times he was in range, Hamilton couldn't get close enough.
Norris was given gaps behind him but quickly dismissed them as he focused on holding on for victory, while Hamilton noted the difficult he was having following the McLaren. As he did so, his race engineer told him the risk of rain was increasing, and with ten laps to go Russell reported the first drops at Turn 10.