His moment in the spotlight was brief, for red flags flew when conditions became unnavigable. After a poor qualifying performance, Jenson Button had done a stellar job for Honda in the rain… but he was looking at his dash panel as he approached Turn One for the third time and failed to spot the looming river. He lost control and was soon joined in the gravel by Lewis Hamilton, Adrian Sutil, Nico Rosberg, Scott Speed and Tonio Liuzzi. At the time, Mark Webber had been running just behind the Honda: "I was lucky," he said, "because Jenson was going really quickly, just ahead of me, and I saw him sideways across the road at the first turn. That warned me to get on the brakes a little earlier."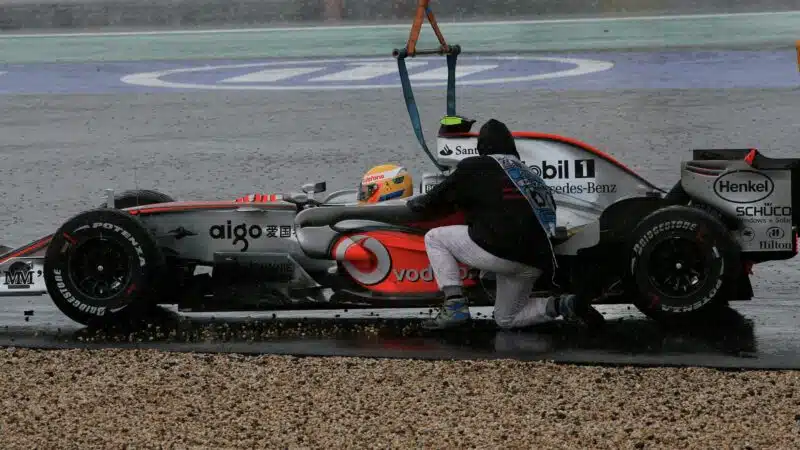 Hamilton kept his engine running and was allowed to drive back to the grid once he'd been craned clear.
After 22 minutes the race resumed behind a safety car – and Winkelhock was soon swamped by the usual suspects. "I was still quite excited about the restart, though," he said. "It was nice to have red and silver cars behind me without seeing any blue flags."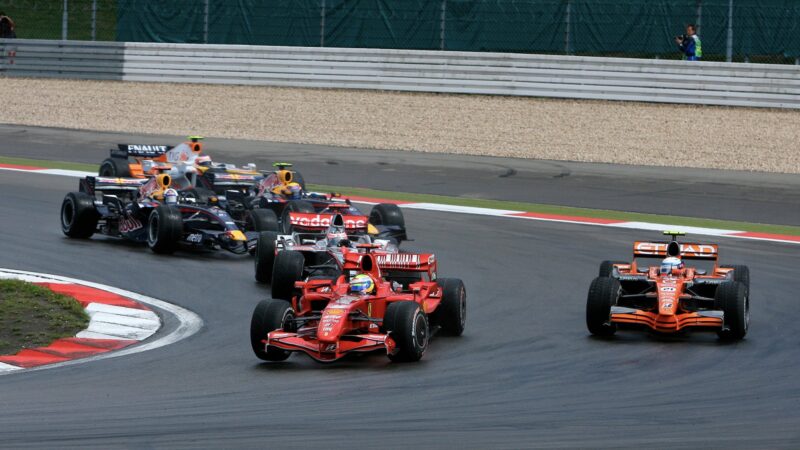 Hamilton made an early switch to dry Bridgestones – rather prematurely, a decision that would help to keep him out of the points for the first time in his F1 career – but the rest waited another five or six laps and Felipe Massa emerged as leader after the tyre stops, with Fernando Alonso's McLaren on his tail.
The Brazilian soon began to pull clear, however, and was more than eight seconds to the good when Alonso made his second (and final scheduled) tyre stop on lap 37. Massa responded next time around and resumed with a comfortable advantage, but more rain was forecast. By lap 53 it was belting down and the leaders came in, with Massa still more than four seconds clear. The Spaniard swiftly wiped out that deficit and on lap 56 Massa banged wheels with his rival before ceding the lead.
Alonso later complained about the Brazilian's defensive methods as the pair went to the post-race weigh-in. "You still have a lot to learn," he told Massa. "No," retorted Felipe, "you have a lot to learn."
There hadn't seemed too much wrong with the Spaniard's education…
"I love changeable conditions," Alonso said. "I'd also like to apologise for what I said to Felipe. I was feeling a bit stressed at the end, because the two of us nearly didn't finish, but now I want to enjoy the moment."
Webber took third from Williams driver Alex Wurz, but fleeting hero Winkelhock dropped out with hydraulic failure after 13 laps. He hasn't started an F1 race since.
It wasn't such a memorable day for other Germans. When Ralf Schumacher pitted at the end of the opening lap, Toyota sent him back out with wet tyres on one side and dries on the other.
It was that sort of day.