"I will fight it" - Martin Donnelly determined to make his latest recovery
- Last updated: December 5th 2019
Martin Donnelly was dealt a severe recent blow with a leg break in a charity moped ride. But, as he explains to Motor Sport, he is someone who knows how to fight back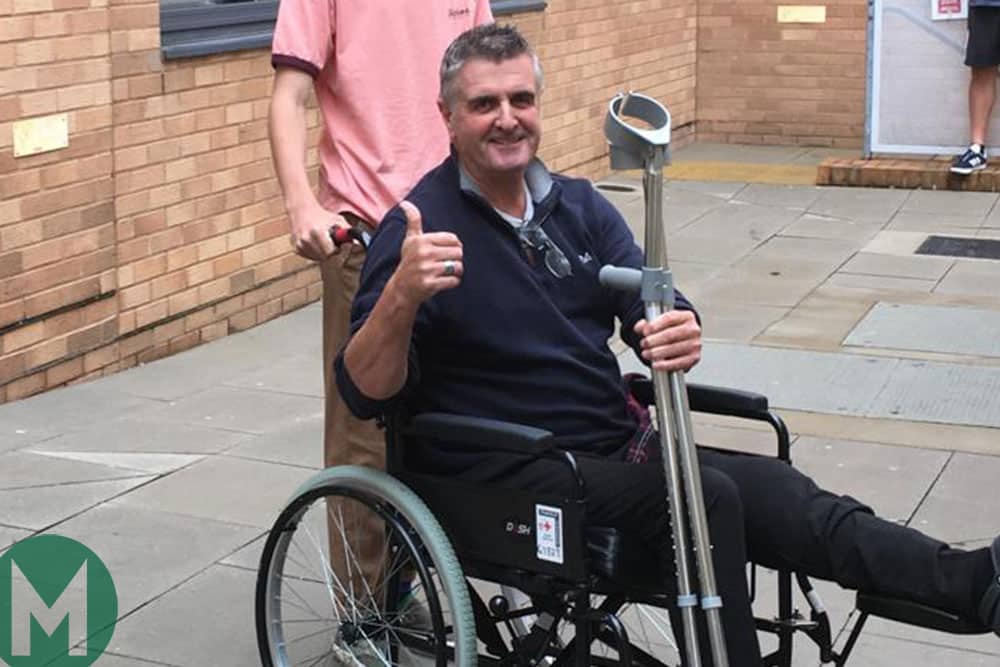 Martin Donnelly gives the thumbs-up as he starts his recovery from his recent motorbike accident Photo: Martin Donnelly
Martin Donnelly finds humour in the darkest of places. Speaking to Motor Sport for the first time since suffering a freak accident on a motorbike and breaking his leg, he chuckles as he ponders how a 20mph crash can leave him in as much pain as a near-death crash in a Formula 1 car.
"Isn't it ironic! You hit a barrier at 176mph, go through 44g, and you've all that damage, right? And you fall off a bike at 20mph and the pain and everything is exactly the same. If somebody told you, you wouldn't believe it."
The former Formula 1 driver is referring to the moment he left the circuit in his Lotus-Lamborghini 102, during Friday practice for the 1990 Spanish Grand Prix, held at Jerez. The crash left his car shattered and Donnelly lying on the track, with marshals looking on gravely, thinking the worst.
Sometimes you're dealt good cards and sometimes bad. It's how you play those cards that's the important thing
But when Donnelly found himself sprawled on the tarmac again, during a charity moped ride earlier this month, the reaction of his friends was to chuckle at the low-speed tumble from the former F1 ace.
It didn't take long for the situation to turn serious, however, and Donnelly was taken to hospital with a broken leg, which became infected, leaving him with the real risk of having it amputated and – at best – several months of recuperation.
For someone who now makes his living coaching drivers, the crash left him without an income and with a family to support.
But as Donnelly groggily fought his infection, the racing community rallied round.
A friend, Jonathan Lewis, set up a fundraising campaign on the GoFundMe platform hoping to raise £10,000 to support the Ulsterman in his recuperation and living costs.
---
More: Lunch with… Martin Donnelly
---
After more than 750 donations, the total raised now amounts to almost £55,000, with pledges attributed to Toto and Susie Wolff, Ralf Schumacher and Luciano Burti, who stopped racing in F1 after a major crash at the 2001 Belgian Grand Prix.
Donnelly says he's touched by the support. "I want to thank everybody who has donated money. It makes me feel very humbled and praised that the motor sport community has rallied around to support me."
He's speaking from his mother's home, a modest bungalow, where he's recuperating, and can get the regular care that he needs, away from the bustle of a busy house with a wife who works full time, two big dogs and children.
Like so many involved in motor racing, Donnelly doesn't have job security. He gets by as a freelance driving coach and consultant.
He enjoys a close relationship with the Lotus Driving Academy, as its chief instructor, and privately he conducts one to one tuition through the Donnelly Academy. But when the winter arrives, the circuits close, work dries up and he has to make ends meet through to spring.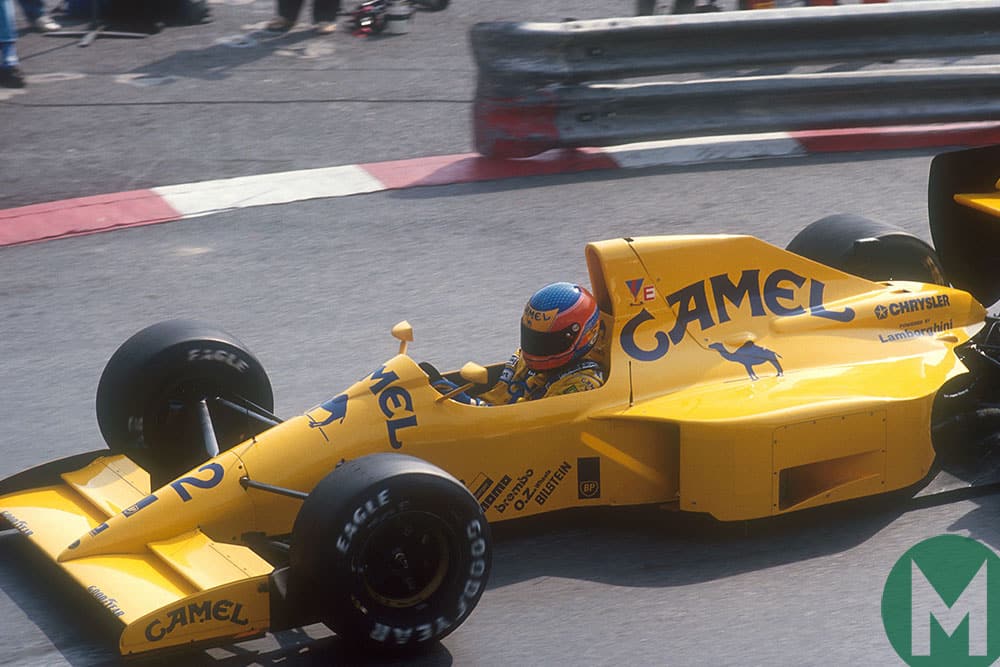 Martin Donnelly in F1 for Lotus, at the 1990 Monaco Grand Prix Photo: Motorsport Images
In today's age, it's almost unthinkable that a top-flight F1 driver should be penniless. But on the day of his fateful accident at the Spanish Grand Prix, Donnelly's luck ran out in more ways than the physical and mental pain he suffered.
Initially, the contract he signed with Lotus was worth £1.2m over three years, with £200,000 for 1990, £400,000 for 1991 and £600,000 for 1992. However, with headlines such as 'Is Donnelly the next Mansell?' splashed across magazine covers, there was no shortage of interest in Donnelly from other teams. So Lotus revised its offer to prevent a competitor buying the Ulsterman out of his drive.
On the Friday morning before his crash, Donnelly signed an option on a revised, £5.6m contract. He was given a $40,000 cheque there and then, which he placed in his briefcase, before getting on with the business of preparing for the day's practice session.
After the crash, the contract was worthless. It now hangs in a frame on his wall at home. And as for the cheque, his fiancée at the time, Diane, who he would marry, had no idea where it was, as Martin lay in an induced coma.
After he recovered, Brian Roper, his surgeon, broke the news to Donnelly that he would never race a single-seater again. "That's when I broke down and cried. I'd pushed to make it to F1 and through no fault of my own [his Lotus suffered suspension failure] it was taken away from me. Life was great, I had contracts, teams wanted to sign me, the world was my oyster. Then, like a light switch, it was turned off.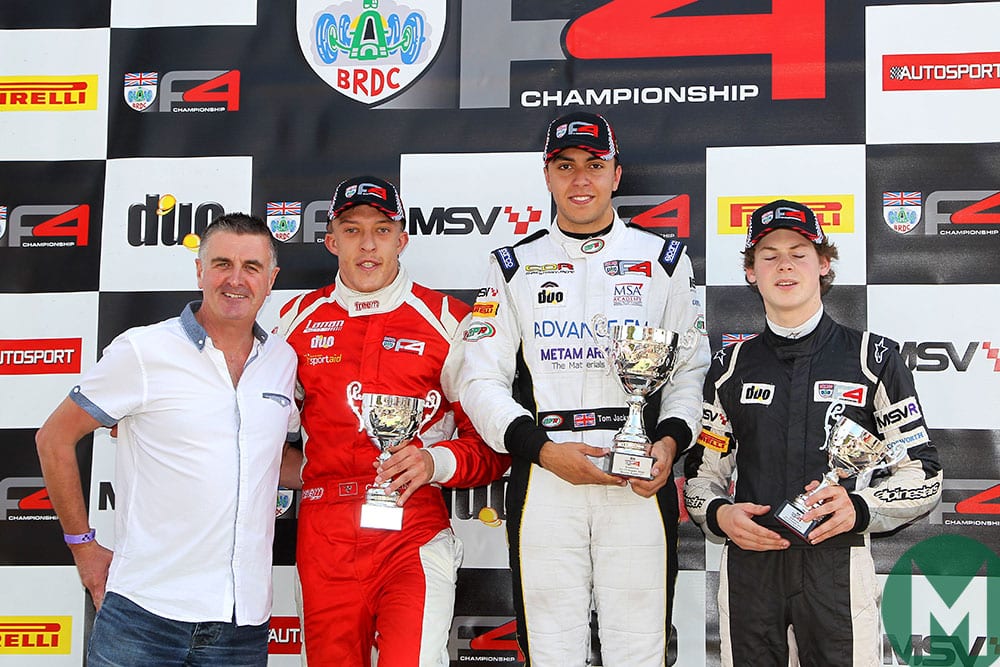 Martin Donnelly on the F4 podium at Snetterton in 2015 Photo: Motorsport Images
"But listen, I'm here to talk about it. Look at Senna; a three-time world champion. When he had his accident, for me, that was the final nail in the coffin to try and get back into F1. Okay, a couple of million in the bank account would make me feel more relaxed, but when Senna crashed I told myself 'Just let it go. You're alive, you're reasonably fit, just get on with life.'"
Following the Jerez crash, an insurance policy paid out £200,000 in medical expenses. But it was wiped out by bills he had for treatment.
Another £200,000 was paid out to Donnelly directly. It was reasonable by the standards of the day, but would hardly take care of him for decades to come. So he decided to invest much of it in his own race team, Martin Donnelly Racing (MDR).
"I left Whitechapel [hospital] on 14 February 1991, weighing just 53 kilos and obviously you can't lie in bed feeling sorry for yourself. I thought, my education, my background is motor sport. I'd worked with great people like Trevor Foster, Gavin Jones and Paul Jackson – all great guys. I know what it takes."
The operation ran from 1992 to 2004, spanning Formula Vauxhall, Formula 3 and touring cars, before being wound up after Donnelly was declared bankrupt.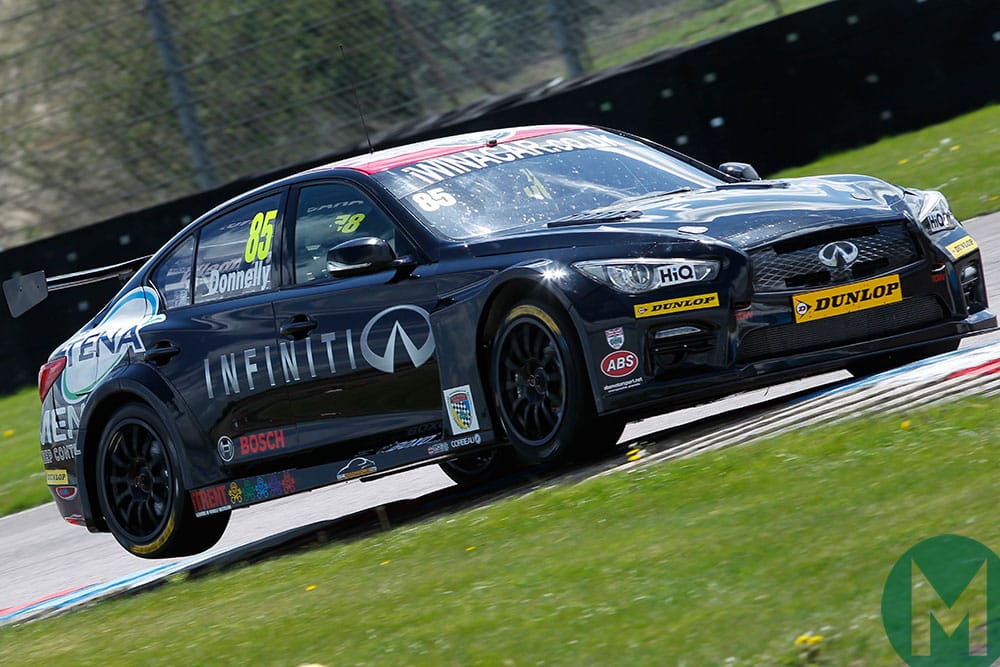 Donnelly briefly tried his hand at the British Touring Car Championship, at Thruxton in 2015 Photo: Motorsport Images
"It was 24/7. You'd be chasing drivers and sponsors around the globe, in different time zones. It was exhausting. But at the same time, it was great fun. There was a satisfaction to pulling it off. It was a team owner's job to exploit the grey areas around the rules of racing. The things that we were doing behind closed doors – it was absolutely hilarious!"
The next year, he went to work for Comtec, after team boss Jonathan Lewis offered him a role as a driver coach and, later, driver and sponsorship agent.
His motivation now is to give his younger son, Owen, an opportunity to race. Plans are well laid for the Ginetta Junior winter series.
But Donnelly hadn't reckoned on finding himself lying on the ground in Ireland early in July. He thought to himself that it couldn't be all that bad: "I knew it would need to be looked at but didn't realise it was as bad as it was."
The initial plan was to head to hospital, have the leg wrapped up and continue in the van, supporting his pals on rest of the charity ride. But the reason he was in so much pain was he'd broken his femur, or thigh bone, badly.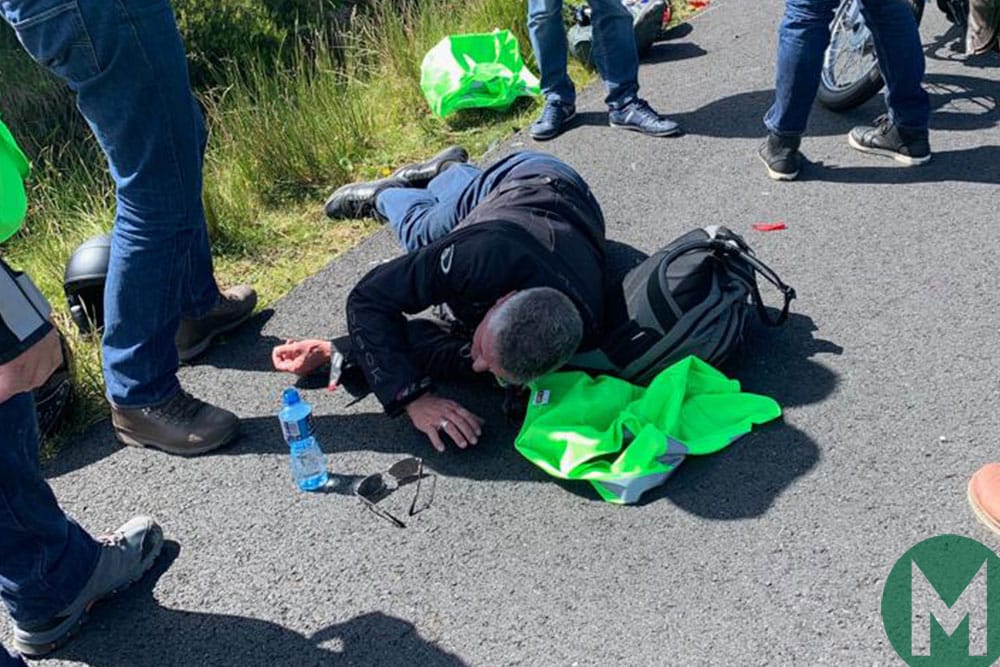 Donnelly lies on the ground after his motorbike accident Photo: Martin Donnelly
He and a group of friends had been riding around Ireland on mopeds, raising funds for the Teenage Cancer Trust.
Donnelly was lent a 125cc Yamaha, and by his own admission he's not an experienced motorbike rider.
The trip started well. Donnelly had tapped up his pal, Eddie Irvine, and asked for dinner at his pub, O'Reillys, on Tara Street in Dublin.
"He said, 'My treat, guys. Come down, take a few pictures. Free food and free beer all night on my tab.' And he's actually watching us via the CCTV from his place in the Caribbean!"
The next day, about 50 miles into the day's planned 200-mile route, Donnelly crashed in the most unlikely manner.
---
More: Around the next corner
---
"It was a glorious bright blue sky, sunshine, going great. There was a little left-hand hairpin, quite open, and as I went round the bend it felt a bit too quick, so I grabbed the front brake and down I went at – bloody hell – just 20mph."
Donnelly was protected by the good-quality gloves, jacket and helmet he'd bought himself – kit he had every intention of selling, secondhand, after the event. Unfortunately for him, the person following, Ian Bonser – "he's a big fella, 20 stone" – rode straight over his left leg.
"I was in a lot of pain. There was a bike on top of me, so I said 'Get the bike off me' and when they lifted it off the pain was still as bad and I thought, 'Ah, okay, there's more than meets the eye here.'
Donnelly lay on the road catching his breath and composing himself, before those assembled helped lift him into the support van. Then, in an act of compassion, one of his friends took a stick of chalk and drew a corpse outline on the road, like a crime scene.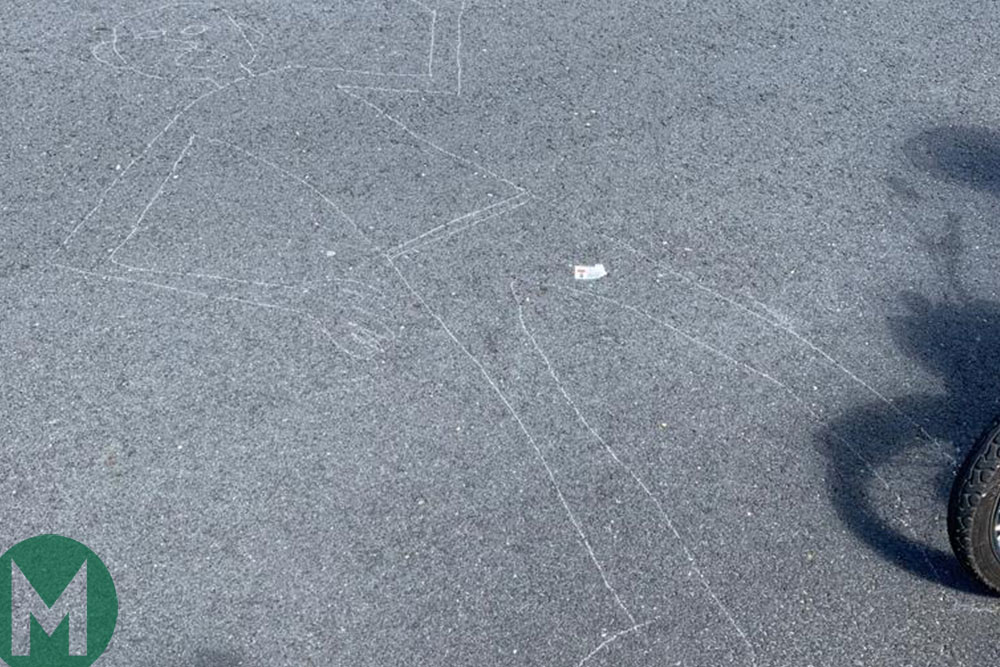 One of Donnelly's friends drew a crime scene-like body outline after his accident, but the mood soon turned sour Photo: Martin Donnelly
The lighthearted mood would soon sour. Next came a protracted process of attempting to get the right hospital and surgeon to treat his injury.
During this, Donnelly contracted sepsis, with blood poisoning of his leg, so an old friend, Paddy Waters volunteered to collect him and take the patient to from Dublin.
By the time he was back in Norfolk, the infection was worsening. It went up his leg and thigh and Donnelly was hooked up to drips pumping him with the appropriate antibiotics and paracetamol, and another delivering morphine.
In the end, Nish Chirodian, the surgeon that operated on Donnelly's left leg, not only turned out to be one of the best in the country – according to those advising Donnelly – but also lived in the next village. He knows Martin's sister, drinks in the same pub and their children go to the same school.
"The leg we're talking about isn't a normal leg. If it had happened to the right leg, it would have been fine; easy procedure, screw some plates together, done. But because my left leg has been through so much trauma in the previous accident, the big one, there's not a lot of bone and it was very difficult for him [Chirodian] to do.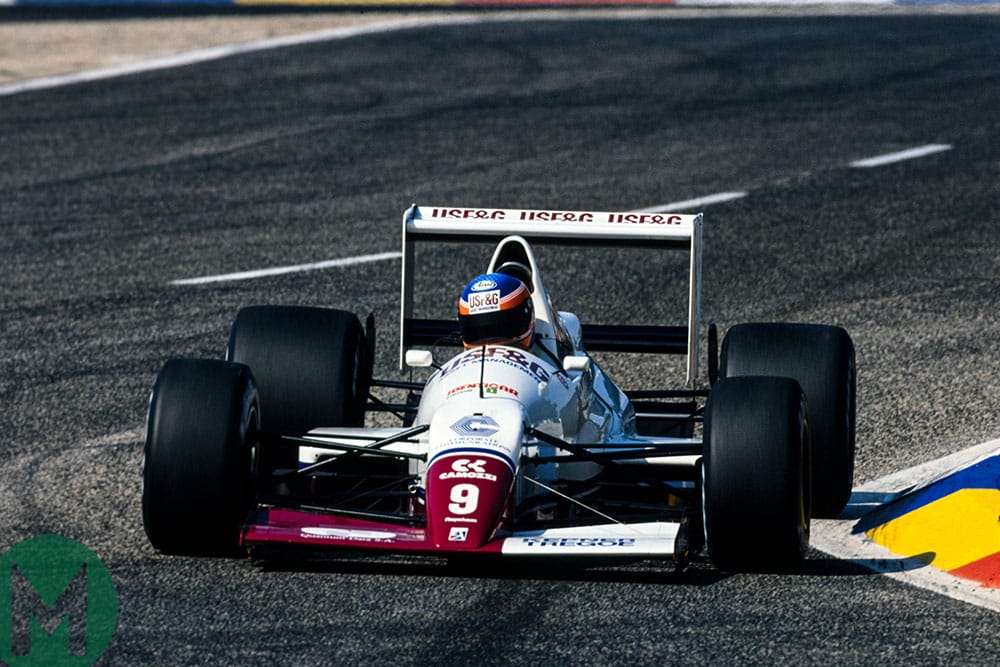 Donnelly made a one-off appearance for Arrows in the 1989 French Grand Prix at Paul Ricard Photo: Motorsport Images
"So he put a plate through more or less the centre of the leg, near my kneecap, and one further up through the old scar. He's hoping that will give the bone some stability for the callous to start growing round the plate and the screws, giving it the strength that it needs."
The money raised for Donnelly means that he doesn't need to worry about his living expenses but the renewed attention on Donnelly has proved uncomfortable for his wife, Julie, who "doesn't like everyone peering into our personal life". Ever the realist, Donnelly says it's important that people understand the predicament he finds himself in.
"I'm not the sort of person who will lie down and play dead. I will fight it. It's like a game of poker. Every day you're dealt a different hand. Sometimes you're dealt good cards and sometimes you're dealt bad cards. It's how you play those cards you're dealt that's the important thing."
Which is why he's working on an autobiography, hopefully out in time for Christmas. The title? What If?. What if indeed.
To donate to the fund for Martin Donnelly, visit the Gofundme.com page