"It's over": Alesi's drought ends at the 1995 Canadian F1 Grand Prix
- Last updated: December 4th 2019
Looking back at a classic Canadian Formula 1 Grand Prix: 1995, Montreal, and the ever-unlucky Jean Alesi finally ended his F1 win drought in an appropriate setting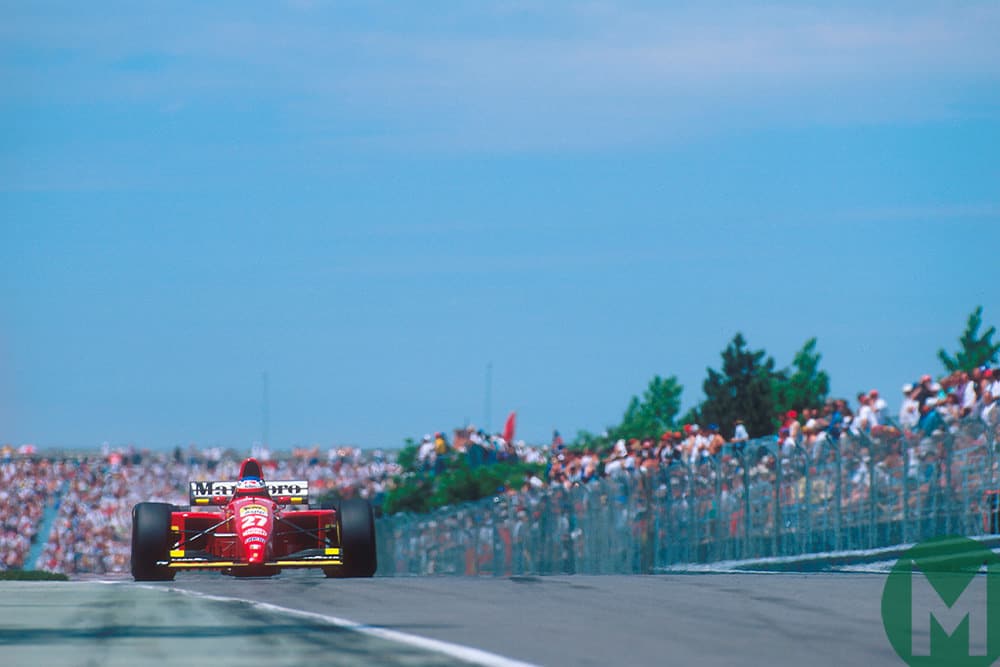 Jean Alesi, 1995 Canadian Grand Prix Photo: Motorsport Images
"He's been there so long and, a bit like the Chris Amon thing, you began to wonder whether he would ever do it," Jonathan Palmer told Motor Sport. "Certainly, prior to Montreal, he was the most deserving driver who should have won a GP but hadn't."
Very rarely does a grand prix victory provide something like universal joy. But the 1995 Canadian Grand Prix at Montreal was one such. The victor was Jean Alesi, who, with it confirmed at last that he wouldn't be another Amon – that is having the unwanted distinction of somehow never winning an F1 race.
"It's over," declared Motor Sport's post-race headline, aptly.
When Alesi burst onto the F1 scene with Tyrrell such a drought would have seemed unthinkable. He'd marked himself immediately as the next big thing: finishing fourth on his 1989 French Grand Prix debut then furiously disputing the lead with none other than Ayrton Senna in 1990's Phoenix season-opener.
"Even in that first year of F1 he was brimming with confidence," continued Palmer, "and he wasn't intimidated by anybody. That characteristic is something important in the real megastars."
The top teams fought for his signature. Williams got one first, but following some to and fro Ferrari received Alesi's definitive contract inking.
Yet on both counts it proved a bad choice. "Like Amon, Alesi is a natural seat-of-the-pants talent, a genuinely nice guy who wound-up at the right place, Ferrari, at the wrong time," added Motor Sport's Mark Skewis.
Ferrari fell into one of its debilitating spirals; dragging Alesi down with it. And to make matters worse Williams had a spell of dominance. Even over and above this Alesi's ill-fortune, just like Amon's, could be extraordinary. Just like Amon too he could go some way to make his bad luck.
Come 1995 though Ferrari, led by Jean Todt, was showing signs of finding its way back. And in Canada things came right for Alesi at last; on his 31st birthday too.
---
More
---
His sole win relied on a large helping of fortune, though Alesi still drove well that day. He started fifth but moved past Ferrari team-mate Gerhard Berger early on, at the same moment third-placed David Coulthard threw his Williams into the gravel and retirement. Alesi then, on lap 16 of 68, got by Damon Hill's Williams for second, with a classic out-braking move at the hairpin. In an F1 where the by-now familiar 'dirty air' issue was beginning to make itself felt, all had to rub their eyes.
"There aren't a lot of drivers who could have pulled off that move to get past Damon Hill," Palmer noted admiringly. "Overtaking is not easy; it demands a special skill."
Yet reigning champion Michael Schumacher's Benetton was on another level, and had been all weekend. By the time Alesi had worked his way to second Schumacher had a lead of 10.6sec.
Alesi didn't show signs of being able to reduce it, and after what was intended to be the sole round of stops Schumacher had extended his advantage to 26sec, helped by a later and faster halt. All waited for the inevitable victory, as Schumacher even by that point in history had established the air of one for whom nothing would ever go wrong.
But in this one, with 12 laps remaining, something did go wrong.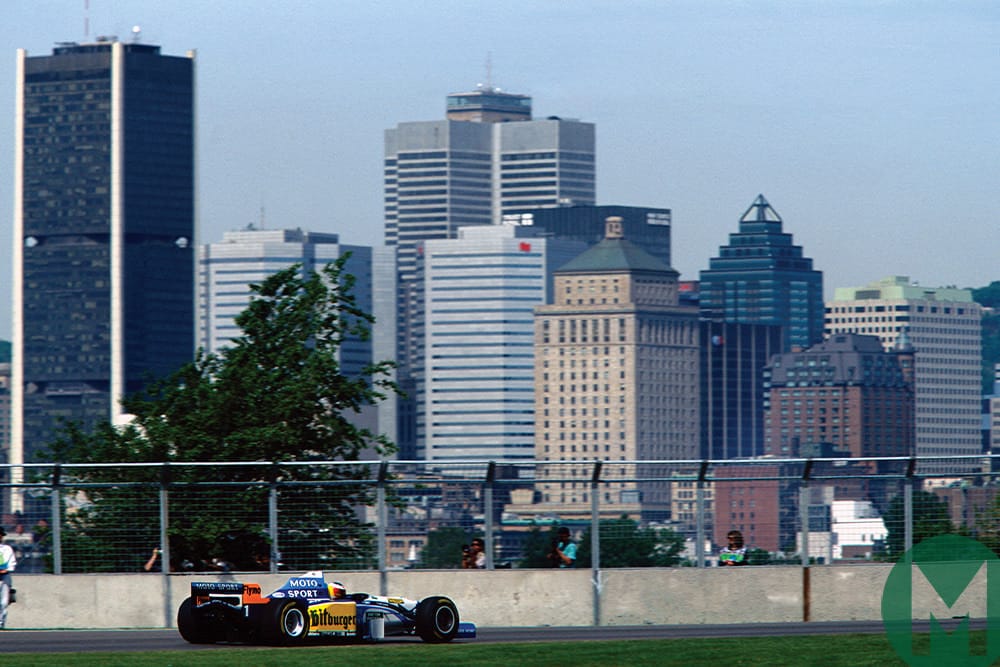 The Benetton was spotted at snail's pace, stuck in gear and heading for the pits. Schumacher returned to the action after a steering wheel change and a reboot. But Alesi was long gone, now with a lead of 23sec over the Jordan pair cruising to the end in fuel-conservation mode. This time Alesi, almost literally, couldn't lose. And he didn't.
This too in a blood-red no27 Ferrari at the Circuit Gilles Villeneuve, and as a driver who embodied Villeneuve's mercurial brilliance and unquenchable spirit more than most. You can imagine the local reaction.
There wasn't a dry eye in the house, and that included the victor's. "Alesi confessed he was so emotional at the thought of his impending maiden grand prix win that he began to cry, the tears being swept onto his visor every time he braked for a corner," Skewis added.
"The tifosi were so touched with passion that many streamed foolhardily across the track, narrowly avoiding cars still racing at 180mph; even the curmudgeonly press, gloomily preparing to write up another Schumacher success, stood and applauded wildly."
Alesi was overcome too. "It was unbelievable to me that I had not won before," he said. "There were times when I was sitting there and wondering what had I done to God that he would give me such bad luck?"
"I think from now on he will go increasingly well," Palmer reckoned. Sadly not though, as subsequently Alesi's foul luck kicked back in.
About as unthinkable as with his preceding drought, Alesi never won another grand prix.
Sign up to our F1 newsletter for the latest news and reports