Jim Clark's "feat of unparalleled brilliance": the 1965 British Grand Prix
- Last updated: December 4th 2019
Jim Clark won the British Grand Prix five times, and bestrode the 1965 year. Yet in winning the 1965 Formula 1 grand prix at Silverstone he had plenty to overcome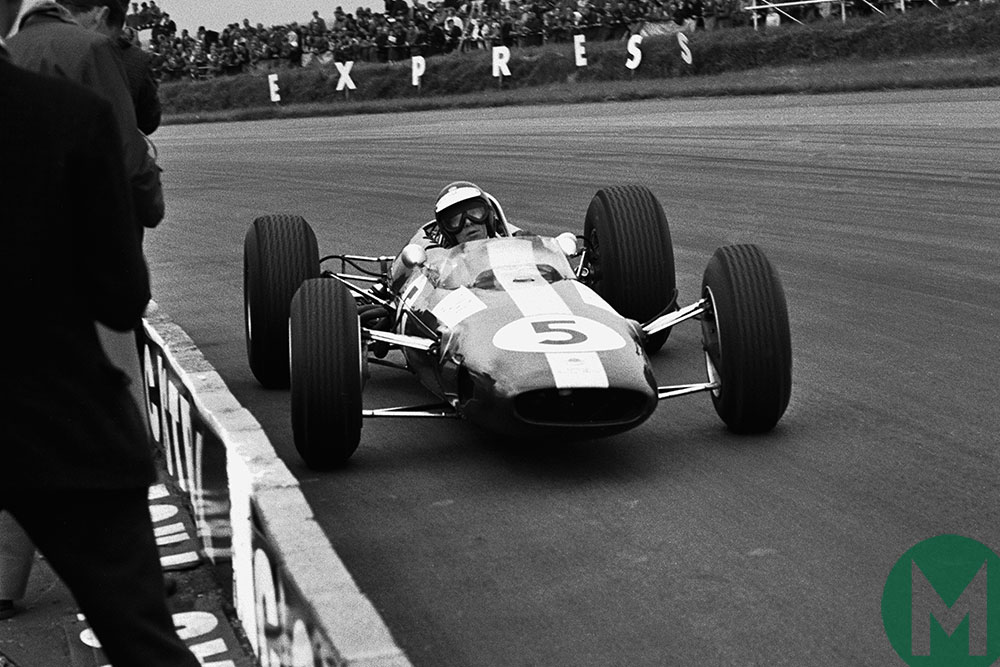 Jim Clark negotiates a turn in his Lotus-Climax in the 1965 British Grand Prix Photo: Motorsport Images
Imagine a calendar year in which a driver won the Formula 1 world championship well ahead of time, scoring the maximum points available and for much of the season had a 100% record in the races he took part in.
Imagine the driver that year also won the Indianapolis 500, bagged the British and European Formula 2 championships, took the Tasman Series, as well as won saloon and sports car races.
It sounds like fantastical fiction, perhaps from a motor sport equivalent to Roy of the Rovers. Yet it is sane motor sport history. Jim Clark did all this in 1965.
And with this you would be forgiven for assuming that his British Grand Prix victory at Silverstone that year was routine, particularly as it was one of five home grand prix wins for Clark. Particularly too as it was his fourth win in a row in that event.
But you know what they say about judging books by their covers. Like the man himself, this Clark drive had a lot more to it than might strike from the exterior.
For a long time that weekend all looked normal. Clark in his Climax-engined Lotus 33 took pole, led from the off and moved steadily clear. Graham Hill's BRM in second was by far Clark's closest and most determined chaser. Yet Clark eventually left even him behind.
Clark's way often was to build a large lead in case problems hit later. This time it served him very well, as after half distance problems indeed hit.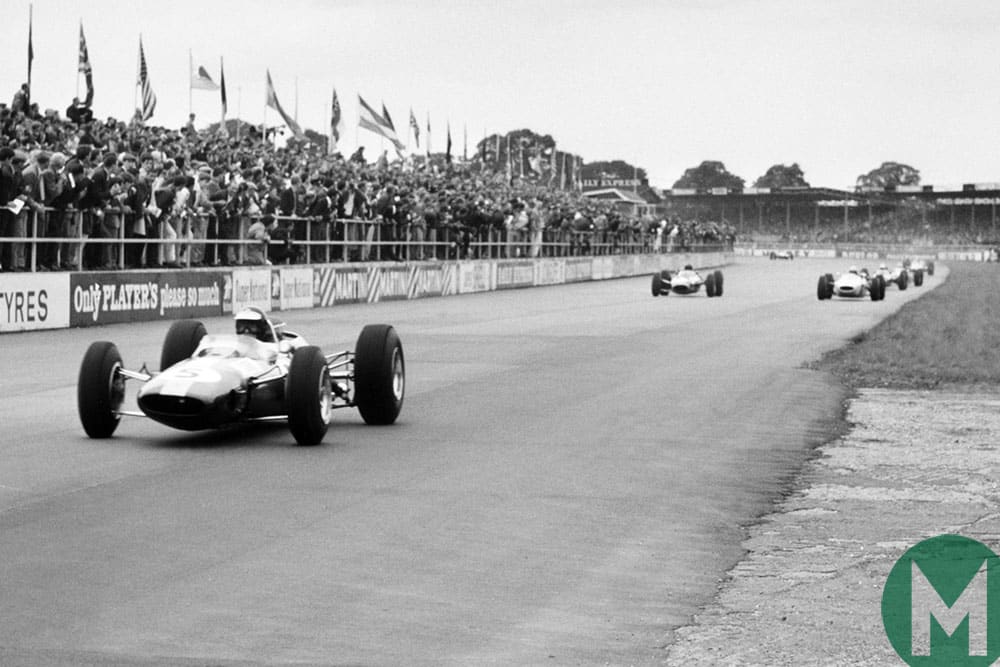 Jim Clark builds his lead in the 1965 British Grand Prix Photo: Motorsport Images
"Clark's Climax engine began to develop a small misfire, which developed into a definite 'ploppling' as if the fuel injection pump pressure was not the full 100 lb/sq in," Denis Jenkinson said in his Motor Sport report.
"This did not affect his lap times unduly, but it encouraged the BRM pit, who transmitted the information to Graham Hill."
On lap 64, with 16 to go, Clark's lead was 35sec. But then for Clark matters got worse.
"All eyes were on the slightly sick-sounding Lotus and the very healthy-sounding BRM," Jenks continued, "but there was nearly half a lap distance between them. Slowly but surely the gap began to close and as the seconds diminished Graham Hill drove harder.
"The situation between the Lotus and the BRM began to get tense, for in addition to the misfiring the Climax engine had been losing oil and the level in the tank was now so low that it was surging away from the feed pipe on corners."
---
More
---
But Clark didn't merely continue and hope his engine would hold together. Nor did he even just cut his pace. His solution was more specific.
Going around corners only the squeal of Clark's tyres could be heard. He was switching off his Climax engine at those points, to protect it from blowing up when, as noted, the oil pressure was particularly low.
"With a resultant loss of oil pressure, the crafty Clark was coasting round the corners and only using the power on the straights while he had pressure in the oil gauge," Jenks noted.
And while Hill was driving with renewed determination, eating at Clark's lead, somehow even in his switch-off mode Clark was lapping only two seconds or so off his pace when healthy.
"All the time Hill was driving harder and harder and the two of them were driving on pit signals giving them the gap in seconds as it diminished steadily," Jenks added. "With 10 laps still to go Clark was slowing visibly all round the circuit and the BRM supporters were urging Hill on his way, while Lotus supporters were keeping their fingers crossed.
"In the last five laps Clark was looking anxiously in his rear-view mirrors and driving as hard as he dare, without risking blowing up the engine."
---
1965 British Grand Prix Report
---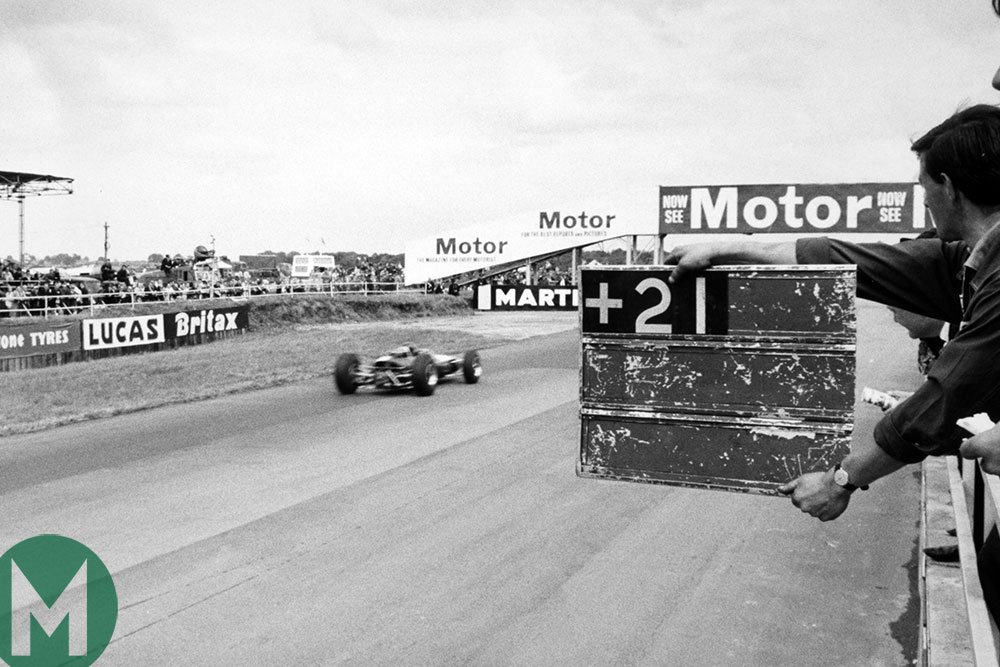 Jim Clark's pit signals tell him about his diminishing lead Photo: Motorsport Images
Clark somehow, against all odds, kept going; his Lotus at points visibly sputtering before resuscitating itself. The gap to Hill was 19sec with six laps left, which fell to 9.6sec with two to go. As they commenced the final tour Clark's advantage was 6sec.
"As he started his last lap Hill had him in sight," Jenks continued, "and as the Lotus went into Copse corner Clark could see the BRM in his mirrors, but he obviously had command of the situation for when he finished the 80th lap he was virtually still the same distance ahead of the BRM, which was officially 3.2sec." This was despite Hill setting a lap record on the final lap.
"It had been a very close thing and had Clark not driven with such determination in the first half of the race he may not have been able to nurse the Lotus to the finish ahead of Graham Hill, to record his fourth consecutive British Grand Prix victory."
An admiring Autocourse added that it was a "feat of unparalleled brilliance" from Clark.