Not so good news for Verstappen was that he was not alone in taking an engine penalty. Ferrari went that route with Charles Leclerc too, fitting an upgraded power unit with new hybrid / battery elements. Leclerc will start ahead of Verstappen due to Max's Monza penalty and so, unless he can get by the Ferrari on the opening lap, he's likely to encounter a competitive car much earlier than normal. And Leclerc is unlikely to let him go. Some potential jeopardy there.
"We must take full advantage of Max's penalty," Hamilton said on Friday, but he and Mercedes have not.
Forecast wet weather on Saturday was always going to be a complication and, off-camera, F1 was preparing itself for a repeat of Japan 2019, with qualifying on Sunday morning as Saturday threatened to be a wash-out. But, a window of opportunity to go ahead with qualifying as per the schedule presented itself despite the cancellation of FP3 on Saturday morning.
It was one of those wet / drying sessions that turn into a bit of a lottery but reward fleetness of foot and some risk-taking on the pit wall.
Q1 and Q2 were straightforward. Fernando Alonso alone ventured out on the full wet Pirellis in the opener, but soon realised the error of his ways, after which the green-walled intermediates were used exclusively. Out went the two Haas cars, the two Alfa Romeos and Verstappen, who understandably enough didn't bother to record a time.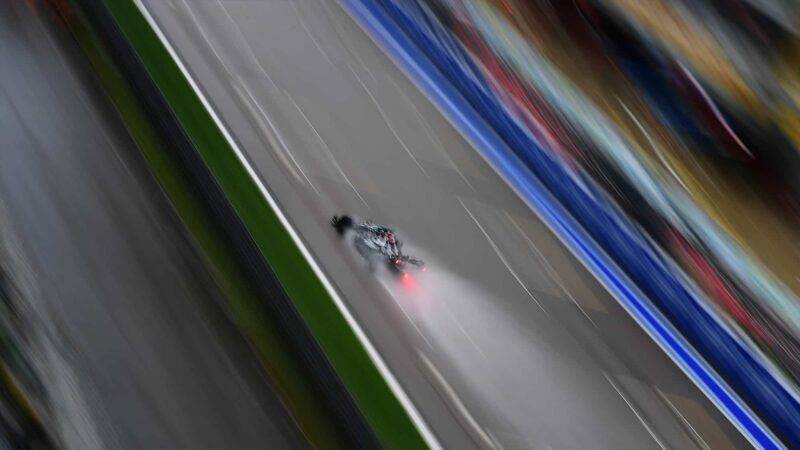 So far so good for Mercedes, which has never lost a Sochi race since it first appeared on the calendar in 2014, as Hamilton and Valtteri Bottas topped Q1 ahead of Sergio Perez's Red Bull. It is one of Bottas's best circuits, well suited to his preferred neutral / understeer set-up in contrast to Hamilton, who prefers a sharper front end. The Finn won his first GP in Russia as well as the last visit in 2019, and was fastest on the opening day.
The Mercs were still there at the end of Q2, Lewis a couple of tenths quicker than Valtteri. Hugely frustrated eliminees were Sebastian Vettel, who missed out to Carlos Sainz by 0.05sec for the last Q3 slot, and Pierre Gasly. The Frenchman was livid. Best-of-the-rest behind the Merc drivers on Friday afternoon, he was just as confident in the slippery conditions of qualifying and sixth quickest in FP1. But then, in Q2, didn't get a second set of inters fitted in time to protect his position.
"I don't have words…" Gasly said. "For three laps I was asking to box! We did a bad job. Missed a huge opportunity. We should have been out there on new tyres." He will start 12th tomorrow.
Midway through Q3, the track had just about reached the crossover point where a sufficiently warmed set of slicks were the tyres to have. But you had to survive the warm-up period on a very narrow dry line and have the guts to risk the switch.
The jeopardy was more than worth it if you weren't going to threaten the pace-setters on intermediates. George Russell was the first to switch, followed by Carlos Sainz and then Lando Norris.
Initially Russell's sector times seemed too far away and then, on his second lap, the tyres were in and the opportunity clearly there. In came Hamilton for slicks but he clipped the pit wall on entry.
A new nose cone was required, with Valtteri Bottas stacked in the Mercedes pit box while it was fitted. By the time Hamilton got back out on slicks, there was too little time to generate sufficient temperature and, short of grip, Lewis most uncharacteristically dropped it, reversing gently into the wall.