Leclerc channelled Villeneuve at Monaco...
- Last updated: December 5th 2019
… and then he lost it after his Mirabeau masterclass and rally at Rascasse. But his overtaking moves from the Monaco Formula 1 Grand Prix will go down in history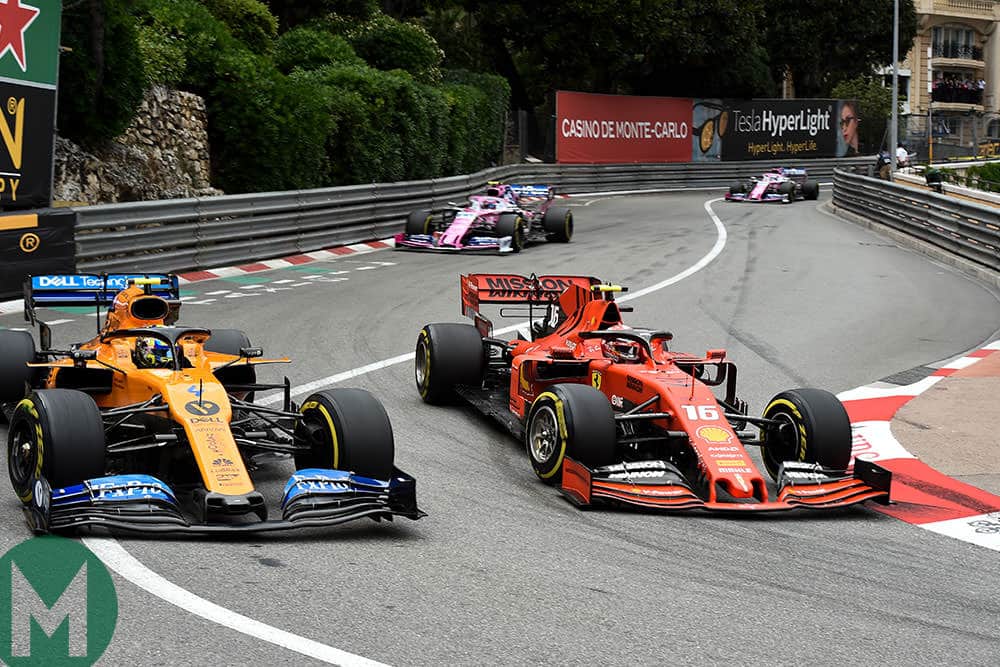 Leclerc battles with Norris at the 2019 Monaco Grand Prix Photo: Motorsport Images
So we know now that Charles Leclerc has a Gilles Villeneuve side to him, too.
His home grand prix was never going to last but it was audaciously exciting while it did.
He pulled, in short order, moves at Mirabeau – 'standard' Monaco fare – and at what I like to call the Station Hairpin, as well as at Rascasse.
He almost made stick an outside pass at the hairpin, too.
It wasn't long, however, before he misjudged a 'gap' – and an opponent's compliance – and was squeezed into a barrier.
What happened next was a mix of frustration and flailing rubber.
Villeneuve's divisive dives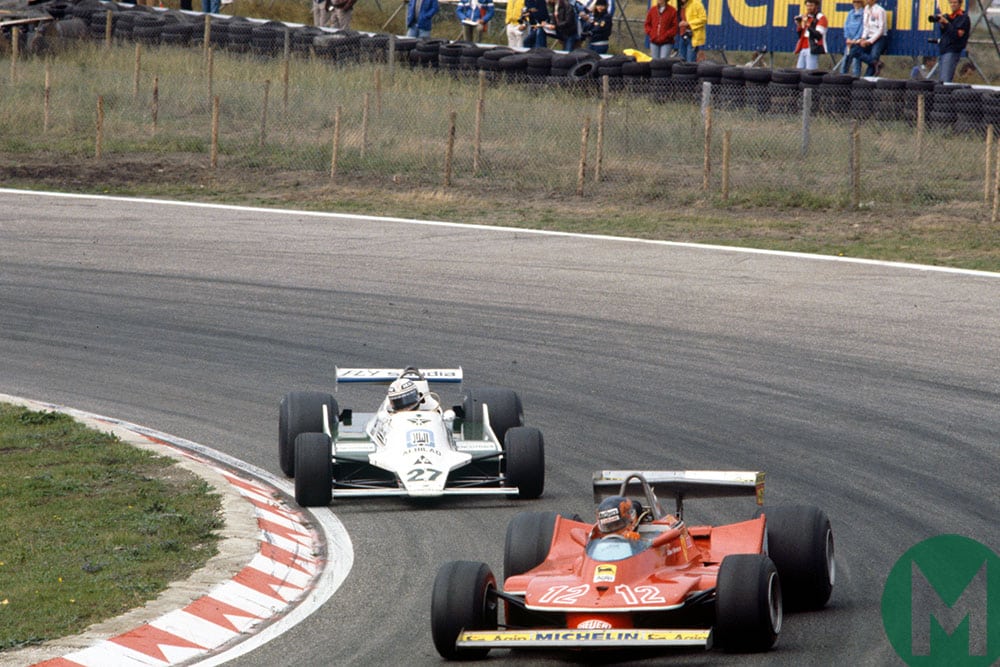 Villeneuve and Jones at the 1979 Dutch Grand Prix Photo: Motorsport Images
Forty years ago Villeneuve completed a brave move around the outside of Zandvoort's banked Tarzan bend to take the lead of the Dutch GP from the Williams of Alan Jones.
His race is remembered more, however, for three-wheeling – it was down to two- in places – to the pits after a blowout had forced him to reverse his Ferrari from the sand.
It was an act that divides opinion still.
I prefer to remember the pass.
And to remind people that Villeneuve's team-mate Jody Scheckter that same day recovered from dead last – because of clutch trouble at the start – to finish second. His overtaking manoeuvres, however, have been passed over by history.
What makes a pass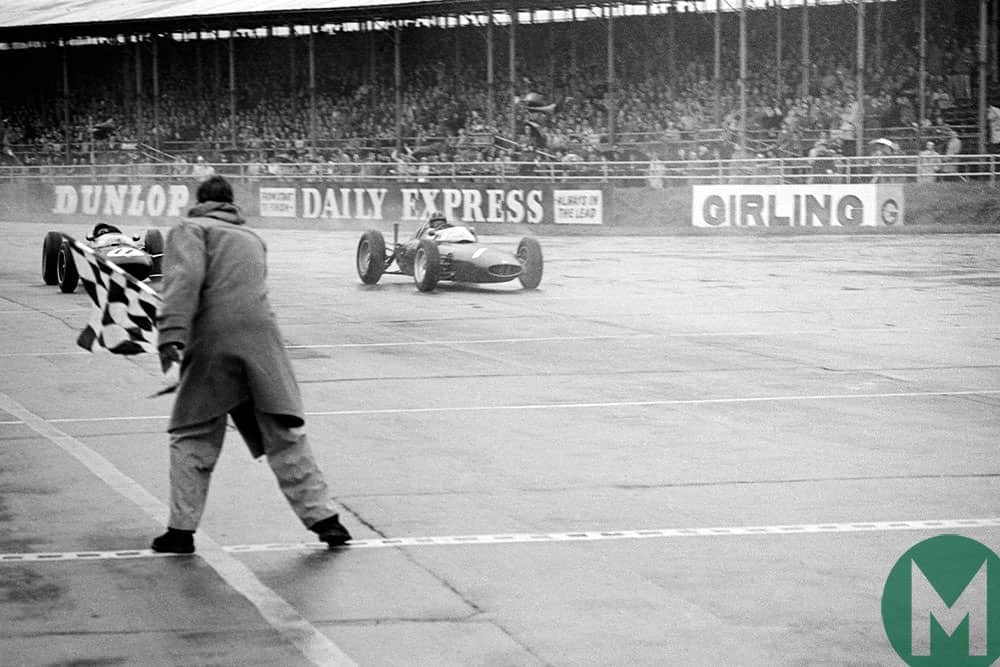 The finish of the 1962 International Trophy Photo: Motorsport Images
A pass must combine certain elements if it is to sear onto the collective consciousness: on the last lap; for the lead; rubbing wheels with one of the greats (with whom you wage a bitter rivalry); at an iconic corner (with a name); around the outside; and in the wet.
Global TV coverage from several camera angles helps, too.
Black-and-white footage that I have watched of the 1962 International Trophy at Silverstone misses entirely Graham Hill's magic moment for BRM: (the last corner of) the last lap; for victory; versus the Lotus of Jim Clark (with whom he was friends); at super-fast Woodcote; around the outside; and on a wet line.
And I can find no footage on the internet of the 1964 International Trophy, in which a "kamikaze" Jack Brabham gave Hill a taste of his own medicine. Albeit in the dry. Albeit on the grass.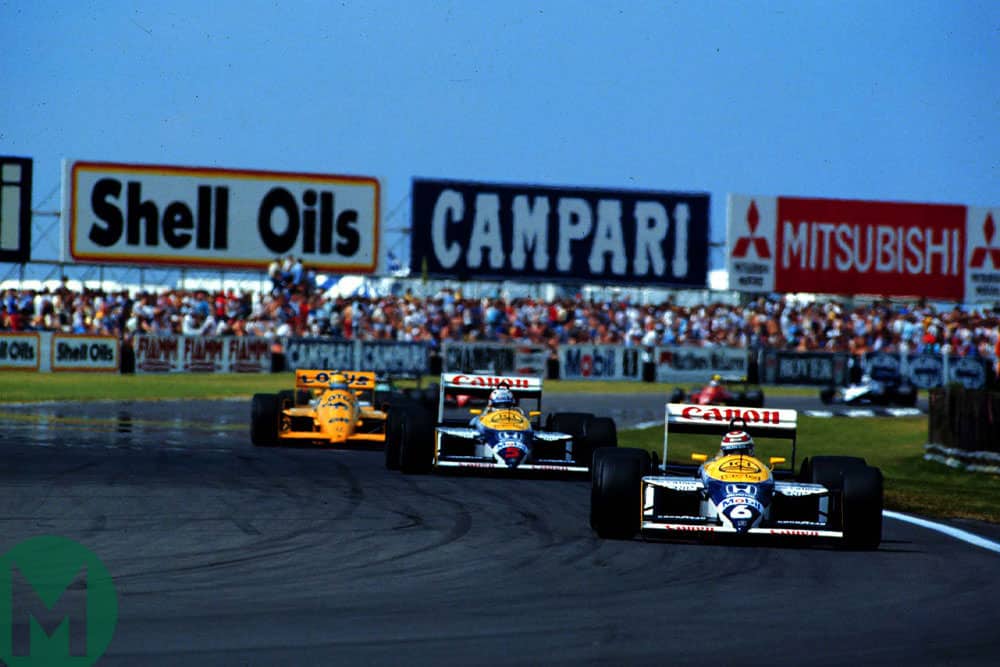 Mansell leads Piquet, Silverstone, 1987 Photo: Motorsport Images
---
More: John Watson and the art of the pass
---
Villeneuve was the first such miracle worker to be beamed regularly into our living rooms. His methodology – set to a backdrop of Murray's pants alights – was perfect for the BBC's highlights package.
Never knowing that you are beaten is another element: twice at Dijon in 1979 did Villeneuve mug René Arnoux's Renault. For second place. Of the two, the first – locked up into the first downhill right-hander – was my most out-of-your-seat.
Nigel Mansell was the next: outrageous dummy – I still can't believe that Williams team-mate Nelson Piquet fell for it – at Silverstone's Stowe Corner in 1987; opportunistic jink around Ayrton Senna at the Hungaroring in 1989; blitzing around the outside of a gobsmacked Gerhard Berger at Mexico City's bumpy, banked Peraltada in 1990.
Jeez, 'Our Nige' was brave as well as skilful. Though I am struggling to bring to mind a demon pass of his under heavy braking. Unlike for John Watson: three cars in one lap within the grid-pattern confines of the mean streets of Detroit in 1982.
Is scarcity a problem?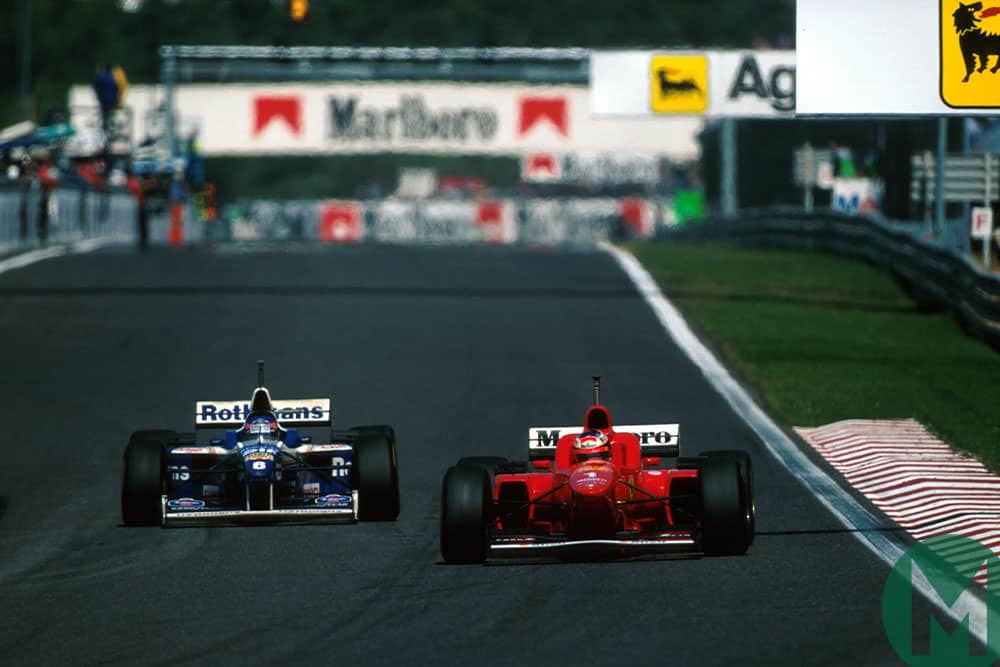 Jacques Villeneuve versus Schumacher, Estoril, 1996 Photo: Motorsport Images
Overtaking manoeuvres became more scarce during the 1990s. Apparently only 186 were completed during the whole of 1996.
But rarity adds value.
Jacques Villeneuve's prediction that an outside pass was on at Estoril's Parabólica – a long 180mph right-hander bordered by a white line and Armco – was brushed aside as bluster by his Williams colleagues.
That made it all the sweeter when, with Giovanni Lavaggi's Minardi acting as jammer car – a rare Total Control Racing allusion, there – he walked the walk by squeaking past Michael Schumacher's Ferrari before swerving around said back-marker.
Overtaking manoeuvres became rarer still in the 2000s.
Unless Schumacher's terror tactics so enraged Mika Häkkinen – McLaren team-mate David Coulthard, keener in this regard, generally seemed more capable of passing the German – a shaking of the order usually required rain.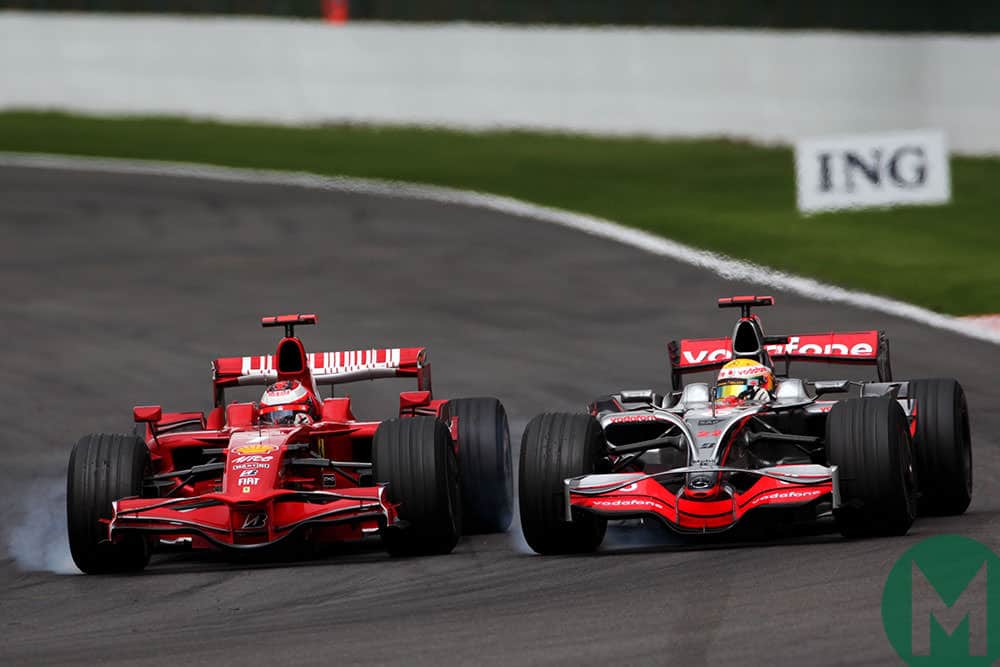 Räikkönen locks up in his battle with Hamilton, Spa, 2008 Photo: Motorsport Images
Lewis Hamilton's pass, on the cusp of a Spa downpour, of Kimi Räikkönen in 2008 is vivid still, the McLaren man handing back the lead after exceeding track limits at the new Bus Stop before immediately repassing the Ferrari at La Source.
Decisive quick-thinking that cost Hamilton a 25sec penalty and the victory.
F1's artificiality reached new heights with the introduction of its Drag Reduction System in 2011.
There were 1152 passes that season. Name one.
Aussie battler Mark Webber had no need of his when he bulled past Fernando Alonso at the sump of Eau Rouge – only for the Ferrari, DRS open, to breeze by the Red Bull on the next lap.
Okay, so I've named one. And it's my least favourite pass of all time.
DRS is likely here to stay. Even though it tends to make overtaking either too easy – there were 161 passes in the 2016 Chinese GP – or impossible still.
I'm not entirely against it. But its application, one would have thought, should be able to be calculated more finely after nine years of activation.
Whatever, it will never be a match for Piquet's exquisitely judged pass of Senna at the new and grip-less Hungaroring in 1986. He backed his Williams, go-kart style, into the downhill first corner, having squeezed down the outside of the Lotus, kicking up dust, on the approach.
He then let go of his (round) steering wheel (without buttons) to shake a fist at that 'Sao Paulo taxi driver', his best of enemies.
Perfection. Almost
The Pass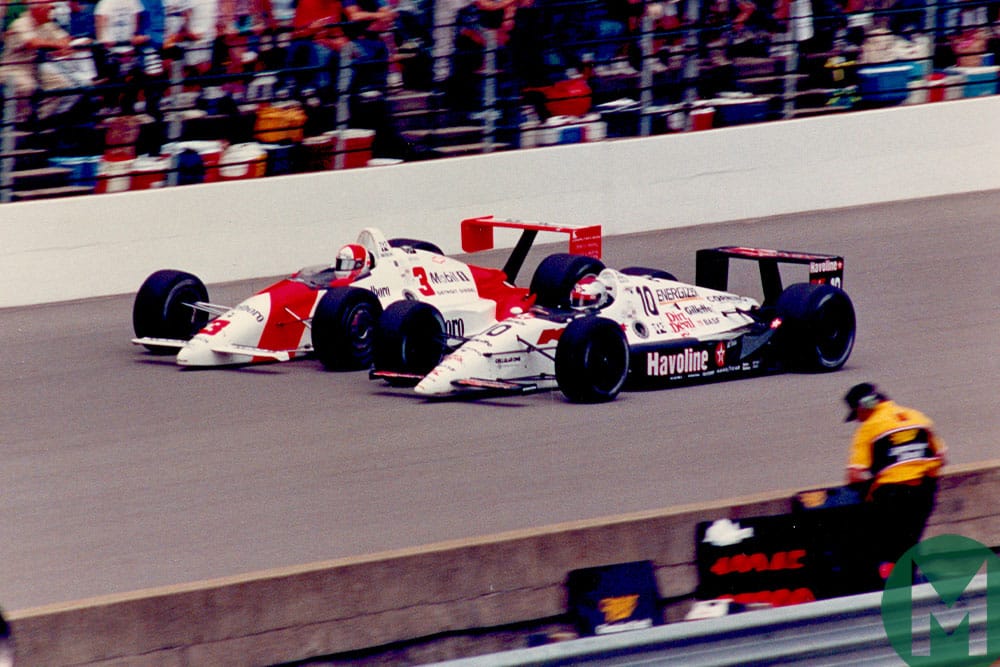 1991 Indy 500: Andretti and Mears script a classic Photo: IMS
For even this has been bettered by Indycar's best: Michael Andretti and Rick Mears' consecutive outside zaps of each other at Turn One during the 1991 Indy 500. For the lead. At 228mph.
No, hang on.
The pass has to be The Pass: Alex Zanardi's corker at Laguna Seca's Corkscrew. On Bryan Herta, a circuit specialist. From way back. For the lead. On the last lap.
He'd be gonged today for exceeding track limits.
And for that you can thank… Zanardi. His was a move so good that they banned it.