Leclerc leads Ferrari 1-2 as Red Bull implodes: 2022 Bahrain GP report
- Last updated: March 21st 2022
Charles Leclerc led team-mate Carlos Sainz to victory at the 2022 Bahrain Grand Prix, stoking Ferrari's F1 championship hopes, as both Red Bull cars dropped out late in the race
Lewis Hamilton's biggest championship advantage over Max Verstappen during 2021 was 14 points after the opening four races. He already leads the defending champion by a greater margin this year, and he didn't even win the race.
In fact, it was a race Hamilton never was in contention for, but Verstappen also faced a tough task to win as he fought thrillingly with Charles Leclerc in a Ferrari that has well and truly returned to the sharp end.
Leclerc was already a happy driver after taking pole position on Saturday as it confirmed Ferrari's pre-season testing pace, but Verstappen was the more confident when it came to race potential after the way his car had handled in pre-season. So it appeared crucial that Leclerc kept the lead on the opening lap, and he duly did so as both Lewis Hamilton and Kevin Magnussen made strong starts to move ahead of Sergio Perez into fourth and fifth respectively.
As Leclerc and Verstappen broke away, Magnussen outbraked himself twice in the opening five laps at Turn 1 and lost out to Perez and then George Russell, with Perez regaining fourth from Hamilton by lap ten. That move came with an ominous sign as the Red Bull cleared the Mercedes with ease out of Turn 3, showing the power unit performance difference between the two.
Ferrari power units were on the move everywhere as the two Alfa Romeo drivers recovered from poor starts, with Valtteri Bottas outside the top ten and Zhou Guanyu dropping to last on the road on the opening lap. They made good progress towards the points, with Zhou particularly impressive on his Formula 1 debut.
At one stage, the Chinese rookie overtook Hamilton when the Mercedes driver emerged from the pits on hard tyres on lap 12, but the slow warm-up was a short-live issue as Hamilton regained the spot quickly; the new generation of car did seem to allow close battles.
Hamilton's stop wasn't the preferred one, though, as the soft and medium compounds offered better performance and the leading trio of Leclerc, Verstappen and Sainz all opted for softs a few laps later, kicking off the first part of the drama at the front.
Verstappen stopped one lap earlier than Leclerc and closed in quickly, showing an amazing straight-line speed advantage as he flew past into Turn 1 on lap 17, but Leclerc lined up a reply and went round the outside before Turn 4.
One lap later: repeat the process. Although on this occasion Leclerc used the inside into Turn 4, and pulled nearly a second clear by the end of the lap. That still wasn't enough to withstand the straight-line speed Verstappen had at his disposal at the time, as the defending champion lunged down the inside into Turn 1 but locked up and lost out on the exit.
"It was on the limit, hard racing but we would always give each other space which was nice," Leclerc said.
"Following him into Turn 2 was actually more predictable than what I had last year which was good. But it was always very close, I would always try and brake very early into Turn 1 to get the DRS for Turn 4 and it worked out three times in a row so then I could keep my lead.
"It was also always very tricky because I was struggling quite a lot with my energy and had to manage that too, but then after the third lap I think I was in a better window with it and could push again and manage to have a bit of margin to manage my race."
Verstappen then had to drop back and manage car issues, but he was also unhappy with the team's approach to strategy that he felt didn't give him the best chance to attack.
"Sometimes you might not get the balance you would like but still, we had a bit of a fight even though strategy-wise we could've done a better job, be more aggressive on the out-lap for example, be ahead and then you never know what might happen," Verstappen said.
"We had good top speed all race. But after that I had that steering issue, brake issues as well, they were overheating as well if I wanted to attack. After the fight with Charles I had to let him go."
There was a second stop for both to switch to mediums, but on that occasion Verstappen couldn't get close enough to mount an attack. With Sainz keeping Perez – who opted for mediums in the middle stint – at bay to the tune of around two seconds, the top four looked pretty well set, with the Mercedes pair a distant fifth and sixth.
Aside from Magnussen and Pierre Gasly swapping positions after a Haas pit stop – the Dane consolidating seventh as a result – the action catching the eye was actually near the back as the six Mercedes customers filled the final six positions on the road.
Williams might have been accustomed to being outside the points in recent years, but for McLaren and Aston Martin this weekend came as a big surprise, and it was actually Alex Albon leading the battle for the majority of the race.
But in a repeat of many races in 2021 – when it largely refused to deliver a "normal" race – there was a twist in the tale. Red Bull tried to instigate some late drama with a third pit stop for each of Verstappen and Perez with 14 laps remaining, fitting softs on both cars and forcing Sainz to respond.
Before there was even time for Ferrari to worry, Verstappen was on team radio and the worry was in his voice as he complained about both the strategy but also the steering getting heavy and inconsistent.
"The steering issue, it was not easy to drive as I had no feeling of what the car was doing because it was not natural," Verstappen explained. "You can lose power steering or whatever, and it's just heavy. But this was like it was almost stuck in some places, so really difficult to drive."
No sooner had Verstappen complained than Pierre Gasly came to an abrupt halt exiting Turn 3 with flames emerging from the rear of his car. The Frenchman was eliminated from what had been a comfortable eighth place, but more than that the required response was for a safety car, bunching up the field.
Anyone who hadn't made an extra stop got the chance to without penalty, and with Verstappen's complaints continuing it was actually a largely pressure-free restart for Leclerc who pulled away with seven laps remaining.
Verstappen took an odd line through the final corner and was soon reporting battery issues, but was informed it was a bigger problem as Sainz swept by into Turn 11. A few corners later and the lead Red Bull lost power, with Verstappen coasting into the pits to retire.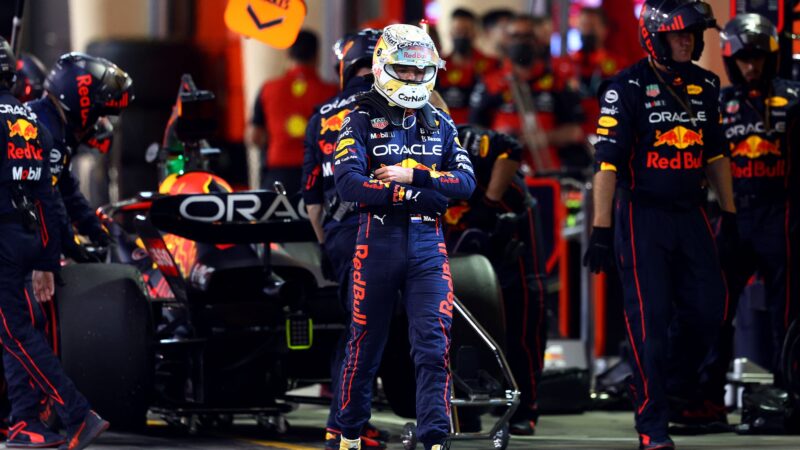 A Ferrari one-two was secure, but Red Bull looked set to salvage a podium with Perez before he too started reporting power issues. Hamilton had been on his gearbox since the restart but lacked the top speed to pass, and Perez looked set to hold on until his problem became terminal at the start of the final lap.
The remaining Red Bull's rears locked and he was spun out of third, with Hamilton and Russell gleefully sweeping by for third and fourth on the road despite an uncompetitive run.
"I had a moment where I thought for a second that I was going to have a little bit of a battle with Carlos but it was only for five laps and then after that they were gone," Hamilton said.
"I definitely didn't expect to be up here. Of course I woke up this morning and I was hopeful and we did everything we could, praying as hard as we could to get the best results, but ultimately it came down to just really hard work from the whole team both here and back at the factory. We have a lot of work to do. We have quite a big deficit in performance but this is a great start still."
You couldn't use the term uncompetitive to describe Ferrari, though, and Leclerc even had the cheek to wind up his engineers on the final lap with thoughts of his 2019 reliability issues when leading at the same venue.
"I did a bit of a joke on the radio on the last lap saying there was something strange with the engine!" Leclerc said. "Which gave a heart attack to some of the engineers I'm sure but everything was fine so very happy that we brought it home."
The actual drama that hit Red Bull also benefited Magnussen, who had enjoyed a dream return even without being promoted to fifth on the final lap. Valtteri Bottas similarly capped off his impressive weekend with sixth place – earning a big hug from a very happy former boss Toto Wolff post-race – as he beat Esteban Ocon, Yuki Tsunoda and Fernando Alonso, and was joined by team-mate Zhou in the points.
Wolff's delight almost matched that of Ferrari team principal Mattia Binotto, but it shouldn't be overlooked how competitive the Red Bull was before the late failures.
There have been false dawns for Ferrari before, too, but there's a real sense this could be a title-challenging year. With Leclerc also taking fastest lap, the Scuderia couldn't have asked for a better start.