A win in Canada gave Vettel back the lead of the championship having lost it to Hamilton post-Baku though it was a short-lived lead with Hamilton victorious at Paul Ricard. A rare double-DNF in Austria opened the door right back to hand Vettel a one-point lead heading into Silverstone. First-lap contact with Räikkönen relegated Hamilton down the order and gave Vettel the chance to take the win on rival turf, a favour repaid immediately and in dramatic circumstances.
Having led the early phase of the German Grand Prix, Vettel was quickly being closed down by a rapid Hamilton who was on a recovery mission from 14th on the grid following more reliability gremlins. An error as rain started to fall put Vettel in the barriers and Hamilton through into a race-winning position. It proved to be the pivotal moment of the season.
A win in Belgium for Vettel closed the title lead back up ahead of Ferraris home race at Monza, and the straight-line performance of the SF71H at Spa promised much for the Tifosi.
Ferrari locked out the front row but its elation was short-lived on race day, as Hamilton and Vettel went into wheel-to-wheel combat. Entering the second chicane deep on the brakes, Hamilton pulled a move around the outside of Vettel. The German spun in response and the Mercedes went on to hunt down and overtake Räikkönen for an important win.
Operational and reliability issues plagued Ferrari from Singapore to Japan but another mistake in close quarters with another driver at COTA sent Seb spinning and one race later, Hamilton moved clear of his rival and onto five world titles.
F1's veterans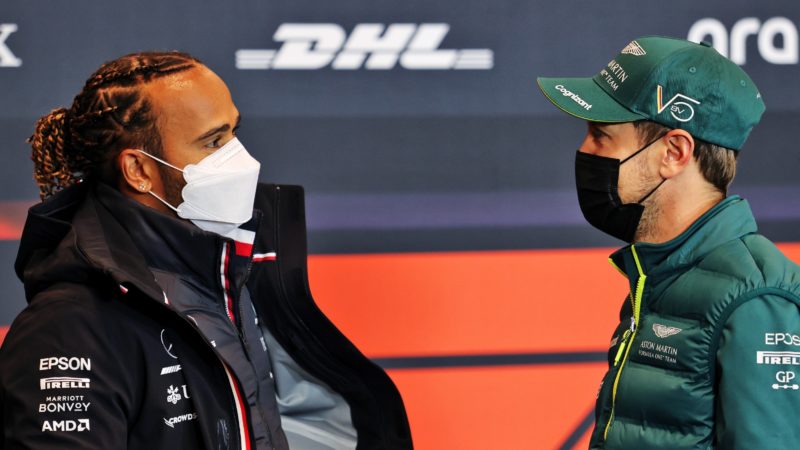 Despite Vettel's aspirations to prevent Hamilton from breaking hero Michael Schumacher's F1 records, the past few seasons have been the Hamilton/Mercedes show.
Ferrari's performance dipped in 2019 and the on-track battles between the two became less and less frequent. A spin in Bahrain as Hamilton pulled off an overtake at Turn 4 signalled the dip in form for Vettel that has continued on ever since.
As Hamilton added more and more records to his collection, Vettel's performances have never been at the same championship-level. For 2021, it looks as though Verstappen is now the challenger to Hamilton's crown though the two experienced hands clearly still retain a great deal of respect for one another stemming from their battles on track through the years.