Mercedes master plan helps Hamilton out-fox Red Bull: 2021 Spanish Grand Prix race report
- Last updated: May 10th 2021
Lewis Hamilton's race-winning Spanish GP strategy was decided on long before the lights went out in the race and it caught Red Bull and Max Verstappen napping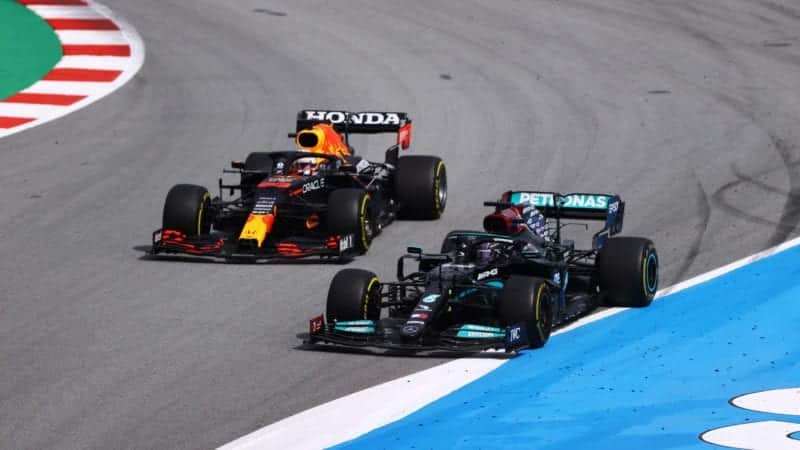 If you were watching the Spanish Grand Prix and thinking it was a movie you had seen before, you'd be right.
A Red Bull leading on a track that overtaking is particularly difficult on, and Mercedes opting to put Lewis Hamilton on an alternate strategy with a big gap to close down in the second part of the race. In Hungary 2019, Hamilton cleared Max Verstappen with four laps remaining; it all played out a little bit earlier this time round.
Qualifying had been extremely close as Hamilton took his 100th pole position by 0.036sec, but the margins were even tighter into Turn 1 as Verstappen got the better launch but barely had an inch of his car alongside as the pair hit the brakes for the first corner. It was a crucial moment and in true Verstappen style he was never backing off, throwing the Red Bull to the apex and forcing Hamilton to yield.
It cost Hamilton 1.5 seconds on the opening lap, but actually proved more damaging to Valtteri Bottas who had to check up behind his team-mate in the first two corners. Then unaware of Charles Leclerc's positioning, Bottas was caught napping as the Ferrari swept round the outside of Turn 3, a move that would prove very costly to the Finn's hopes of being in the lead fight.
Verstappen and Hamilton quickly pulled away, with Bottas soon some eight seconds down after five laps and facing an uphill battle. It was a similar story for Sergio Perez – apparently hamstrung by shoulder problems on Saturday – who gained two places on the opening lap but was still stuck in sixth behind Leclerc, Bottas and Daniel Ricciardo.
Fortunately for both, Yuki Tsunoda then lost fuel pressure approaching Turn 10 and coasted to a halt, bringing out the Safety Car and capping a miserable weekend for the Japanese rookie.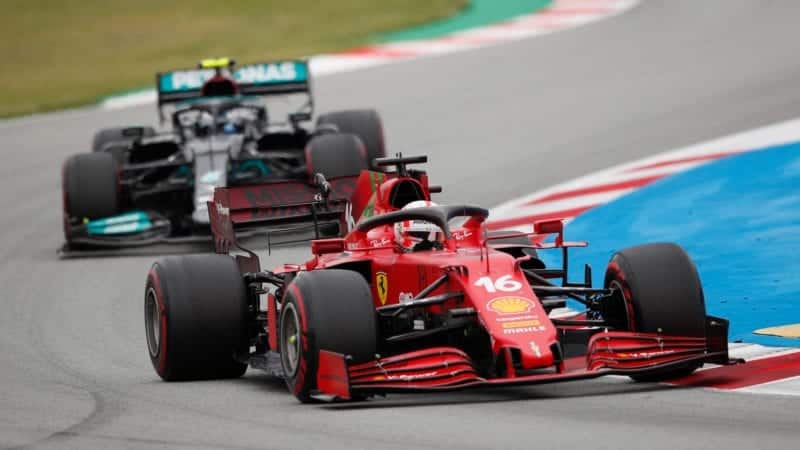 The interruption was brief and did little to shake up the order, even if it had closed up the gaps. What it did do is serve as a reminder of just how hard overtaking is in Barcelona – if it was needed at all – and highlighted why teams were eager to try a one-stop strategy in order to protect track position.
The key difference was Mercedes had two sets of mediums available if it wanted to two-stop either of its drivers, while Red Bull only had one.
"It had been the plan all weekend for us to make sure we had two mediums to be able to do a two-stop," Hamilton says. "A one-stop potentially looked better, [but] I know from experience here, a one-stop is very, very hard to pull off."
The Safety Car interruption did make a one-stop more viable, with a couple of laps to cool the soft tyres, while an early first stop was no longer possible because the leaders would emerge into traffic. So Red Bull stuck to that plan, bringing Verstappen in for a set of mediums on lap 24 and giving him a 42-lap stint to attempt.
Hamilton had been closing, so it looked initially like a smart move to avoid being undercut, but the left rear was slow going on because the team wasn't ready for Verstappen. That seemed to give Mercedes an open door to pit and rejoin in the lead, but it didn't take it…
"Because we'd had that slow stop we thought they'd immediately take that next lap," Red Bull team principal Christian Horner admits. "Obviously they didn't, we took back the track position, but they just looked like they had a quicker car today. They didn't have the tyre wear, they were able to follow so closely, and because the field opened up to such a degree that it did, that just gave them all the options.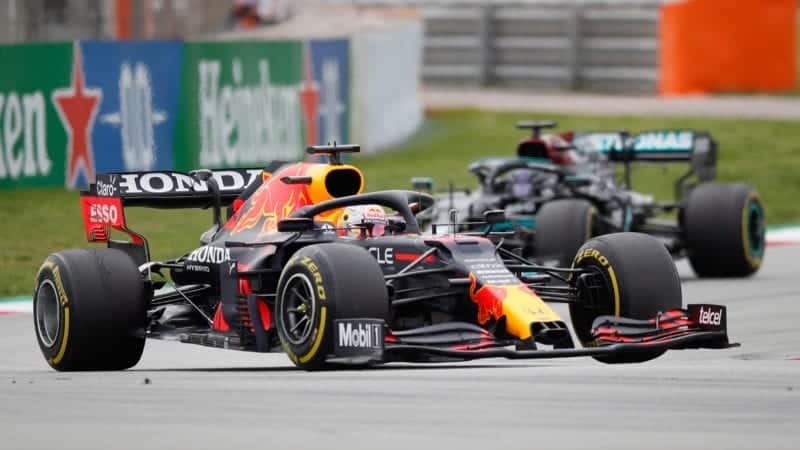 "It didn't look like they were going to pass Max on track on the same strategy, so they've got nothing to lose by taking a pit stop into that clean air and of course it worked out for them today."
It was a sign of Mercedes confidence. Hamilton ran four laps longer at solid pace, and then when he emerged on a fresh set of mediums he duly erased a six-second deficit in no time.
But once again, track position was key. Verstappen could then hold Hamilton at bay despite losing 1.5 seconds per lap at one stage, with Bottas now loosely in touch at seven seconds back after clearing Leclerc.
With Perez still held behind Ricciardo, and Leclerc now out of the pit window, Mercedes had an option that Red Bull didn't. Just as Hamilton closed up in what looked set to be an overtaking attempt, he then dived into the pits for a second set of mediums with 24 laps remaining.
"As soon as we had the pace we had, I knew I had to get past him as soon as I could," Hamilton said. "I was about to… I think I had a shot of getting past him before I pitted right at the end and I was really conflicted. Like do I come in or do I ignore the call and stay out? I obviously did what the team asked and naturally because there's a great trust between us."
Red Bull could either respond instantly but be left with a very tough final stint on soft tyres – if Verstappen even retained the lead – or stick to a one-stop. It chose the latter.
"In a way I could see it coming," Verstappen said. "Already at the end with the softs he was faster, then we put on the mediums, he clearly had a lot more pace, he could stay within one second. There was not much we could have done. They went for another stop then I knew it was over as I was already struggling with the tyres and every lap he was getting closer and closer. A bit of a sitting duck."
Hamilton quickly started erasing a 22-second deficit with his only worrying moment coming when he needed to clear Bottas. The Finn was told not to hold up his team-mate but didn't move over, with Hamilton eventually diving down the inside into Turn 10. It would be the only lap he'd lose time to Verstappen.
"I definitely could have let him by earlier but I was doing my own race as well," Bottas said. "It's always calculating things and I was trying to get Charles out of my pit window so I could stop again and go for an extra point so the main thing in my mind was my own race.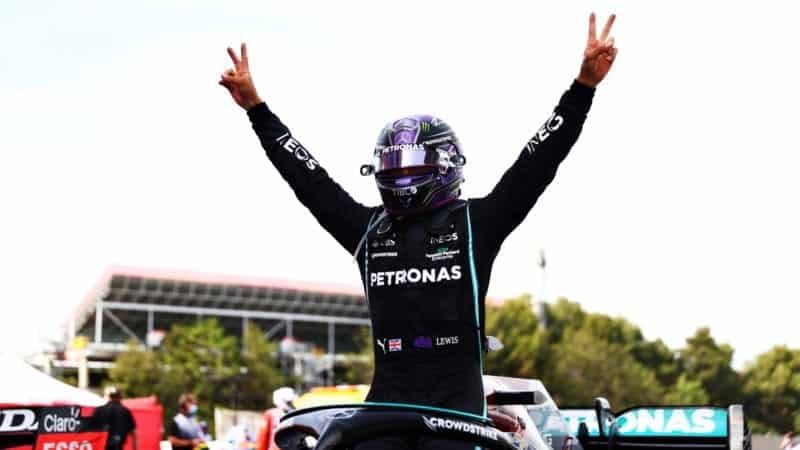 "There wasn't that much [discussion]. They told me not to hold him up too much. Like I said, I was also doing my race and I am not here to let people by, I am here to race. That's how it goes."
It proved trivial, as Hamilton cruised up to the back of Verstappen and cleared him with six laps to go.
By now, Perez had pulled an excellent move around the outside of Ricciardo at Turn 1 to take fifth, triggering second pit stops for Ricciardo and Carlos Sainz behind. That in turn let the second Red Bull have a free stop, allowing Leclerc to do the same and giving space to Bottas to pit again. After losing the lead, Verstappen could follow suit and on fresh softs and low fuel, the Dutchman at least added the extra point for the fastest lap.
Those late stops came with secure positions for all, although Sainz did push Ricciardo to the line for sixth, with Lando Norris a distant eighth after clearing the fading Esteban Ocon. Alpine's early promise was a distant memory by the final lap, as Pierre Gasly – handed a five-second time penalty for being beyond his grid slot at the start – cleared Fernando Alonso and Lance Stroll to secure tenth and was a matter of metres from beating Ocon to P9.
The Circuit de Barcelona-Catalunya has always been a venue where track position rules, meaning strategy was absolutely crucial. Alfa Romeo would have got it right but for a punctured tyre being brought out for Antonio Giovinazzi under the Safety Car, but Williams copied the call a lap later and it nearly paid off. Two stints on the medium tyre left George Russell right in the fight for points but the chance slipped away in the final five laps.
That very much wasn't the case at Mercedes, where some forward planning and clean air offered Hamilton an opportunity to hit back after losing out at the start. As Verstappen is finding out quickly, that tends to be all the seven-time world champion needs.