Gasly's misfortune was Hamilton's gain. Without it, Lewis could have been looking at starting fifth tomorrow despite the Mercedes advantage on Friday, such was the predicted difficulty of overtaking in a DRS train around Monza.
"After crashing, I stood and watched the race and didn't see a single overtake…" Gasly said, figuring he might have his work cut out tomorrow.
If he'd moved a bit further down the track and stood between the Roggia chicane and the first Lesmo, he would actually have seen the one and only! No surprise, by Fernando Alonso, who ran outside of Sebastian Vettel into Roggia, forcing him into a tight entry, switched back and nailed the Aston Martin on exit. As at Silverstone, Alonso won move-of-the-race, but without anything by way of competition.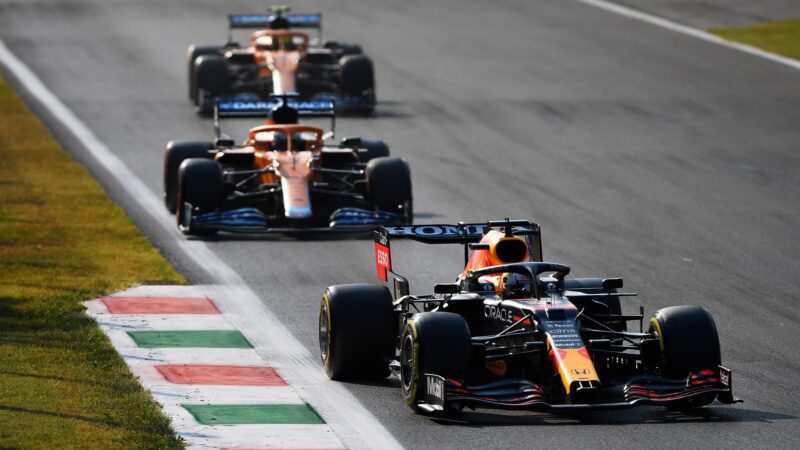 Those expecting Hamilton to provide fireworks were disappointed. Up front, Bottas and Verstappen escaped, with Max simply following Valtteri around safe in the knowledge that the Mercedes would start from the back tomorrow. The McLarens didn't have the pace to stay with them but Hamilton was unable to do anything about getting by the orange cars. A safety car while Gasly's car was retrieved had helped the soft-tyre starters, including the McLarens, which had strong traction out of the Parabolica (now named in Alboreto in memory of the late former Ferrari driver). Ricciardo and Norris, of course, had the same Mercedes power unit as Hamilton and to add to his Lewis's frustration, his power unit was clipping by the end of the front straight, killing any slight momentum he had.
"The Red Bull is fast and now that Max is on pole it should be an easy win for him…" said a despondent seven-time champion. "It wasn't a great start by me and we lost points (two to Verstappen). We also underestimated how long the softs would last and now we've got to work out how to get past the McLarens."
Much will depend on the start tomorrow and, given free tyre choice for all in sprint format GPs, the strategy.
"It's good news if we can stay ahead at the start tomorrow because Mercedes seems to have this harvesting thing going on," said Christian Horner, "but everyone is going to be scratching their heads about whether to start on the softs or the mediums. But I've got to be happy with our first ever Monza pole in the hybrid era. Well, I think it's pole…"
Quite. It does seem odd that poor Bottas, who did a great lap to top Friday and then won the sprint race, is not considered to be the pole man just because he has to take tactical engine penalties. But at least he gets to keep his three points.
Daniel Ricciardo will start on the front row for the first time since 2018 and McLaren can boast its best combined team qualifying performance since Hamilton and Button locked out the 2012 Brazilian GP front row.
Behind fourth-placed Hamilton on tomorrow's grid will be the cars the fans come to see. Fifth and sixth for Charles Leclerc and Carlos Sainz is at least better than last year, when the red cars qualified 13th and 16th… But it wasn't a comfortable day for either. Leclerc felt ill and Sainz took his second successive big hit on a Saturday when he lost his car in the middle of Ascari in second practice.
"The weird things is, I lost the car without pushing and I have no idea why. The guys did a great job to recover it for qualifying but it was a big one and I'm sure I'll wake up a bit sore tomorrow."
Antonio Giovinazzi will start a career best-equalling seventh for the second successive race as he battles to keep his F1 career alive and hopefully race for Alfa alongside new signing Bottas next year.
The selfless Perez couldn't do any better than eighth with the second Red Bull and starts ahead of Lance Stroll – who has started every Monza race he's done in the top 10, and the irrepressible Alonso.
And, oh yes, for the first time, George Russell was outqualified by a team mate! The new Merc driver finished one slot behind 13th-placed Nicholas Latifi. But George was faster on Friday, so does it count? It probably shouldn't.
According to Ross Brawn, in a post-Silverstone team meeting about the success of the sprint experiment, the general consensus was positive but with the feeling that some more points for Saturday, and perhaps a bit more jeopardy, might be desirable. As for jeopardy in Monza, it's Mercedes that has fallen foul of it. With the changed complexion from Friday, it really looks like Max and Red Bull could win this one against the head.