"It really happened so quickly," he remembers. "I got called the day before the final test in Jerez before the first race. I flew there overnight, arrived in the morning, walked into the garage and went into the car – with no sleep!
"I used Mark Blundell's seat because it was sort of OK for me."
Tyrrell cars were characterised during those years by being tidy in design, and not without pace, but also having a tendency not to make it the end of the race. That year's 023 machine was no exception.
"I found the car was quite good actually," recalls Salo of that first test. "I didn't know at that time just how unreliable it was…OK, I sort of had a hint because I think I drove back to the pits only a couple of times in the whole test – every other time it blew up!"
Breakdowns aside, Salo set good pace, but Tyrrell were still on the hunt for cash – leaving the Finn in the lurch.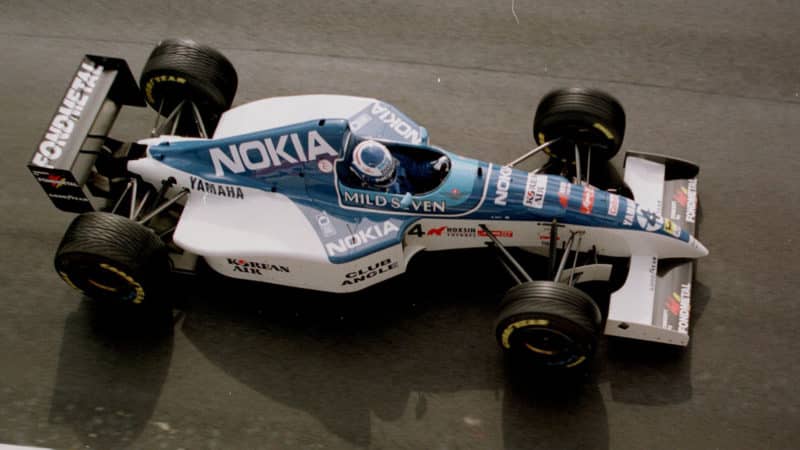 "What happened after that was not fun, because I didn't know what I'm was going to do in '95," he says. "The first race [of the F1 season] was coming closer and closer. Then, it was exactly like my test, they said 'Fly to Brazil!'"
One test in and flying last minute to Sao Paolo for the race, Salo still hadn't even been to the factory. What he found at the Tyrrell motorhome was an almost grandfather-like figure benignly presiding over matters, whilst those working below got stuck in. His anecdotes give the impression of a small, tight-knit worker bee family, the antithesis of the 'racing corporations' of McLaren or Ferrari.
"Harvey was so funny, like a 'Nutty Professor'"
"Ken was already a little bit to the side," he comments. "He had a really good people there [though], [Technical Director] Harvey Postlethwaite and [Aerodynamicist] Mike Gascoyne.
"Harvey basically knew everything and gave me all the instructions. There were good engineers, I got along with everybody really well and the whole team were really nice."
The charming quirks of such an 'indy' outfit, particularly Postlethwaite, quickly became apparent.