Yet in qualifying Leclerc got to within 0.155sec of Perez's pole position time (closer than anyone else, but with a 10-place grid drop for component changes). Sure, some of that will have been the aforementioned masking of the basic lack of grip by brand new tyres. But not to the tune of 0.85sec (the difference between how far off it was in the race and in qualifying). Some of it has got to be Leclerc himself, at least when measured against Perez (given that Verstappen went out in Q2 with his driveshaft failure).
Looking at the respective final Q3 laps of Perez and Leclerc paints an illuminating picture. When compared to the Mercedes-engined cars, the Red Bull is clearly longer-geared. But the Ferrari has very similar gearing to the Red Bull – in top gear at least. Leclerc is still up-changing earlier (as was the case last year also) suggesting that the Ferrari's lower gears may be lower (ie, numerically higher).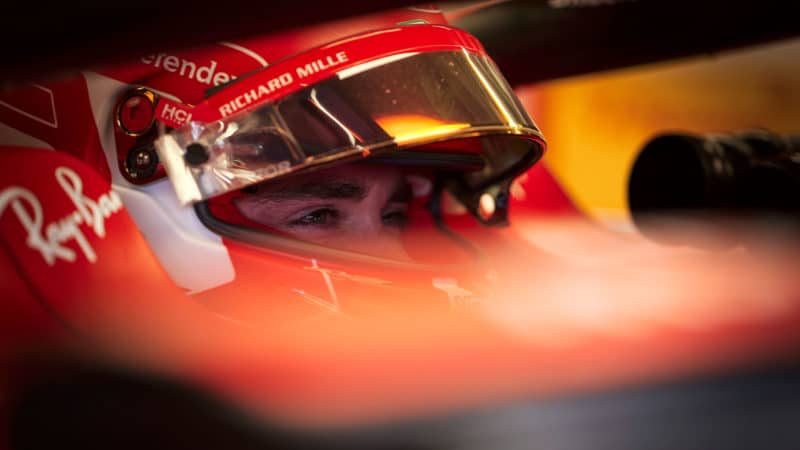 The Red Bull gains only 3km/h on the Ferrari by the end of the pit straight and between the start-finish line and braking for Turn 1-2 that buys Perez about half-a-tenth of lap time – but Leclerc claws all that back and more by being later off the throttle and on the brakes for that first sequence. Their apex speeds are around the same and they are neck and neck on the run up to the Turn 4-5 combination. But the braking advantage Leclerc was able to carry into Turn 1 is fading already. Perez is later onto the brakes, although Leclerc is able to maintain a higher apex speed and we can see in his manipulation of throttle and brakes that he is much more intricate here than Perez – and it buys the Ferrari time on the exit of the corner, so much so that Leclerc is back ahead of the Red Bull as they reach the braking zone of Turns 7-8 – and he again keeps a higher apex speed than the Red Bull.
He shouldn't be able to do that. The Ferrari does not have the Red Bull's downforce. He's doing it by a more acrobatic balancing act between braking, cornering and throttle use. By the time they arrive at the far end of the circuit for Turn 13 they are still almost equal on elapsed time over the lap so far. But here's where the Ferrari's front tyres are beginning to really hurt and under braking from around 190mph to 100mph, Perez takes almost 0.1sec out of Leclerc. The pattern is clear: at the start of the lap Leclerc was braking later, by Turn 4-5 Leclerc is having to get busier to overcome the Red Bull's later braking but is just about managing it. By Turn 13 the Red Bull's braking advantage is too much for Leclerc to overcome.