Norris and McLaren end first day of 2022 F1 testing fastest
F1 testing commenced in Barcelona and it was Lando Norris in the McLaren that topped the timing sheets at the end of day one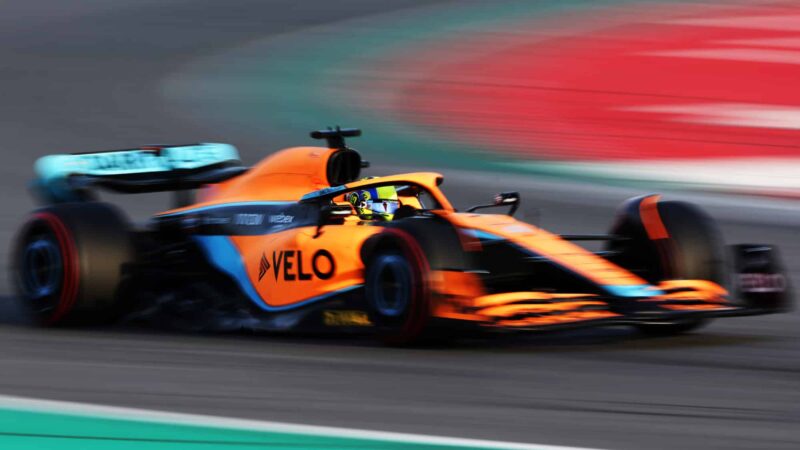 Lando Norris ended the day fastest for McLaren as new era dawned for F1, with all ten teams debuting their new cars.
In one of the most highly-anticipated pre-season tests for years, a return to ground-effect aerodynamics provoked intrigue and interest from fans and between teams.
The fiercely sculpted sidepods of the Red Bull drew large amounts of attention, whilst the intricate pull-rod suspension of the Milton Keynes car and the McLaren were also scrutinised.
Norris, who is gearing up for his fourth season with the Woking team, put in a 1min 19.568sec, almost half a second clear of nearest challenger Charles Leclerc, who was 0.6sec off.
Norris did so on the soft C4 tyre, but what was most impressive was the laps he clocked ­– 101 laps – on a day when many of McLaren's rivals did similar numbers.
It had been a strong morning for Leclerc, who went fastest before lunch, with Carlos Sainz taking over and continuing the good work in the afternoon, 0.25sec off his team-mate. They completed 80 and 72 laps respectively.
Former Mercedes junior George Russell seemed to settle into his 'new' team just fine in the morning, putting in a time – 1min 20.784sec ­– good enough for fourth whilst completing 77 laps.
His stablemate Lewis Hamilton recorded a quickest time 0.15sec off his team-mate during the afternoon session.
Sebastian Vettel headed up the testing 'midfield' behind with 1min 21.276sec, Yuki Tsuoda ended up four-tenths off the Aston Martin driver.
Fernando Alonso was a tenth further back, but who lay next was the most surprising for some: Max Verstappen. His time might only have been good enough for ninth, but it was the number of laps completed in the new RB18 which will have attracted the attention of rivals – 147, the most of anyone on the first day.
It was a tricky day for both Alfa Romeo and Haas. Whilst the latter scored more laps, damage to its floor after an off by Mick Schumacher at the first corner meant running was limited in the afternoon – he ultimately recovered to set a time of 1min 22.962sec.
Valtteri Bottas managed 24 laps in his afternoon run for Alfa, his 1min 22.572sec effort putting him tenth in the standings.
Tomorrow will see Daniel Ricciardo, Sergio Perez and Guanyou Zhou sample their new cars in anger for the first time as pre-season Day 2 gets underway. Be sure to visit our site for news and stay up to date with our live blog.
That's a lotta laps 😳

Here are the times and trips around @Circuitcat_eng on Day 1 📊#F1 pic.twitter.com/Yh4nl21ddu

— Formula 1 (@F1) February 23, 2022