Pot, kettle, Verstappen: Up and down in Azerbaijan
- Last updated: May 2nd 2023
A weekend of slightly reserved madness ensued in Baku with parc fermé fights, pitlane invasions and the wrong Red Bull winning – only in Formula 1
Formula 1 managed to douse its own flame in the Land of Fire with a dull sprint race followed up by a processional Azerbaijan Grand Prix – but as per usual the world championship did grab headlines with flare points off-track.
Max Verstappen did his best to generate interest by trashing sprint races and then having a tête-à-tête with George Russell afterwards, for which we can only applaud him – even if what he said appeared to make no sense half the time.
Charles Leclerc and then Sergio Perez did give us some hope that that the flying Dutchman can be delayed enough to induce something of a title fight, but are we all fantasising?
Here's what was going up and down in Baku.
Goin' down
VERsion of events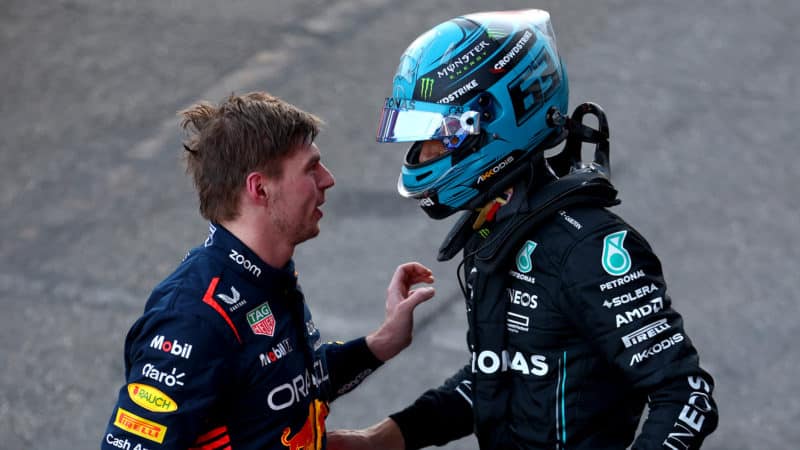 Verstappen did add a bit of spice after a dull sprint race by squaring up to George Russell in parc fermé, but his hilariously hypocritical reaction to their mild contact was difficult to comprehend.
The Dutchman accusing Russell of being out of line due to driving like he has "nothing to lose" simply beggars' belief, considering this is exactly what Verstappen did throughout 2021 to Hamilton and before in search of a first title.
Yet again the skin comes across incredibly thin.
FIAsco (yet again)
FIA personnel, photographers and circuit works were allowed into the pitlane when Esteban Ocon came in for his last-chance pitstop – thank goodness disaster was averted.
After the Melbourne track invasion recently, not a good for all involved yet again.
The view from Esteban Ocon's on-board camera as he came into the pits late in the Azerbaijan Grand Prix. pic.twitter.com/4LjGdz2T5L

— Sky Sports F1 (@SkySportsF1) April 30, 2023
Sticky patch
Absolute shocker for Alpine all round really. Gasly's A523 doing an impression of a dark satanic mill in FP1, followed up by a crash the GP qualifying, before a double non-score – following that Australian GP all-Gallic smash-up too
Miami can't come soon enough for Enstone.
Formula fruit cake
Marko's birthday cake – so awful it's good? Probably not, actually, all cakes considered.
Enough sprint?
Just get rid of it – the sense of pointlessness (apart from actual championship points) was difficult to shake.
Goin' up
Up Schiff
Naomi Schiff has proved to be a brilliant addition to the Sky Sports F1 team, along with strategy analyst Bernie Collins.
Both insightful and articulate in expressing that – top stuff.
Perez pulling no punches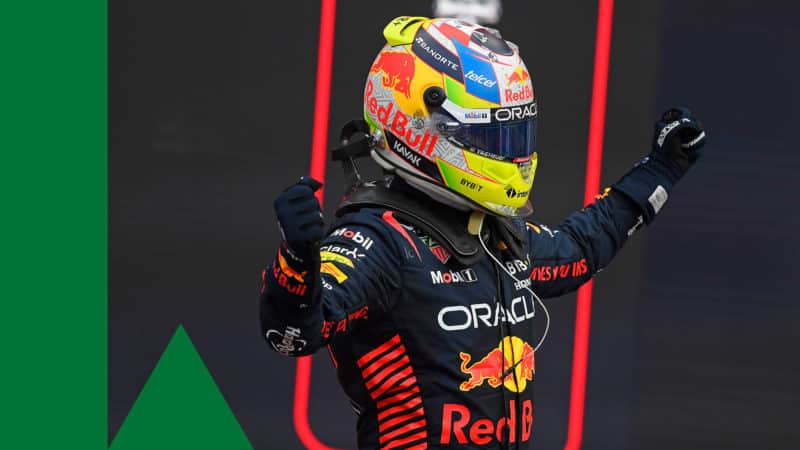 Despite being a Milton Keynes punchbag for last two years, Perez now does seem to be fighting back. Can he sustain it?
Leclerc the throwback
Leclerc dragging his damaged Ferrari back had shades of Gilles Villeneuve. The Monegasque seems to forever toe a tight line between heroic and calamitous in his driving.
Woking gains
McLaren did indeed appear to pull back a lot of pace with its new upgrades in Baku with ninth for Norris, after dragging the previous iteration of its MCL60 slowster to a double-points finish in Melbourne. Can it keep climbing?