The contact came when Verstappen was launched off the apex kerb at the second part of the chicane having opted not to bail out as Hamilton had done on the opening lap. The Red Bull bounced up and over the Mercedes, with the right rear wheel striking Hamilton's head, but the Halo preventing further damage.
"I was ahead in Turn One, I left enough room going into the corner but we barrelled similar speed and I was ahead going into Turn Two," Hamilton said. "Ultimately he lost control, went over the kerb and in to me, so I don't feel at fault because I got hit from behind.
"There is a point where you have to concede that you aren't going to make the corner and you go across. Everyone has gone across the kerbs and I am not too sure why Max didn't."
The stewards agreed, handing Verstappen a three-place grid penalty for the next race in Russia for being predominantly at fault.
Hamilton added that he felt "very, very fortunate" and thanked the Halo, and it would be easy to suggest McLaren was also thankful for two big threats being taken out of the equation. But the resulting safety car only served to put the pressure back on, with Charles Leclerc getting a free pitstop to split the pair and Sergio Perez emerging in fourth ahead of Carlos Sainz and the fast-charging Valtteri Bottas.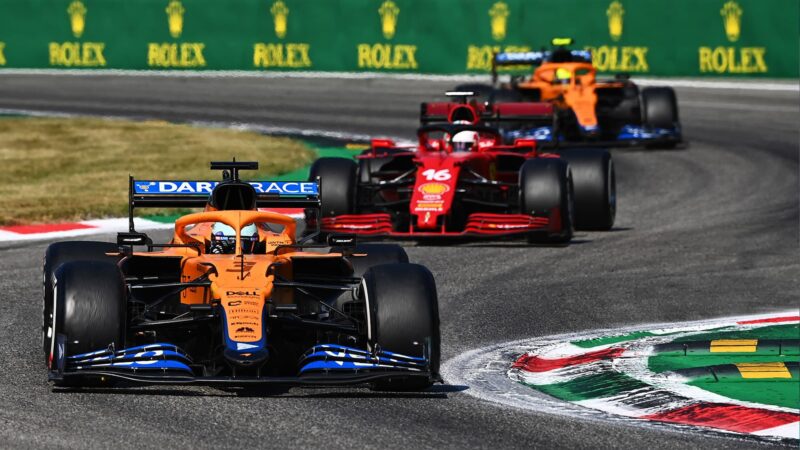 The Finn had started from the back but with a fresh power unit was bucking the trend and carving through the field. Having also started on the hard compound, he was up to ninth before the controversy ahead, and now as the lead car on mediums looked a real contender.
When the race restarted with just over 20 laps remaining, Norris wasted no time in clearing Leclerc with a brave move at Curva Grande that saw him dip two wheels on the grass on entry. Soon afterwards, Perez tried around the outside of the Ferrari at the Variante della Roggia and cut the corner, maintaining he had been left no room and staying ahead.
That would prove costly, as the stewards handed out a five-second time penalty that left Perez on the defensive. Norris had called on Ricciardo to up the pace and he duly did, with McLaren telling them both to pull away from the cars behind and a gap of nearly two seconds opening up. Bottas cleared both Sainz and Leclerc quickly but found Perez a tougher proposition, making a mess of his one real chance.
Perez defended the inside out of Curva Grande and Bottas – on the racing line – was comfortably ahead braking for the chicane. But he went deep as if Perez was still on his inside and that allowed the Mexican to switch back and regain the place on exit.
Leclerc caught the back of that fight once again but they would finish the race line astern, with Perez being demoted from third to fifth by his penalty.
"When I was progressing quite quickly, in the beginning of the medium stint, I could actually see the two McLarens were pretty close and I was catching," Bottas said. "But once I was behind Perez, really, in the train, of course I was trying everything I could, but on the last few laps the tyres just started dropping and that was it.
"I think it would have been tricky to get past the McLaren, they've been very strong all weekend, they have their strengths, especially on the straight lines. Like, yesterday, Lewis was trying everything he could but he couldn't get past Lando, so I honestly think this was the maximum we could reach today."
McLaren definitely took the maximum, with Ricciardo and Norris edging away and then the Australian putting a tough season so far well and truly behind him with the fastest lap on the final lap to secure the best possible haul of 26 points. Norris might have had more pace at his disposal given how closely he followed, but he played the perfect role behind his team-mate.
"I got a bit closer on one lap and I don't know why I had a few flashes of seeing the incident between Max and Lewis as I saw it in my mirrors, and when I thought maybe I'll try [to overtake] that kind of was flashing in my head and I thought 'nah maybe this isn't the wisest decision!'" Norris said.
"So I would have loved to but like I said I think I'm just as happy, as much as I would have loved to have gone for the win, first and second I'm just as happy with. The feeling I get for the team is kind of priority over my own feeling in a way.
"I'm here for many more years I hope with McLaren, I feel like I still have an opportunity in the future to go for it but in this instance and moment I was happy just staying where I was."
On a day when McLaren took maximum points, Ferrari limited the damage somewhat with fourth and sixth but didn't quite have the pace to hold onto better positions. Behind them, Lance Stroll's day started with a close moment with team-mate Sebastian Vettel before he rose to a seventh place that was confirmed when he escaped punishment for failing to slow for yellow flags, while Fernando Alonso, George Russell and Esteban Ocon rounded out the top ten.
There weren't many who were left to rue missed opportunities, but Antonio Giovinazzi was one after he ran wide on at the second chicane on the opening lap and rejoined in to the path of Sainz, getting tagged into a spin that damaged his car but also being penalised for the incident. That left him ahead of only team-mate Robert Kubica and Mick Schumacher, the latter spinning at the same chicane after being hit by Nikita Mazepin as the two Haas drivers had another run-in.
Of course, that was far less dramatic than the latest incident between Hamilton and Verstappen, and there's a danger that's what this race will be remembered for. But 1,204 days since Ricciardo's last win, 3,213 days since McLaren's previous victory and 4,109 days after its last one-two, all three droughts were ended in spectacular fashion. And it was fully deserved.