Seidl: Losing to Ferrari doesn't undo McLaren progress
McLaren will fight with Ferrari right to the end of the 2021 Formula 1 season but whatever happens there, the progress is clear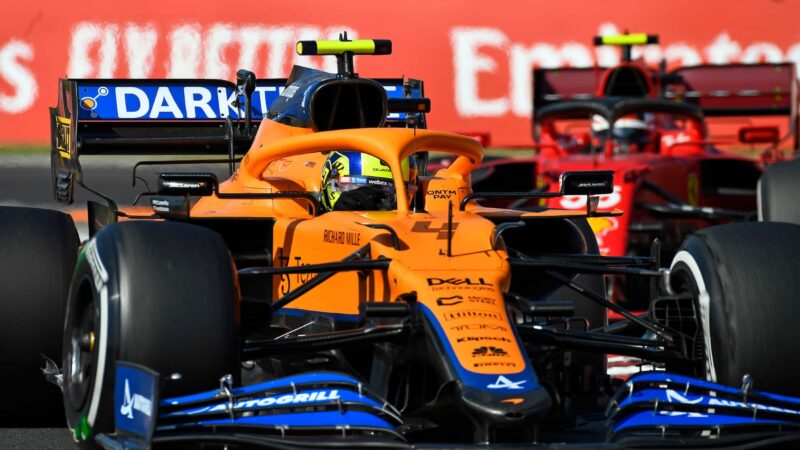 Like a race horse stumbling at the last fence, McLaren has hit a run of misfortune over the last three Grands Prix, a sequence that has taken some of the shine off what has otherwise been a superb season for the Woking team.
This year has largely been about defending the third place the team earned in 2020, in the face of a strong challenge from a resurgent Ferrari. The two old rivals have been battling each other on track and in the championship standings all season.
The one-two in Monza represented a huge haul of points for McLaren, and after another good score in the following race in Russia it led the battle for third by 234 points to 216.5.
However just four races later that has turned into a Ferrari lead of 297.5 to 258, creating an advantage of nearly 40 points for the Maranello outfit that will be all but impossible to turn around with just two races to come.
Over the last three races the team's only scores were 10th, 10th and ninth, all achieved by Lando Norris, for a total of just four points. Meanwhile Ferrari accrued 47 over the triple header. There was no single reason for it, just an accumulation of bad luck and circumstances, with a little unreliability thrown in.
In Mexico Daniel Ricciardo lost his front wing after a first lap clash with Valtteri Bottas, while Norris had to work his way up the field after taking a PU grid penalty. Then at Interlagos it was Norris who had an opening lap drama, eventually recovering to take the final point after contact with Carlos Sainz gave him a puncture. Meanwhile Ricciardo retired after a cracked pipe led to a PU issue.
In Qatar last weekend Norris tumbled from fourth to an eventual ninth after a late front tyre failure, while Ricciardo was again out of the points following a poor qualifying session and fuel saving issues in the race.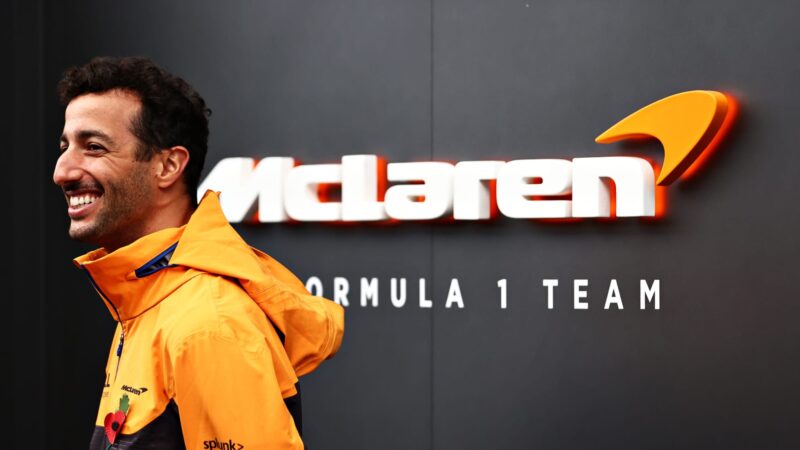 The tyre failure, similar to those suffered by Bottas and both Williams drivers, was doubly frustrating – at the time Norris was running three places clear of both Ferraris, and thus he would have earned some useful points.
"The last few races you've got to accept we just made some mistakes and so on," said Norris after the flag at Losail. "Today we just did a better job than them. The car was pretty strong today, I've got to give it to the team, we had a good car today. Even better than I probably expected, so I was very happy with that, and I could push a lot with the car.
"And we should have been P4, if we'd got everything right maybe we could have challenged for P3, but it was Fernando in P3 so I don't expect an easy overtake if I tried. We should have got a lot more points than Ferrari today. At least we got something back.
"I know [Ferrari] are a long way ahead, and they're even further away now. But they did that because they deserved it, and they were there on performance. But days like today, there's just nothing you can do, and it just really sucks."
"If you are in P4 you deserve to be P4, same as last year when we maybe deserved to be P3 because we were the third best team"
Ricciardo was equally frustrated, not least because what he believed was a "systems error" had obliged him to run far off the pace while saving fuel, ruining his race.
"Unfortunately since Austin it's been a bit of a downward spiral but I don't want to be too negative with that," he said. "I think it's just been a run like that."
It's easy to get hung up on the championship positions. They are significant for prestige reasons and the order in which the teams line up in the pitlane next year, and financially of course the difference between third and fourth is a few million dollars.
However the bottom line is that McLaren has done a better job than in 2020, even if that is not reflected in the championship position. In 17 races last year the team scored 202 points, and at the same stage in 2021 – after the US GP – it had reached 254.
Ricciardo's Monza win was aided by misfortune for the regular frontrunners, but he had qualified well, and was there to take full advantage. Logging the first victory since 2012 was a major confidence booster for everyone in the camp.
Team principal Andreas Seidl agrees that the team had perhaps over-performed earlier in the year, and correspondingly has been below par recently.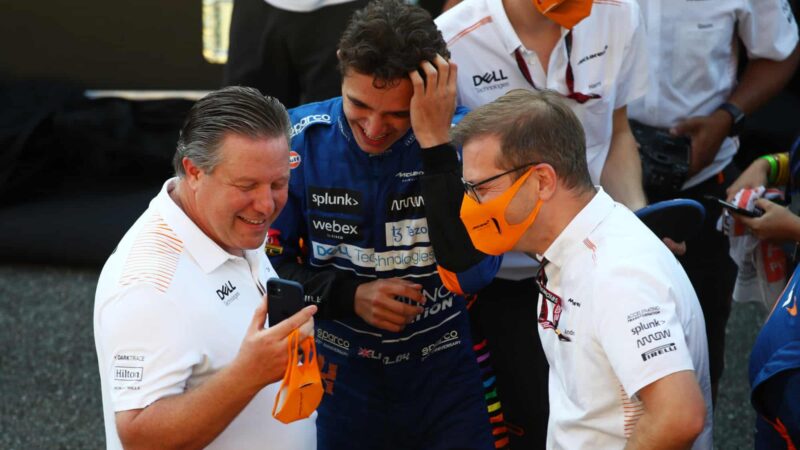 "I think that's definitely a fair view on how this season went," he said recently. "Obviously we had some weekends which played to the strength of our car like Austria or Monza, where I think we deserved to score these points.
"But definitely especially in the first half of the season we scored a lot of points where we were operationally strong as a team, and together with Lando and Daniel we had the upper hand in that battle. In terms of pace, I think the picture didn't change that much on let's say normal race tracks over the course of the season."
In reality the drop from third to fourth reflects Ferrari returning to its usual form after a blip in 2020 that saw the team tumble to sixth.
"It's not a surprise that a team like Ferrari after the specific bad year they had last year is coming back strongly," said Seidl.
"In the end they just get back to where you expect them to be, with the experience that they have, with the people they have, the infrastructure they have, and the drivers.
"So I would say that's not a surprise. The most important thing from this season so far is we clearly made a good step forwards if you just look at ourselves. Just simply confirmation that we're heading in the right direction."
"We clearly made a next big step forward as a team this year. It's key in order to get back to the front again in F1"
What Ferrari has managed to do in recent weekends is keep piling up the points, with Sainz and Leclerc both scoring regularly, if unspectacularly.
"Especially when you look at the second half of the season," said Seidl, "I think if you're up against a strong Ferrari team, [it's] obviously key in order to stay in the battle, and that was the objective, to keep scoring continuously points with both cars. Like we did more I think in the first half of the season.
"And I think that we simply didn't manage as a team to score the points that were on the table for us. If you look at the incidents for example we had in Mexico on the first lap, or Brazil the first lap, that was costing a lot of points.
"We had weekends where we didn't maximise the package also in terms of performance, which cost us a lot of points in tracks like Zandvoort or Turkey. And in the end that resulted in these bad weekends, and put us in the back foot in the constructors' championship.
"I guess before the start of the season if someone had said we'd finish in a strong P4 this year I probably would have taken it. But at the same time we're racers, if you can get close to a P3, we want to battle for this P3.
"In terms of what we deserve as a team, if you are in P4 you deserve to be P4, same as last year when we maybe deserved to be P3 because we were the third best team."
The bigger picture is that the pieces are coming together. Norris is getting better and better, and while that first win has eluded him, it's clear that with the right package he can be a major force in future years.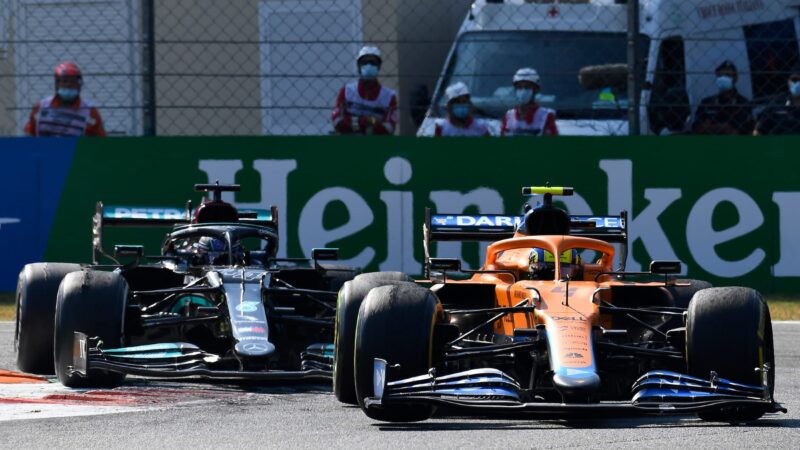 Ricciardo has struggled to be at one with a car that required a different driving style, but he's getting there, and Monza showed the value of his experience and race savvy.
The team now has a level of confidence about it that was missing for a few years, inspired in large part by Seidl, who has proved to be a brilliant choice of leader.
Meanwhile technical director James Key had revamped a design department that had lost its way – as was evident when the switch from Honda to Renault power in 2018 suggested that the team's poor form wasn't just about the power unit. In addressing its weaknesses in R&D, the team has established some momentum heading into the era of the new rules.
McLaren has also moved on from the grey image of the Ron Dennis era, and as a recent F1 survey showed, the team continues to gain popularity with fans, and that in turn appeals to sponsors.
"Of course, we're all focused on this P3/P4 battle at the moment," said Seidl. "But as I always said, we have a realistic view of where we are with the team right now.
"And the most important thing is again, that we clearly made a next big step forward as a team this year. In terms of the car, the average point scoring this year went up quite a bit. The lap time deficit compared to Red Bull and Mercedes was quite a bit smaller compared to last year.
"And simply with the way we work together as a team, from my point of view, that's the most important thing for me, because it's key in order to get back to the front again in F1.
"We know about the deficits we're still having in the team, we have a plan in place in order to eliminate these deficits on the infrastructure side, and so on.
"We simply need more time also now with the organisation, the team with the people we have in place to create the stability, and learning together, and keep making steps that we made from last year to this year. So I'm very happy with what I'm seeing there."