The route from mobile fruit and veg van to F1 entrant took only a few years. British motor racing was a pretty small and incestuous scene in the '60s and Britain was the motor racing centre of the world. So if it hadn't been for crashing his road-going Austin A35 after entering it into a race at Mallory Park, he'd likely have got to meet Piers Courage – heir of Courage Breweries and a seriously talented would-be F1 driver – some other way. From there, to the in-crowd of crazy racing junkies sharing a house – cultured accents and dirty fingernails, high-jinx times. Frank won a bet from the others in the house once by greeting passengers on the passing tube train from the bottom of the garden – stark naked. The money was probably spent on fresh spark plugs. Everything was always based around the absolute, the centring point, of being in there, part of racing.
Only a romantic could live such a life when not backed by money. Carefree, knowing only that he wished to exist in the special suspended reality of motor racing. But he moved among wealth and so it probably seemed natural. Such a romantic could be devastatingly charming and many a woman's heart melted when he looked them in the eye and gave them his best smile. Including that of his later wife Ginny. "I still find it hard to understand why I fell so instantaneously for Frank," she later said. "He was not tall, dark and handsome. He stood only five foot eight inches high and even in 1967 his hairline was receding rapidly. There was no obvious reason for me to go weak at the knees, which only made it more disturbing."
Frank's own ambitions as a driver – way too many accidents, not enough money – came to an enforced halt but his friendship with Courage led him to be his entrant, in F3 and F2. Piers provided the money, Frank organised the team, employed a mechanic, did some trade deals, negotiated with the organisers. The bond they formed was incredibly close. Courage rose to F1 and for a while Frank ran others in F2. But when Courage ran out of F1 options after a few too many accidents, Frank came to the rescue with a second-hand Brabham and a DFV. In that car Courage finished second at both Monaco and Watkins Glen in '69. Just like that, Frank Williams was an F1 entrant.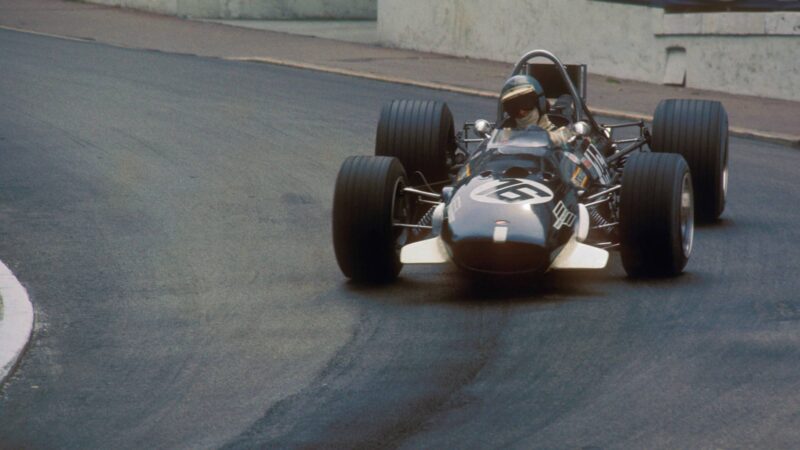 What followed would have driven a lesser man a long, long way from the sport. Courage was killed in the de Tomaso F1 car Frank was entering in the 1970 championship. But Frank was addicted. For the next six seasons he operated on the financial margins, doing deals here and there to stay in business, his team invariably turning up somehow. There were moments of promise – the Iso Marlboro designed for him by Ray Stokoe was a decent car which occasionally allowed Art Merzario or Jacques Laffite to show well. But generally, Frank's team was not highly regarded. In late '75 he acquired a sponsor, the oil man Walter Wolf. A few weeks before that, he'd acquired a designer, Patrick Head ex of Lola, after a recommendation from Frank's friend and Lola racer Guy Edwards. It was the designer that would prove by far the most significant acquisition.