Spins and sim work: 2021 Styrian Grand Prix what you missed
A simple Styrian Grand Prix brought Verstappen his fourth win of the season and an admission of weakness from Mercedes
There was a promise of rain but in typical Formula 1 fashion the poor weather never arrived and it meant Max Verstappen took a straightforward victory at the Red Bull Ring.
He extended his championship lead over title rival Lewis Hamilton who had to settle for second and a fastest lap bonus point but there was more going on than a Sunday afteroon drive in Austria.
It was a chaotic opening lap but pre and post-race comments provided intrigue and next weekend could always be an improvement with softer tyres.
But here are a few things you might not have caught during race day.
Admission of defeat?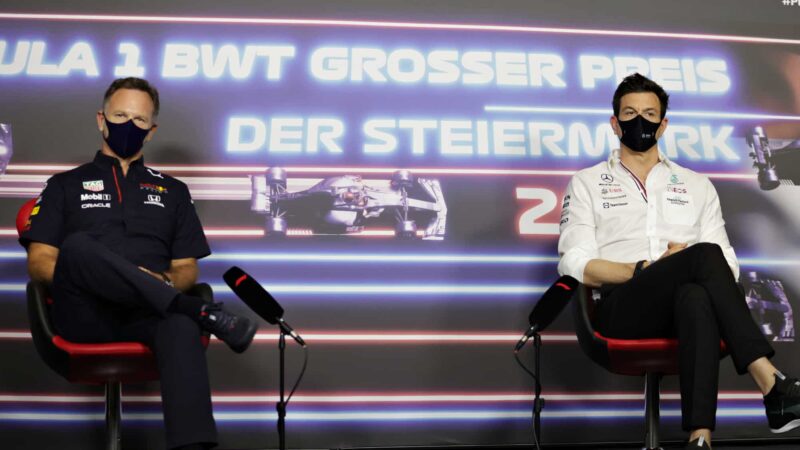 Toto Wolff was frank in his assessment of his team's Styrian GP performance.
"It's not a bad result but what's tough is that it's been the first race really in eight years where you are just lacking the pace," he said post-race.
"[This week, we'll be] scratching our heads and trying to look at the race and see, is there anything we could have done better in terms of set-up direction.
"I think we found some clues for qualifying… but could we have optimised on race pace, as that's always a balance."
He also indicated that the team had finished its development for the 2021 season while Red Bull pushed forward with further updates for the Styrian race.
Could Mercedes' run of turbo-hybrid domination be over?
Mazepin spins again
Thanks @HaasF1Team 🤣 pic.twitter.com/z6xYPkcjUW

— Nikita Mazepin (@nikita_mazepin) June 27, 2021
He has made a reputation for himself already as a bit of a spinner but Nikita Mazepin at least could see the funny side ahead of Sunday's Styrian Grand Prix.
Haas team principal Guenther Steiner gifted his driver a spinning top to make light of the situation. Despite the joke being at his expense, Mazepin took it well and was grateful for the present.
The Russian must have taken that as a challenge though as he kept it pointing in the right direction throughout the Styrian race.
He finished last of the drivers that made it to the chequered flag but it got him to the end in once piece despite a close call with team-mate Mick Schumacher at one stage.
Any more spin-inspired presents for Mazepin, Guenther?
No more burnouts
With Hamilton pitting for soft tyres and an attempt at fastest lap to limit the damage to the race winner, Verstappen took his time savouring a win on his team's home ground.
Slowing to a crawl, the Dutchman lit up the rears for a burnout across the finish line in celebration of his dominant victory.
Nicholas Latifi came across a scene similar to that of his 2015 shunt with Roberto Mehri in Formula Renault 3.5 at the same venue and race director Michael Masi was far from enthused about the situation.
Masi will be coming down harder on anyone who repeats the action from this point on, not that Red Bull will mind if Verstappen is the one crossing the line first each weekend.
Up against it
He's been outspoken in his lack of enthusiasm for working in the simulator but Lewis Hamilton logged in a fair few hours at Mercedes HQ.
He even found a "wacky" set-up according to the team's head of trackside operations Andrew Shovlin.
While it didn't have the desired effect, his work could be a sign of just how much trouble Mercedes is in with its fight against Red Bull for the championship.
The team highlighted its struggles with tyre degradation as a key area it has struggled with though with Red Bull getting higher straightline speeds with its skinny wing, the reigning world champions are in a tough spot to try and claw back time over a single lap too.