Turns 1, 3, 6, 11 and 13 have all been widened by varying degrees to help entice a pass while the pitlane itself has also been made wider, which is a huge change despite first impressions. With the pitlane now expanded, it meets FIA requirements to raise the speed limit which will cut pit stop time loss, potentially and hopefully opening up the door to strategy options for teams on race day.
The biggest change though comes in the form of a new flat-out blast down the back of the circuit. The old Turn 9/10 chicane has been removed and in its place now sits a long winding straight, complete with a brand new DRS zone approaching the super-fast Turn 9 and 10 left-right (formerly T11 and 12).
Along with a resurfacing of the entire track, the changes will hopefully keep cars closer to one another and create better racing for fans and drivers.
Plenty of DRS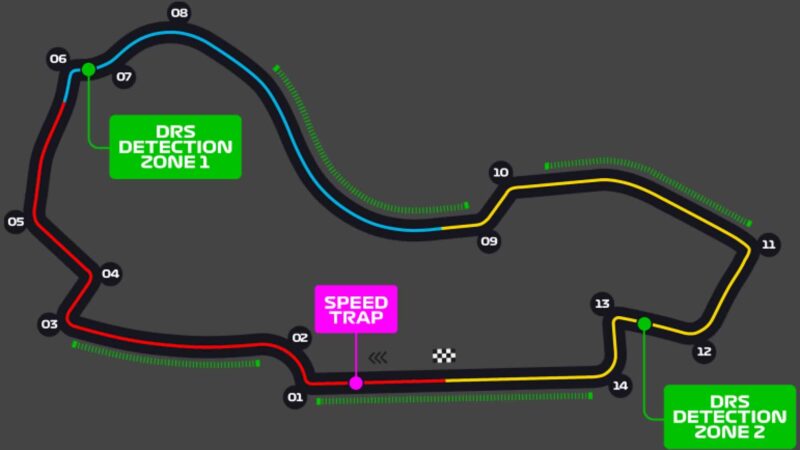 If you've (somehow) missed the news, there will be four DRS zones this weekend in efforts to help improve overtaking prospects.
The usual three zones, start/finish straight, between Turns 2 and 3 and old Turns 12 and 13 remain but there is now an additional DRS zone on the new section of track between Turns 8 and 9.
While there is a new zone, the two detection zones from the old layout remain with no new detection point added anywhere around the lap.
The first detection point comes on the exit of Turn 6 and will dictate which driver has the DRS assistance between Turns 8 and 11.
The second detection point will be between Turns 12 and 13, the penultimate corner on the track now. Those with DRS here will get the benefit down the main straight and up to Turn 3.
Will that be enough to give us our first overtake for the lead of the Australian Grand Prix since 2002?
Vettel is back
After his enforced two-race sit on the sidelines following his positive Covid test, Sebastian Vettel returns this weekend and for his Aston Martin team, it can't come soon enough.
The team has failed to hit the ground running in 2022 and appears to be stuck at the back of the pack on pace. With super-sub Nico Hülkenberg dutifully filling in alongside Lance Stroll, the team has failed to score a point, and neither driver made it to Q3 in Bahrain or Saudi Arabia.
Hülkenberg hadn't driven the AMR22 prior to sitting in it for FP1 in Sakhir while Stroll was caught up in an incident with Alexander Albon in Jeddah.
Will the returning Vettel be able to muster a magic result in Australia or are the problems deeply rooted? If Vettel can get up to speed quickly then there could be a surprise in store for Aston.
The four-time champion was brought to the team to help propel it towards world championship contention though over the winter, it has made a marked step backwards in overall performance compared to rivals.
Strategy choices
For the first time since the 2018 Russian Grand Prix, Pirelli will bring a soft compound tyre two-steps softer than the next compound of tyre.
The C2 (Hard), C3 (Medium) and C5 (Soft) compound tyres will be in action this weekend, potentially opening the door up to some strategic games for race engineers and teams.
It'll be the first time the C5 compound gets used this season, offering drivers potentially brilliant grip but hardly any longevity. There are question marks over whether the tyre will last long enough to be a worthwhile endeavour on strategy.
So far, drivers have been left unimpressed with the overheating of tyres while pushing, an issue supposedly targetted by Pirelli during the construction of the new tyres for 2022.
We're back down under this weekend! 🇦🇺

Returning to Albert Park, Melbourne – for the first time since 2019 – there have been plenty of circuit changes for the #Fit4F1 drivers to get to grips with! 🏁https://t.co/o8RLutvpb6#F1 #AusGP #Formula1 #Pirelli #Pirelli150 pic.twitter.com/5KImdIezX6

— Pirelli Motorsport (@pirellisport) April 4, 2022
"I think everyone's sliding around and we all seem to have a little bit less grip than before," Lewis Hamilton said during testing. "The tyres are worse this year.
"I hope we can maybe get some better tyres at some stage. Or maybe they work better in places not so hot maybe."
He'll be hoping that they bring some speed to Mercedes in order to maintain his perfect qualifying record in Australia during the turbo hybrid era.
Cooler temperatures compared to the desert races so far this season could open the door to more options, or problems might persist and consign the soft tyre to qualifying-only equipment.