Albon's masterpiece and Bottas' terrifying helmet: Goin' up and down in Australia
- Last updated: April 12th 2022
Beach huts, kangaroos, conked-out Red Bulls, very long stints and a happy Binotto – is a pattern emerging amongst the chaos in F1 2022?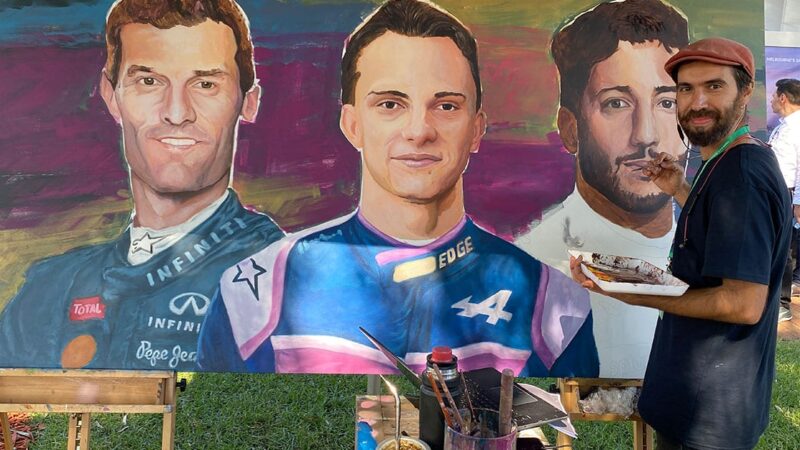 A familiar pattern seems to be emerging in 2022 – Sainz and Verstappen square up, then the former messes up, the latter breaks down and Leclerc just wins anyway.
A sold-out Australian GP saw a 'fair to dinkum' race which was just about exciting enough to stop people dozing off in this hemisphere, but can anyone really stop the march of the Monegasque?
Here's what was going up and down under at the 2022 Australian Grand Prix.
Going down
Unreliable Red Bulls
"I'd rather fix a fast car, than make a slow car fast," said an indignated Christian Horner after a third retirement in three races for Red Bull.
George Russell is second in the championship, Christian. So is his Mercedes team in the constructors', one that's apparently going through a bit of a disaster.
Wrong lid
Bottas needs to get someone else to design his crash helmets, which featured this race illustrations of beaches, huts and kangaroos.
You hardly feel the colours are going to strike fear into the heart of competitors a la Earnhardt and Senna – 'Oh no, it's Skippy'.
Fernando outfoxes himself
Wily old 'Nando managed to get the third DRS zone on the run down from Turn 7 through 8 to 9/10 removed, apparently to benefit the the Alpine's superior straightline va-va-voom with the go-faster flap closed.
It all went wrong from qualifying onwards though as dud hydraulics pitched the Spaniard out. An alternate tyre strategy to make up for a lowly starting spot went wrong when he pitted and came back out in a midfield melee outside the points.
The Alpine driver just needed an ideal place to use his new tyres and breeze past the opposition. It wasn't there though – he'd lobbied to have it removed.
Gets done by the late stoppage in qualifying meaning he began the race in ninth, then in a moment of sheer desperation in the early exchanges runs wide on cold tyres at the chicane and dumps himself in the gravel.
Meanwhile Sainz's team-mate romps away with the win and has everyone tell him how great he is. Can't have been an easy ride home for an operator who was all but smooth his weekend.
Turtle disaster
Both Aston Martins crashed out in FP3, its mechanics having to do a rapid repair job to make qualifying. Vettel's just squeaked out in time to go 18th (a few 0.1secs faster than his fastest time set on the scooter back to the garage post practice), but Stroll didn't make it.
Then the German crashed his car in the race also, with Stroll picking up a penalty for weaving on his way to a pointless finish.
Post-race Verstappen compared the speed of Aston Martin safety car, which F1 never seems to stop banging on about, to the animal kingdom's famously pacey "turtle". Not a PR masterclass this weekend for Aston.
Going Up
In the Grove
The Williams number crunchers made James Vowles look amateur as Alex Albon managed to pull off one of the all-time great strategy wheezes, driving just slow (and when I say slow I mean fast) enough to preserve his Pirellis till the year 2100, only changing them because F1 rules state so.
The Thai driver pitted from 7th and came out 10th, securing a sweet, sweet point for Grove and lifting it off the foot of the constructors' table.
Scuderia masterclass
Ferrari's none-more-Italian approach, which many said was rubbish and meant it was stuffed pimento-style, has left everyone else standing in 2022.
Mattia Binotto has now reached chilling-on-the-Amalfi-coast-with-Aperol-Spritz-in-hand-level of relaxed, so much so that he'll even let his young stars spar on track.
"They are free to fight and that's important for us," he purred after Melbourne. "I will enjoy their battle for a good position."
You almost felt the eyes behind those spectacles were saying: 'Enjoy those third, fourths, fifths and sixths Brackley and Milton Keynes, you've earned it.'
Fair dinkum' Melbourne changes
The racing in Australia certainly was an improvement after the numerous changes to track layout made by organisers. However, it could have been even better.
As mentioned above, Fernando Alonso angled to get the third of four DRS zones removed on "safety" grounds, meaning cars couldn't fight back after being passed as we saw in the previous two rounds.