Tiago Monteiro: the only man who cheered at the 2005 US Grand Prix
F1's 2005 US Grand Prix fiasco dented the series' image, angered teams, and left Ferrari's drivers looking sheepish. But there was one man leaping for joy: Tiago Monteiro tells his story.
The United States Grand Prix of 2005: forever tarnished as one of Formula 1's most shameful days. But for one man – surely, absolutely only one man – it's nothing of the sort. For Tiago Monteiro, the fiasco at Indianapolis that took place 15 years ago today is a race of which he remains justifiably proud. For the Portuguese, there's no embarrassment that it turned out to be the oddball apogee of his brief F1 career.
This was the day when one of racing's most distinguished players made a horrifyingly fundamental, but entirely genuine, error of judgement – which was then used not only to publicly humiliate the company, but also the whole of F1. As for the fans who'd spent their hard-earned to turn out at the Brickyard… well, frankly, who gave a damn about them?
The penny dropped for Michelin that its rubber for Indy was not up to the job when Ralf Schumacher's Toyota slammed into the wall at the banked Turn 13 in Friday practice, after a catastrophic left-rear tyre failure. The French company took the responsibility on the chin, and in what turned out to be a one-off season during which grand prix tyre changes were banned, it admitted to the FIA that its seven supplied teams would only be able to complete the race distance safely if a compromise was made. The most obvious solution, most agreed, would be the insertion of a chicane to neutralise the signature banked turn.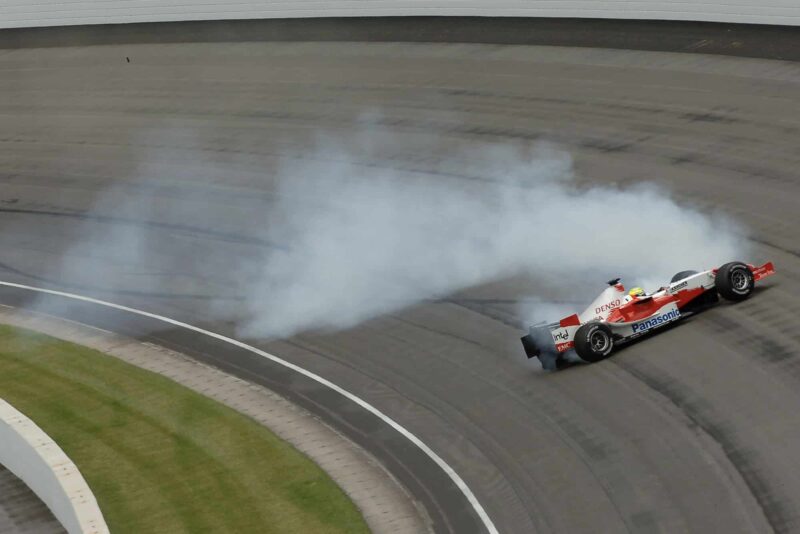 There followed a sequence of meetings and subsequent choices, made by FIA president Max Mosley back in Europe and Ferrari's sporting director, Jean Todt, that are best described politely as entrenched. In a season when Bridgestone got its own sums wrong and had suddenly made Ferrari uncompetitive, Todt seized on an opportunity for a result. The greater good? That was of no consequence to the future FIA president. There would be no compromise to help Michelin and its teams.
"Even though we had been in all these meetings and we hadn't reached an agreement, it actually was not until the warm-up lap had started that we began to know for sure what would happen," says Monteiro, back then an F1 rookie for a Jordan team that had fallen far from its former glories, today a 43-year old who is still a race winner in the FIA World Touring Car Cup. "I remember doing my regular warm-up, and I can still visualise clearly some drivers were not weaving [to warm their tyres], so it was pretty obvious that they would not start. As soon as we got to the final corner there was this stream of cars heading for the pitlane one by one… then the in-car radio got very busy!"
Monteiro had been due to start a lowly P17. But as the 14 Michelin runners trundled into the pits to park up for the day, he suddenly found himself a net third on the grid, behind only the Ferraris of Michael Schumacher and Rubens Barrichello, and followed by his team-mate Narain Karthikeyan and the pair of Minardis. Just six cars, the only Bridgestone runners in the field, would take the start as boos rang around the old speedway.
"I remember thinking to myself, 'Wow, this is a big thing' because it was a big, big gap [to the Ferraris]," says Monteiro, who was focused as usual on simply beating his team-mate and the Minardis driven by Christijan Albers and Patrick Friesacher. "Most of the time we were fighting between the four of us, even if we could not match some of the other teams. There was a good level between us, so there was no guarantee I would finish in front of them."
A good start eased the pressure as he followed the distant Ferraris through Turn One, but he still had 73 laps to claim Jordan a podium that had been dropped in their lap. "I think getting a good start definitely helped," says Monteiro. "Afterwards it was really, really hard, even though I was ahead. I needed to just focus on my own performance.
"So, I was doing this, driving nicely and getting away from the others. Then at halfway I was maybe 20 seconds ahead and my engineer told me to cool down because the gearbox temperature was a bit high. That was really the last thing I wanted to hear! So I disregarded that and pushed like crazy until the final 10 laps.
"Those were the longest, most difficult 10 laps of my life, because that is when you start to take everything in a bit more, you start to listen to noises in the car, and your head keeps on making up these weird little feelings – 'maybe the braking is off', or 'does the gearbox feel weird?' Those laps it was really difficult to focus on driving in the same way I had earlier in the race, but thankfully everything was OK and we made it to the finish in P3."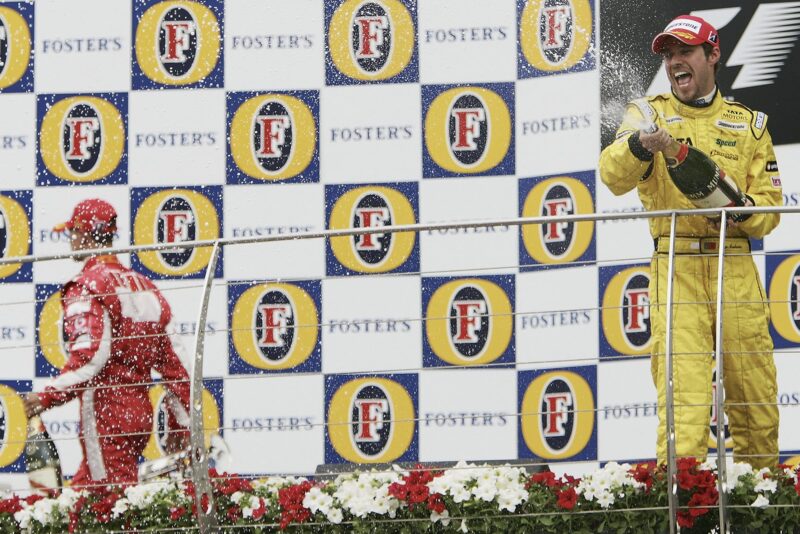 No surprise the podium ceremony was awkward – but not so much for Monteiro, who for a second time that day disregarded what he'd been told to do. "I remember being congratulated by Michael and Rubens, we were all happy together, but then we were kind of told not to celebrate too much because it was not the best race for the fans," he says. "I was on board with that, because after all it was my first time on an F1 podium and I wanted to follow the rules.
"But then when we got to the podium, I saw a sea of people in [Jordan] yellow. They were shouting and cheering, and throwing things in celebration, and although I could see the others were serious, I thought, 'I'm not having that, I'm going to celebrate as well'. So I went back on what I was planning to do. But what you have to understand is that we had been through a lot of struggles that year and had persevered. Especially in respect of my mechanics, who had worked so hard, it would have felt wrong not to celebrate with them. This was our moment, and it was hugely unlikely we would have another similar chance."
While the racing world wrung its hands at F1's act of self-molestation, Monteiro was heralded as a national hero back home in Portugal, a country long starved of motor sport stars. In F1 terms, his career is little more than a footnote, following a second and final season with the team that was renamed Midland under new ownership in 2006. But a switch to tin-tops in the World Touring Car Championship maintained his status as a household name in Portugal.
In 2017, Monteiro suffered devastating head injuries in a testing crash in Barcelona. His recovery to good health was astonishing, his return to racing in what was now the WTCR something else again – as was the swell of pure emotion that followed his victory on home soil at the Vila Real street track last year.
Monteiro's short time in F1 and his notorious podium finish at Indy do not define him. But while it's a chapter the grand prix racing world would prefer to forget, it's a memory he'll always cherish. "It's definitely something that will stay with me forever," he says, "and it has had a big positive impact on my life."