Tony Brooks' greatest victory: forgotten genius' win at the 1958 German Grand Prix
- Last updated: December 4th 2019
Tony Brooks is perhaps Formula 1's forgotten genius, and in the 1958 German Grand Prix at the Nürburgring he scored a win to match, ranking with Fangio's from a year before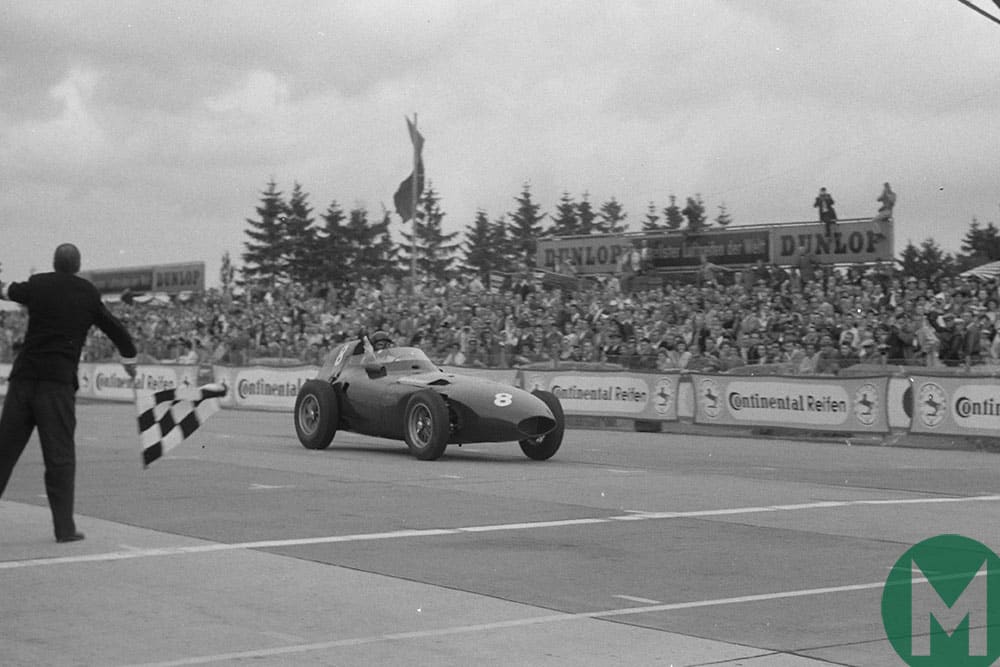 Tony Brooks in his Vanwall takes the flag after a magnificent comeback win in the 1958 German Grand Prix Photo: Motorsport Images
Juan Manuel Fangio's 1957 German Grand Prix win at Nürburgring has gone firmly into legend. Yet 12 months on at the very same event at the very same venue, the drive to victory was about as good. It even, in an uncanny parallel, involved the winner chasing down the Ferrari pair from what seemed an impossible deficit.
And the victor that time was Tony Brooks. Yet as is intimated by that opening paragraph, Brooks' win isn't cited nearly so readily.
In a way it's apt, as Brooks has strong claim to be the most underrated driver in Formula 1 history.
It's only true enthusiasts who appreciate that he is one of the greatest grand prix drivers this country has ever produced
"Maybe his natural reticence explains why today, half a century after he retired, it's only true enthusiasts who appreciate that he is one of the greatest grand prix drivers this country has ever produced," Simon Taylor wrote of the unflinchingly modest and self-effacing Brooks for Motor Sport in 2013.
Brooks was equally undemonstrative behind the wheel; one who would appear slow until you looked at the stopwatch.
And yet. "This man won his first Formula 1 race," Taylor continued. "He finished second in his second grande epreuve, and he jointly won his third.
"Due to a couple of perhaps unfortunate career choices, he only had three seasons in properly competitive F1 cars. But during that time he won six of the 13 grands prix he finished, a remarkable 46 per cent.
"Stirling Moss has said that if he'd been a team manager and wanted the perfect driver line-up, he'd have had Brooks as his No1 and Jim Clark as his No2. Praise doesn't come higher than that."
---
More
---
And Brooks was superb in 1958. It is often noted that his Vanwall team-mate Moss missed out on the title to Ferrari's Mike Hawthorn that year, with four wins to Hawthorn's one. Yet Brooks also won three. All were brilliant, plus he qualified on pole at Monaco by a second and there was rarely much between him and Moss that season.
Plus, as Nigel Roebuck noted for Motor Sport, "it says much for the kind of driver Brooks was that his victories came at the classic circuits: Spa, the Nürburgring and Monza."
Brooks considers his Nürburgring drive perhaps his greatest race. For various reasons, Brooks at Vanwall often didn't get as many practice laps as he'd like, and the German round was one such. He started the race with no prior running on full tanks, and early on he found the car's handling "diabolical".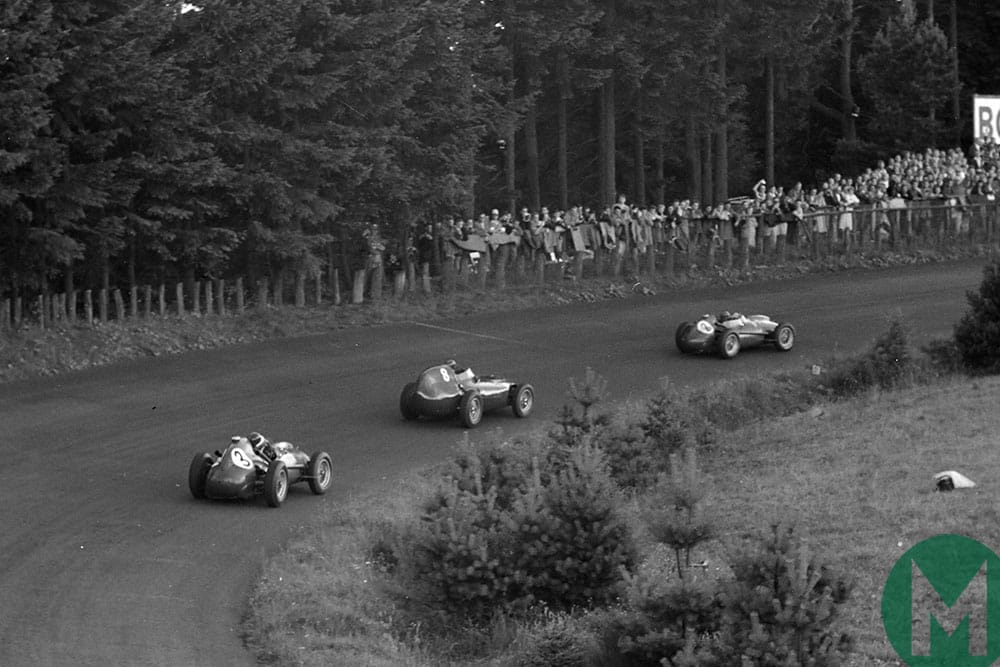 Brooks gets between the Ferrari pair of Peter Collins and Mike Hawthorn Photo: Motorsport Images
Moss cleared off in first, though didn't last long. "On the fourth lap Moss coasted to rest at the Schwalbenschwanz with his magneto refusing to emit any more sparks," Denis Jenkinson outlined in his Motor Sport report, "and with a truly remarkable lead over everyone else he had to stand by the roadside."
It appeared to leave the Ferraris set fair – Peter Collins first, team-mate Hawthorn just behind, Brooks well back in third.
Brooks' Vanwall's handling improved as its fuel load lightened, but "by the time it began to handle properly again, after four laps or so, the Ferraris were half a minute ahead," he told Nigel Roebuck in Roebuck's book Chasing the Title.
"After another five laps, I was right with them."
This should not be underestimated. Nordschleife laps are long of course, yet it amounted to recovering 32sec in 70 miles.
Once with the Ferraris though, Brooks had a problem. He was, Jenks explained, "passing on the twisty bits but being overtaken on the fast bits, the Maranello cars having more steam than the Vanwall.
"This was really stirring things up and it seemed a hopeless task for Brooks to do battle against the two Ferraris.
"But he kept at it and actually forced his way past Hawthorn and into second place as he went into the Nordkurve, making the Ferrari run wide.
---
---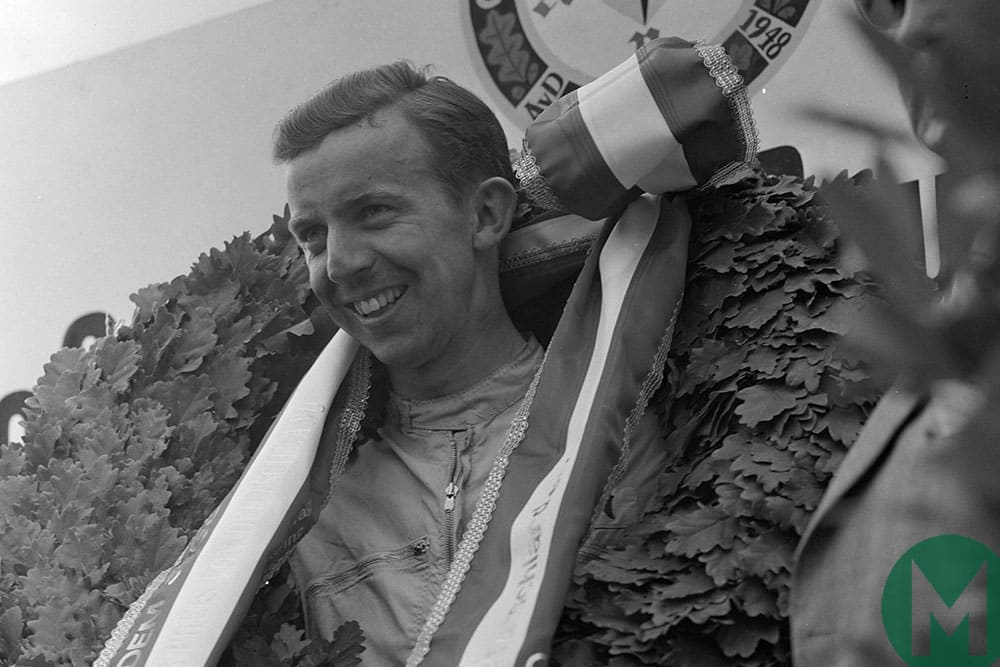 Brooks celebrates on the podium Photo: Motorsport Images
"Once again he got by Collins only to be passed again on the straight, but this time he was alongside Hawthorn as they ended the 10th lap, and the Vanwall took the Ferrari as they went into the Sudkurve and caught the leading Ferrari [Collins] as they went into the Nordkurve, and now having got the lead at the beginning of the twisty bits he was able to pull away."
It was, Jenks concluded, a "wonderful effort by Brooks".
Also likely explaining in part why Brooks' Nürburgring drive doesn't get its due is that the race was touched by tragedy. As shortly after Brooks had passed, Collins' Ferrari ran wide and left the track at Pflanzgarten, somersaulted and threw Collins out of the cockpit into a tree. He died before reaching hospital.
Brooks concurs on the point. "All my sense of satisfaction evaporated when I learned that Peter Collins, who unseen by me had gone off at Pflanzgarten while behind me in second place, had died in hospital," he told Motor Sport. "That was hard. I'd known him since his Aston days, and I lost a very good friend."
Hawthorn's clutch failed on the following lap and Brooks won by a whole three-and-a-half minutes.