Verstappen comes through to win as Leclerc breaks down: 2022 Spanish GP as it happened
Max Verstappen won via a trip through the gravel after Charles Leclerc's engine failed whilst leading comfortably, as George Russell battled with the Red Bull early on in an exciting race
Max Verstappen took the lead in this year's F1 championship, winning the Spanish Grand Prix after Charles Leclerc retired with engine trouble.
The win had looked unlikely when Verstappen was beaten into Turn 1 by pole-sitter Leclerc, then spun and fell to fourth place. Trouble with his DRS system hampered his efforts to get back into contention.
But Leclerc's retirement and the right strategy from his pitwall brought Verstappen back to the front — with assistance from a reluctant Sergio Perez, who gave up his chance of winning to let his team-mate past.
It was a race of recoveries: Lewis Hamilton fell to the back after clashing with Kevin Magnussen on lap 1, but stormed to fourth position and eventually finished fifth. And Fernando, who started last, came through to score points in ninth.
Here is how the race played out:
Leclerc and Verstappen got away strongly at the start for lap 1, but the Ferrari had just enough space to cut across the world champion and head into Turn 1 unchallenged.
Behind him, team-mate Carlos Sainz was slow away from third as anti-stall kicked in. Russell and Perez sped past. Hamilton looked to pass on the inside of the long Turn 3, but fell behind the Ferrari.
As Perez and Russell brushed wheels ahead, Magnussen saw an opportunity to snatch sixth from Hamilton around the outside of Turn 3, but squeezed him too tightly: the Mercedes drifted slightly to the outside of the corner and Hamilton's front-left tyre made contact with the Haas. Magnussen speared into the gravel; Hamilton dropped to the back, with a puncture.
"Lewis just rammed me – he knew what he was doing," said Magnussen on the radio as he headed back to the pits but the stewards decided that no further investigation was needed.
Alonso had jumped to 15th from last in the first lap melee, while Ocon had also progressed in his Alpine, from 12th on the grid to ninth.
Hamilton was running 19th, ahead of only Kevin Magnussen after a 10.4sec stop to examine the damage and switch to soft tyres.
Magnussen's team-mate Mick Schumacher benefited from the clash and moved into sixth, but Valtteri Bottas was past by lap 4, passing on the outside of Turn 1.
Esteban Ocon continued his progression up the grid, passing Daniel Ricciardo using DRS on the main straight at the start of lap 5.
On lap 6, Ocon passed Mick Schumacher to move up another place into seventh.
"I would save this engine guys if I was you, I'm sorry," said Hamilton, running 19th and 32sec off the pace in. But he was told that eighth place — and four championship points — was possible.
Vettel was defending valiantly against Fernando Alonso, the cars dicing for 13th place.
At the start of lap 7, Fernando Alonso weaved wildly around Vettel and finally got past.
In Turn 4, Carlos Sainz was off the track — a spin putting him into the gravel and dropping him to 11th between the AlphaTauris, with Yuki Tsunoda ahead.
Charles Leclerc was 1.7sec clear of Verstappen at the start of lap 8, and clear of DRS range, with Russell a further 5sec back from the Red Bull and falling into the clutches of Sergio Perez. He was less than a second behind the Mercedes.
Russell covered a feint to the outside at Turn 1 and blocked Perez, but both cars gained position as Max Verstappen went off at exactly the same place as Sainz in Turn 4, sliding off the track, and running over the gravel before rejoining in fourth, just under a second behind Perez.
Red Bull radioed Verstappen and put it down to a "large gust" that unsettled the car.
Further back, Lando Norris passed Daniel Ricciardo, for eighth and was quickly past Mick Schumacher by lap 11.
Carlos Sainz headed into the pits from 11th on on the same lap.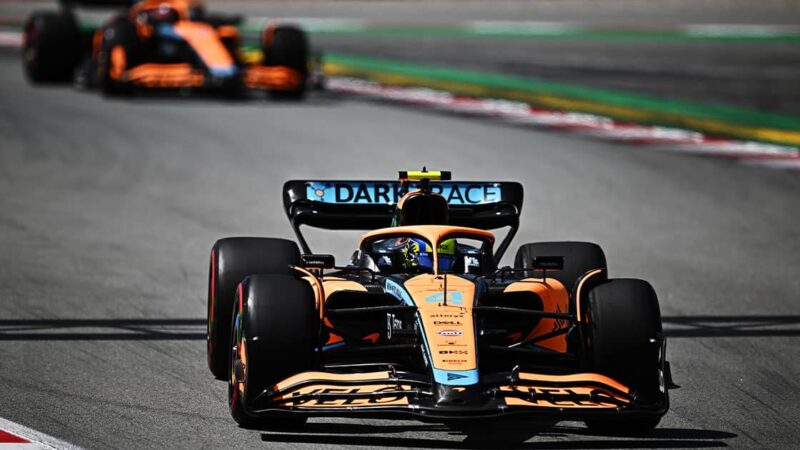 After failing to overtake Russell, Perez allowed Verstappen past into third, to see if the world champion could find a way past the Mercedes.
That task looked easier, when Russell radioed on lap 12: "Why have I got cool car warning? I've got no-one in front of me."
"The alarms are real," Mercedes told him.
Red Bull had its own problems on lap 13, with Verstappen's DRS flap failing to open on the start/finish straight.
Sainz was running in tenth, just behind Lando Norris who stayed ahead of the Ferrari after making his stop for medium tyres,
The end of lap 12 brought Verstappen (now with DRS working) and Russell into the pits. Red Bull's 2.6sec stop, a tenth faster than Russell's wasn't enough to change the status quo and Russell actually exited the pits a full second ahead of the Red Bull.
Further back, Sainz passed Norris, and gained a further place as Lance Stroll pitted, the Ferrari moving up to eighth.
Leclerc, Perez and Vettel were the only cars not to have stopped by lap 16; the Ferrari leading Perez's Red Bull by 15.4sec, with Vettel in sixth and being harried by the lively Ocon.
Verstappen's intermittent rear wing problem flared up again, his DRS flap opening and then closing immediately as he looked to make a run on Russell down the main straight.
"We can't even make the DRS work — unbelievable," fumed the Dutchman over the radio.
It worked as expected on lap 17, and Verstappen eyed a move around the outside of Turn 1, which was blocked confidently by Russell.
Perez was into the pits at the end of the lap, dropping to fourth and eight seconds behind Verstappen, as Leclerc stayed out, still the fastest car on track.
Back in 16th position, Hamilton was making limited progress, ahead of Lance Stroll but stuck behind Zhou Guanyu.
Perez was the fastest car on track by lap 19, setting the fastest lap on his new medium tyres,
"Look out for Russell because he is moving around in the braking zone," Red Bull told Verstappen on lap 20 in a message that appeared more aimed at the stewards than the Dutchman.
The end of lap 21 brought Leclerc into the pits and a rapid 2.2sec stop brought him out a comfortable 5.7sec ahead of Russell.
Vettel was also in to the pits and dropped to 15th, ahead of Hamilton.
The Mercedes driver was the first to stop a second time on lap 23, swapping his softs for medium tyres and leaving the pits in a lonely 19th position, but was soon past both Williams to run 17th.
Verstappen's mood wasn't improved when his team told him that he might be at fault for the DRS issue, by pressing the button too much and closing the flap, which had F1's bleep machine working overtime. "I am pressing it 50 times," was a fragment that was broadcast.
There was no issue at the start of lap 24 as Verstappen pulled alongside on the inside of the Mercedes in Turn 1. Russell wasn't giving up that easily and the two cars entered the Turn 2 switchback side by side, Russell on the inside and moving back ahead, as Verstappen then looked to the outside of Turn 3. The attack only petered out in Turn 4, with Russell remaining ahead.
Lap 25 saw a repeat of Verstappen's DRS issue, as Perez closed up to the Mercedes-Red Bull battle.
"Get me Max out of the way so I can overtake quickly," radioed the Mexican. The answer was not affirmative.
"Why don't you let me by? I have fresh tyres? I can pass by quickly," he continued.
Leclerc was on the radio with much greater woes, however. ""NO, NO, NO, what happened!? Lost power" he wailed on lap 27 – the Ferrari driver was out from the lead of the race.
Russell crossed the line to start lap 28 in the lead, with Verstappen once again trying to pull alongside.
Max Verstappen stopped at the end of lap 28, looking to undercut Russell with new soft tyres fitted in a 2.5sec stop, and seemingly switching strategy from the expected two-stop.
He returned to the track in fourth place in clear air, seven seconds behind third-placed Bottas .
Hamilton showed that the medium tyres were no slouch, setting the fastest lap of the race with a 1min 26.990sec lap time in 14th position behind Vettel.
Perez assumed Verstappen's previous role and was half a second behind the race leader Russell by lap 30. With fully functioning DRS and fresh tyres, Perez pulled past at the start of lap 31, ahead on the outside of Turn 1, and held on to take the race lead.
Zhou Guanyu retired — the second Ferrari-powered car with an issue in the race — as Verstappen passed Bottas's sister Alfa to move into third, 14sec behind Russell.
The end of lap 31 brought Sainz into the pits and the Ferrari rejoined in eighth, 6sec behind Yuki Tsunoda.
Verstappen was carving chunks out of the gap to Russell, halving it to 7sec by lap 34.
Valtteri Bottas pitted from fourth, putting on a new set of medium tyres and losing position to Ocon who had yet to make his second stop.
Perez was 5sec clear of Russell on lap 35, and Verstappen was looming larger in the Mercedes mirrors, 3sec behind.
Hamilton had got past Vettel and — thanks to the raft of second stops, was now up to seventh, 8.5sec behind Ocon.
Mercedes brought George Russell in on lap 36, and he dropped to third, behind Verstappen, whose soft tyres looked unlikely to last the race at the pace he set.
"Our strategy is to have the tyre advantage in the final stint," the Red Bull pitwall told Verstappen, seemingly confirming that he'd need a third stop.
Perez made his second stop, for medium tyres, on lap 37, coming out behind his team-mate in second, and 4sec ahead of Russell.
A pitstop for Ocon promoted Hamilton to sixth, 10sec behind Carlos Sainz, albeit on much older tyres.
Norris passed Vettel for eighth into Turn 1 on lap 40. Alonso, in tenth after starting last, was next in line behind the Aston Martin.
A 22.6sec gap at the start of lap 41 put Verstappen a full pitstop clear of Russell.
A second round of Vettel vs Alonso looked to be looming until the Aston Martin pitted on lap 43, promoting Alonso to ninth. Vettel emerged 14th, 13sec ahead of team-mate Stroll.
Lap 44 brought the race-defining stop for Verstappen, a 2.4sec swap for Medium tyres, which brought the Dutchman out 1.3sec ahead of Russell and with a clear route to victory; Perez in the sister Red Bull being the only obstacle to pass, 6sec up the road.
Vettel was making progress in his hunt for championship points, passing Pierre Gasly for 13th place on lap 46, but 20sec down on Tsunoda in tenth.
A fastest lap for Verstappen on lap 46 brought him closer to Perez and lap 48 brought the inevitable message from the pitwall: "You're on a different strategy to Max — if he's quicker, then let him through."
Perez's response: "That's really unfair, but ok".
The choreographed pass was made on lap 49. "Thank you mate," said a noticeably calmer Verstappen.
Lewis Hamilton pitted from fifth, exiting just 0.2sec ahead of Norris but rapidly pulling away and towards the Alpine of Ocon, 4sec down the road.
Hamilton moved into sixth, passing Ocon with DRS down the main straight at the start of lap 51, running 7sec behind Sainz.
Ahead, Russell pitted from third and dropped behind the Alfa Romeo of Bottas, who had a 4sec advantage in the final podium position. A fastest lap from Lewis Hamilton brought him within 6sec of Sainz in fifth.
Bottas's dreams of champagne were extinguished by Russell on lap 53, as the Mercedes dived past on the inside of Turn 1 with the Alfa driver locking up.
Perez changed his tyres at the end of the lap: a free stop given his comfortable cushion over Russell. "This is your shot at fastest lap," the Red Bull pitwall told Perez, as if throwing him a consolatory bonus point.
Alonso pitted from eighth on lap 54, but a slow stop put him 2sec behind Mick Schumacher in tenth.
Alonso was past Schumacher at the start of lap 56 to claim ninth, and Schumacher dropped out of the top 10 a lap later, as Tsunoda drove past.
Lap 57 also saw Sainz close to within a second of fourth-placed Bottas, as Hamilton closed on the Ferrari, now 1.7sec behind.
Sainz was past on the outside of Turn 1 on lap 58, and not before time, with Hamilton breathing down his neck. The flying Mercedes vaulted the Alfa two corners later, on the outside of Turn 3 and had the Ferrari well and truly in his sights, starting lap 59 just 0.7sec behind.
By lap 60, he was past, around the outside at Turn 1 despite vigorous defending by the Ferrari driver whose tyres were low on grip.
After dropping to the back of the grid at the start, Hamilton was fourth, and 12.6sec behind his team-mate.
That wasn't the end of the story: "We'll do as much left and coast as we can," Hamilton was told on lap 64, with two laps remaining. "There's a DNF risk so give up the place if you have to".
It was music to the ears of Ferrari's pitwall which immediately relayed the message to the closely-following Sainz. He was back past by lap 65.
It was smooth sailing for Verstappen, however, who maintained his record of winning every race he has finished in 2022, and moving six points ahead of Leclerc to head the title race, while Perez picked up the fastest lap.
"Sometimes you have to do it the hard way," the team told Verstappen.
The mood was less celebratory on Perez's radio channel. "A good result for the team," he said. "We'll talk later".
The drivers' standings now have Verstappen on top with 110 points, Leclerc second on 104 and Perez's 85 putting him third. Russell with 74 has moved ahead of Sainz's total of 65.
2022 Spanish Grand Prix results
| | | | | |
| --- | --- | --- | --- | --- |
| Position | Driver | Team | Time | Points |
| 1 | Max Verstappen | Red Bull | 66 laps | 25 |
| 2 | Sergio Perez | Red Bull | +13.072sec | 19* |
| 3 | George Russell | Mercedes | +32.9sec | 15 |
| 4 | Carlos Sainz | Ferrari | +45.2sec | 12 |
| 5 | Lewis Hamilton | Mercedes | +54.5sec | 10 |
| 6 | Valtteri Bottas | Alfa Romeo | +59.9sec | 8 |
| 7 | Esteban Ocon | Alpine | +1min 15.3sec | 6 |
| 8 | Lando Norris | Mercedes | +1min 23.2sec | 4 |
| 9 | Fernando Alonso | Alpine | +1 lap | 2 |
| 10 | Yuki Tsunoda | AlphaTauri | +1 lap | 1 |
| 11 | Mick Schumacher | Haas | +1 lap | |
| 12 | Sebastian Vettel | Aston Martin | +1 lap | |
| 13 | Daniel Ricciardo | McLaren | +1 lap | |
| 14 | Pierre Gasly | AlphaTauri | +1 lap | |
| 15 | Lance Stroll | Aston Martin | +1 lap | |
| 16 | Kevin Magnussen | Haas | +1 lap | |
| 17 | Nicholas Latifi | Williams | +1 lap | |
| 18 | Alex Albon | Williams | +1 lap | |
| 19 | Zhou Guanyu | Alfa Romeo | DNF | |
| 20 | Charles Leclerc | Ferrari | DNF | |
*Includes additional point for fastest lap