At the front, Verstappen led from Hamilton by 4.4sec on lap 25, with Perez 9.5sec further back and Leclerc 11.1sec behind the Mexican.
Alonso had another go at Giovinazzi, up the inside of Turn 1 – the result once again was an Alfa off the track. Giovinazzi held on to the position through the subsequent series of corners, but eventually let Alonso past.
Lap 26 saw the back-of-the-grid starters George Russell and Sebastian Vettel fighting for 13th; the Aston Martin driver managing to move past the Williams and on to the rear wing of Giovinazzi.
Hamilton had closed the gap to Verstappen to 2.8sec by lap 27; his fresher rubber moving him closer to Verstappen, but the times weren't scintillating: Verstappen's 1min 40.102sec fastest lap, set on the 13th lap still stood. Perez had dropped to 14sec behind Hamilton.
A Virtual Safety Car was imposed for barely 20sec on lap 28 as a marshal recovered some debris on track.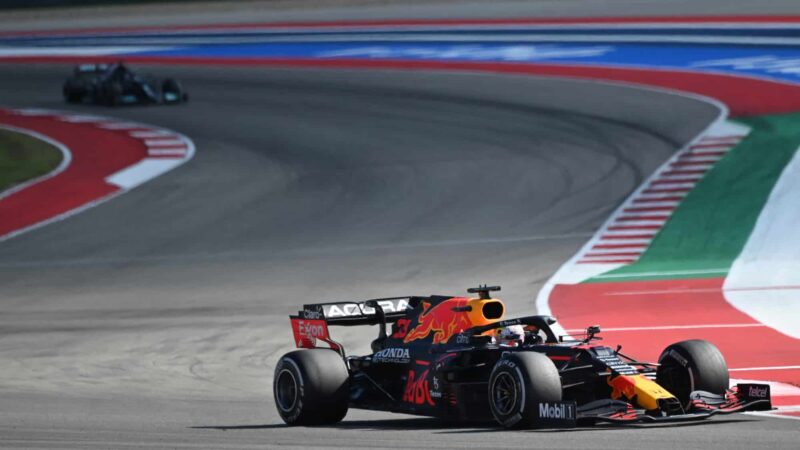 Verstappen made his second stop at the end of lap 29, emerging third, 1.7sec behind Perez who quickly let his team-mate through. Sainz made a stop too from sixth, coming out in eighth.
Hamilton was told he'd be extending this stint by six laps and immediately set the fastest lap of the race.
Perez pitted at the end of lap 30, followed by the McLarens of Ricciardo and Norris, the double-stack stop hoping to capitalise on Sainz's slow stop. Ricciardo stayed ahead of the Ferrari, but Norris remained behind, running eighth on lap 32.
Leclerc pitted at the end of lap 32, emerging fourth and just ahead of Bottas — who was still to stop.
On lap 34, Mercedes told Hamilton the team was considering extending his stint by another lap, as Verstappen gradually moved closer — 15.3sec behind with his stop in hand, but tyres growing older by the lap.