The Red Bull junior team looked indecently quick throughout practice and, with the battle for fifth place in the constructors' championship all but lost to Alpine, you do wonder about AlphaTauri's Abu Dhabi modus operandi being based solely around the interests of the senior team.
Yuki Tsunoda has been improving and, in Saudi, showed sufficient pace to make it through Q2 on the medium compound tyre for the first time this year. He looked like being a contender for the second or third row here, until he had his best lap deleted for track limits at the final turn. He now lines up further back, eighth. One potentially loose cannon that Mercedes maybe now doesn't need to concern itself with.
Pierre Gasly also had his quick lap deleted for track limits at Turn 16 and starts 12th, but didn't sound too devastated when told about it. Call me a conspiracy theorist, but never having started lower than that all year, does he go to the grid with hard tyres and half a tank of fuel? Such things have been known…
Coming in, there was much speculation about the potential for contact between Verstappen and Hamilton deciding the championship, as it did between Senna and Prost in '89 and '90, between Schumacher and Hill in '94 and between Schumacher and Villeneuve in '97.
The fact is, if Hamilton does not finish the race, Verstappen is world champion. But, after Saudi, Max is a marked man, so much so that race director Michael Masi saw fit to include a passage of the International Sporting Code in his pre-event notes.
The relevant passage reads:
"any infringement of the principles of fairness in competition, behaviour in an unsportsmanlike manner or attempt to influence the result of a competition in a way that is contrary to sporting ethics" can be punished."
And that range of punishments includes points deductions.
In '97, even though Villeneuve won, in a bit of an empty gesture all of Schumacher's championship points were taken away as FIA president Max Mosley wanted to be seen to do something. To us of advancing years it seems like yesterday, but it's worth pointing out that at the time Max Verstappen was just over three weeks old! Jos will know all about it though…
Verstappen has been aggressive all year (Imola, Barcelona, Monza twice, Interlagos and Jeddah) but the irony is, the biggest championship-changing contact of 2021 was Silverstone, Hamilton's fault, which produced a 43-point swing (the 25 Hamilton got for being able to win despite his penalty – and the 18 Max didn't get for finishing up in a 51g impact instead of finishing at least second).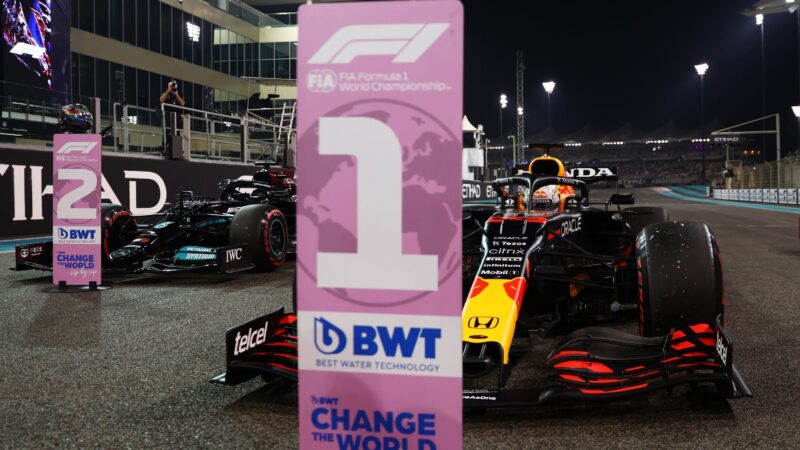 Senna-logic with Prost was okay, I owe you one, and he had no compunction about levelling the score when the title was at stake, and to hell with the show. Not that I commend it.
The whole elbows out versus racing room thing is exacerbated by DRS. For example, no driver worth his salt allows a rival around the outside of him at Turn 4 in Brazil when he hasn't made a mistake, but DRS often means that the lead car finds itself vulnerable when it shouldn't be. That's hard to mentally process when it's something you haven't previously encountered since starting karting almost 20 year earlier.
The counter-argument, of course, is that they've been in F1 long enough and should give a rival racing room, let him go if necessary and re-pass with DRS the following lap. Okay in theory, but not in practice when you can't stay close enough in the dirty air after being passed and you're racing a rocket ship, as Verstappen was in Brazil.
It's a 21-race championship and so, is it right that the Masi warning should have come this weekend? And will it impact on Verstappen's racing mind set? Unlikely, you'd think.
"What's the difference between this race, for example, and Silverstone or Hungary (where Verstappen was taken out by a locked-up Bottas)?" Horner asked earlier in the weekend. "There has to be consistency."
The way the grid has been settled for tomorrow, first corner contact now seems a lot less likely.
"I'm grateful that I can see where he is and we can navigate from there…" said a smiling Hamilton.
But, and it's a big 'but', that's not to say that they will not be battling over the same piece of tarmac later in the afternoon. If you were fighting for your first world championship, would you want Lewis Hamilton starting right behind you on a potentially favourable tyre? This one is far from over.