"A tricky qualifying," he said. "I mean, obviously, with so little preparation going into quali, it makes things a little bit trickier. But I think we did a good job, we maximised the potential of the car.
"I was quite confident, especially in Q1 and Q2, I wasn't at the level I wanted to be. And then in Q3, I regained the confidence and the pace a little bit in the car. I'm happy with how it went." Like everyone else he didn't know what to expect from the Saturday sprint: "We are all going into an unknown. We've got FP2 to try and prepare the sprint race as well as we can, and then let's see what we can do."
There was obviously a good chance that Perez would get ahead, and the McLarens of Lando Norris and Daniel Ricciardo were also a threat. In the event Fernando Alonso got in front of all of them and gave Leclerc a buffer. He ended the sprint still in fourth, claiming that starting spot for Sunday's Grand Prix. It wasn't the most eventful afternoon, but he had no complaints.
"Honestly I loved it, I really like this format for now because in some races for sure there won't be much action in the sprint qualifying but at least it makes it exciting for every day.
"Honestly I loved it – normally I'm so bored in the car on the Friday!" Charles Leclerc
"Normally I'm so bored in the car on the Friday! Yesterday felt a bit more exciting and there was a bit more to gain to push straight out of the box in FP1 to be ready for qualifying."
As he'd suggested the team arrived with an ideal set-up: "Actually yesterday from free practice to qualifying I didn't even change the car, the car felt good. And that's why I was saying, 'I hope we will take advantage of that,' and I think we did this weekend."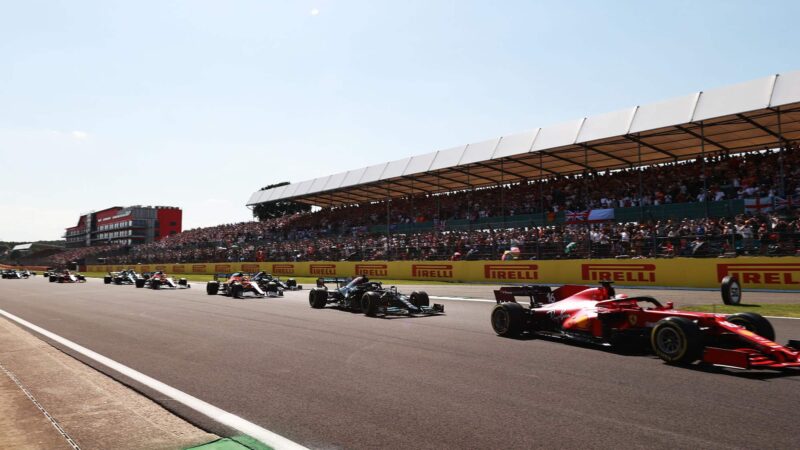 He also enjoyed racing off the grid with a much lower fuel load, and thus a nimbler car.
"Yeah it is a big, big difference, it's very nice. I prefer to drive in those conditions, it makes me think about refuelling a little bit because it feels very good and I think for racing also for those tyres they are in a much better window and it makes us push a lot more.
"Seventeen laps pushing flat out is normally not something we are used to unfortunately, so it feels good to be pushing for 17 laps!"
"I was really on it every lap" Charles Leclerc
With an eager Norris right behind him on the grid for Sunday's Grand Prix it looked like Leclerc would have his work cut out hanging onto his fourth place. In fact he beat Bottas off the line to claim third, and spent the first part of the opening lap watching Verstappen and Hamilton going at it. Indeed when the Mercedes driver went a little wide out of Luffield, Leclerc could have stuck his nose down the inside, but he left Hamilton the space to cut back across.
A few seconds later heading into Copse he had a perfect view as the two title protagonists collided, and Verstappen speared into the tyre wall. As Hamilton lost momentum Leclerc jinked right to claim the lead. Then came a safety car, followed soon after by the red flag.