"If I'm really honest, I feel we have the best line-up currently in terms of deliverables, in terms of the equilibrium that's within our team and the general knowledge, in terms of moving our car forwards."
Perhaps that's why Red Bull finds itself at such a disadvantage now with its unique chopping-and-changing mantra.
Mercedes enjoyed such an advantage in the early years of the turbo-hybrid era that even the combustible Hamilton/Nico Rosberg combo didn't prevent the Three-Pointed Star from sweeping both titles between 2014 and '16.
Ferrari and Red Bull have posed a greater threat since then but the Hamilton/Bottas line-up has delivered a further four successive title sweeps, set numerous team records and scored plenty of wins and podiums along the way.
Is the Finn a world championship-calibre driver? On the evidence we've accumulated since he started out in Formula 1 racing full-time at Williams in 2013, it's unlikely. He has shown bright sparks and has kept pace with the greatest qualifier in F1 history, out-qualifying him on occasion. But in terms of being a title-winner, he just isn't quite there.
Currently, Bottas has nine race victories to his name which puts him ahead of the likes of Gilles Villeneuve and Juan Pablo Montoya. Now Bottas certainly doesn't have quite the same attention-demanding style nor the fiesty personality that duo had respectively, but that makes little to no difference whatsoever to his employers. In fact, it's probably to his benefit.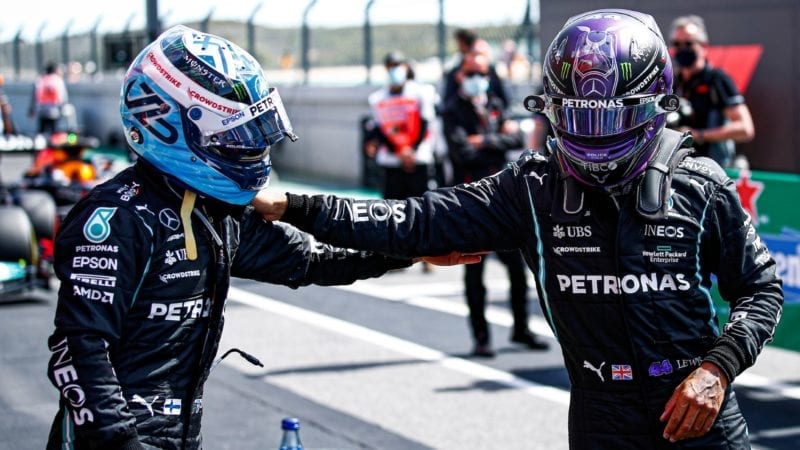 The 'Bottas 2.0' persona and his "To whom it may concern, f*** you" addressing of critics are just false dawns as he is forced up against the greatest driver of his generation and the star of the next one.
We've heard a fired-up Bottas over team radio on a few occasions but that fire doesn't burn long enough to explode into a title fight, not with Hamilton anyway. His boss Toto Wolff might be secretly glad that it doesn't anyway.
Upsetting the balance is what might land Bottas in hot water.
Since joining in 2017, Bottas has stood on the podium at 47 out of the possible 79 races. His strike rate has remained relatively stable too at 65% in '17; 38% in '18 – (his worst season to date at Merc); 71.4 in '19 and 64.7% last year.