"Not many men have the balls to do that, especially ones that are dependent on public relations. Now all these drivers are jumping in on the bandwagon, chiming in behind Lewis.
"They're in a position to change the world. They have a voice, they have a platform."
Ribbs says that he has suffered a lifetime of racism both at the race track and away from it.
"2020 will go down in world history," he says. It's always been a powder-keg. A lot of people will wake up in the morning and think, 'This is new'. This has been going on in the United States for 400 years. It is nothing new.
"I've had a gun pulled on me (by police) three times in my life. Each time, they thought I was driving a stolen car."
NASCAR driver Bubba Wallace has also spoken out on the racist abuse he's received, not only  on social media but also on occasion from race officials.
California-native Ribbs compared his treatment with Wallace's, saying: "He gets comments on social media, I got death threats."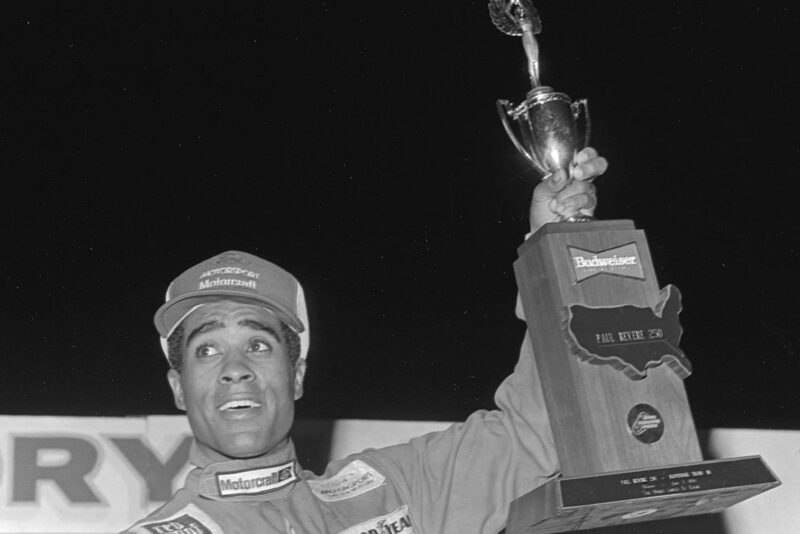 In the Uppity documentary, the young Afro-American's first dalliance with stock cars is depicted in chilling detail. Numerous "fans" sent harrowing messages to both Ribbs and NASCAR, with one fan threatening the latter, "If this n***** races, he may not leave the racetrack alive".
Instead of being intimidated, Ribbs used it as motivation.
"The death threats were actually sort of exciting to me – I actually sorta enjoyed reading them," he says. Those people didn't know my background and where I was raised, how I was raised. So I guess they thought that was going to intimidate me."
The Trans-Am winner says he has also compared and contrasted racism in the US with the UK when meeting Hamilton, whom he counts as a friend: "The UK is on a different planet. I've talked to Lewis. I've talked to [his father] Anthony Hamilton. And when we compare notes, it is much, much harsher here and much more aggressive than in the UK. I've been to England and London a lot. No comparison.
"As a matter of fact, I said to Anthony, "How many blacks have been lynched in the UK? He said 'none' that he knew of. Well, there's the difference."
In 1986, Bernie Ecclestone gave Ribbs an F1 test with his Brabham team, making him the first black person to drive a Formula 1 car. It took another 21 years for Hamilton to become the first black driver in the series.
F1 has recently announced a diversity programme in a bid to open up the sport to people from all backgrounds, an attempt to break the hegemony of rich white men who dominate the sport.
Speaking of opportunities available for young black drivers in his era, Ribbs says "There was no diversity programme when I was racing – my right foot was my diversity programme!"