Local noise restrictions meant it wasn't possible to run the then-traditional Sunday morning warm-up at Zandvoort, but the change in weather led to a delayed start and the organisation of a brief pre-race practice session so drivers could acclimatise.
Hesketh: "One problem for us was that our chief engineer Harvey Postlethewaite had returned home to work on our new 308C, which was due to begin testing in a few weeks. Our guys looked at the sky and the track and wondered what to do, but it was felt that trying to revise the set-up might be fraught with difficulty – and we could also see clear skies farther to the north, where the weather was coming from. Because Holland is by the North Sea, it's just like being in Yorkshire or Norfolk. You could see a bright horizon, so we decided not to interfere with the car – especially as we didn't have Harvey on hand. At Ferrari, I think Mauro Forghieri and his merry men added a bit of wing front and rear."
What happened next, though, was a consequence of events during the most recent rain-affected race, in Monaco. "That was absolutely crucial," Hesketh says. "James had a theory that the dry line on a mostly wet track offered more grip than people realised and we brought him in earlier than others for slicks that day, though we screwed up the stop and it took more than 20sec longer than it should have done. He consequently had to push pretty hard and eventually slid off into the barrier, but it was the first time he'd had chance to put his theory to the test – and he'd been lapping quickly. At Zandvoort, the rain had just about stopped by the time they did the warm-up lap, so we had the slicks out, ready in the pit lane."
Lauda led away, with Scheckter vaulting to second ahead of Regazzoni and Hunt, but the latter was in the pits by lap seven, to take on a set of slicks. "Everyone else looked on in amazement," Hesketh says, "but we were confident and, the key thing, so was James. There's no point making a technically brilliant decision if the driver disagrees with it."
After Ferrari pitted Lauda and Regazzoni on laps 13 and 14 respectively, Hunt led.
"Once he was in front, the test was whether he'd be able to hold off the Ferraris to the end," Hesketh says. "You have to remember that we had no TV monitors back then, so you couldn't see what was going on, the commentary was in Dutch but inaudible anyway and there were no radios. The only time you saw the cars was when they passed the pits, but those at Zandvoort were towards the end of a very long straight – so we could watch them for a short while. At first there was just a white dot looming into view, followed by two quick red dots. Slowly, slowly we could see them getting closer and we were on tenterhooks wondering whether Niki would be able to challenge. Only during the final two laps did I get the impression that he'd decided he couldn't make it. He hadn't backed off, but I sensed he'd lost the belief that he could get through. The tension lasted a long time – and I wasn't convinced we would win until the chequered flag came out.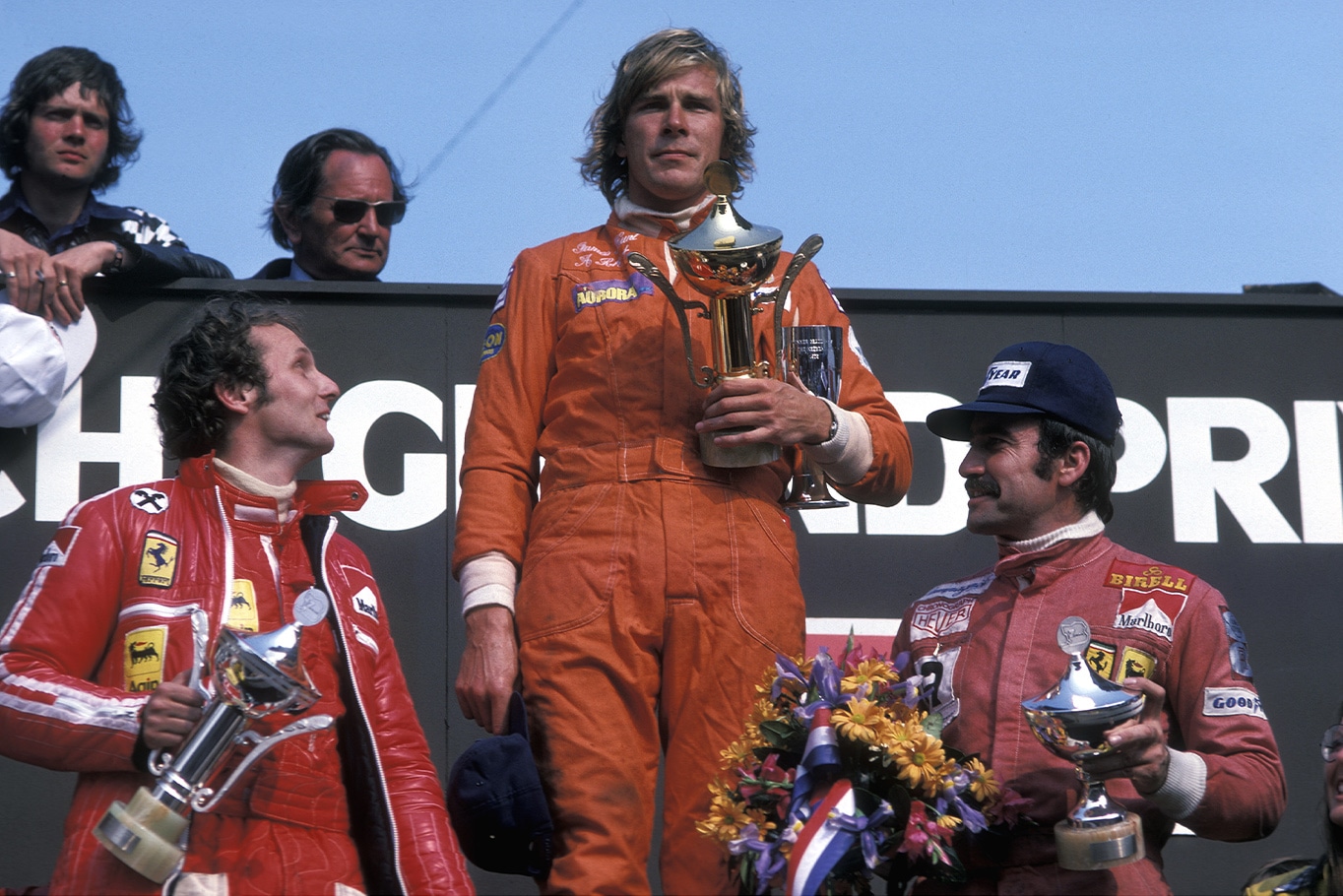 "It wasn't the same as winning your first race, as we had at Silverstone the year before, but victory came as a relief because our lack of results had been driving us all towards a nervous breakdown. The real sensation of success came afterwards. Zandvoort is quite unusual, of course, because it is surrounded by dunes – and there were lots of little encampments scattered around, with people waving Union Jacks and Hesketh teddy bears [the team's motif]. They didn't all rush off to catch the ferry home but stayed on to celebrate. In a sense, going around the track afterwards was the best bit."