Formula 2 driver Anthoine Hubert killed in Spa-Francorchamps crash
- Last updated: December 5th 2019
Anthoine Hubert, the reigning GP3 champion, lost his life in a Formula 2 race during the Belgian Grand Prix weekend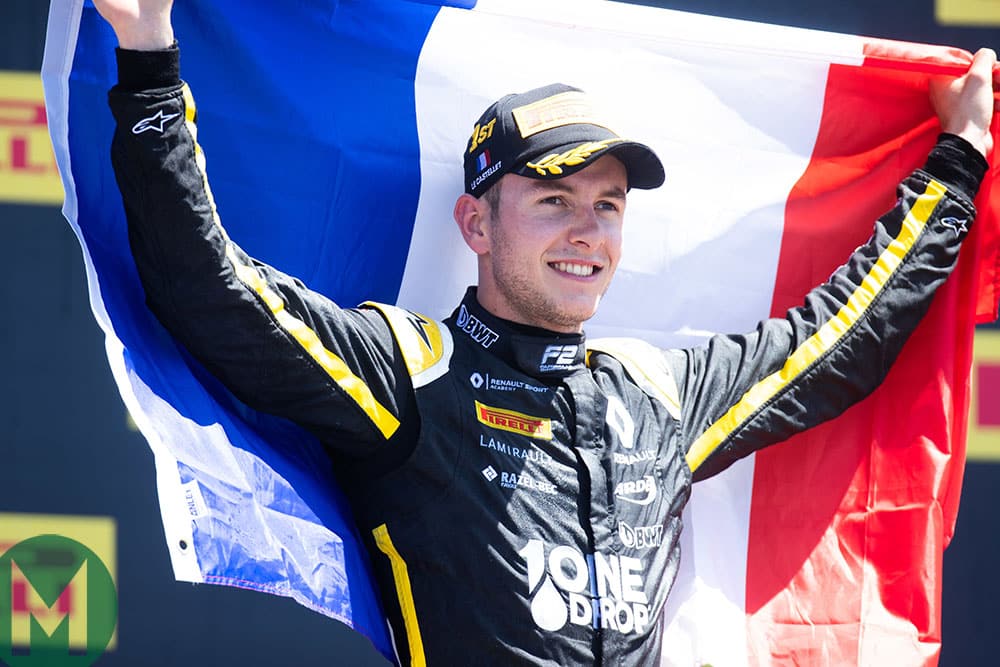 Anthoine Hubert won in F2 at Paul-Ricard this year Photo: Motorsport Images
The 22-year-old French racing driver, Anthoine Hubert, has been killed in a Formula 2 crash at Spa during the Belgian Grand Prix weekend.
The BWT Arden driver was in his first F2 season after winning last year's GP3 championship. He had already won two races in the series, at Monaco and Paul Ricard, and was a Renault Sport Academy driver.
His former team-mate, Williams driver George Russell paid tribute to him, and Lewis Hamilton said that Hubert was a "hero for taking the risks he did to chase his dreams".
A statement from Renault said: "His smile and sunny personality lit up our formidable group of young drivers."
Saturday afternoon's F2 feature race was cancelled after the second-lap accident, which was triggered as the field headed uphill through the high-speed section between Eau Rouge and Raidillon.
A spinning car forced Hubert to take evasive action, which resulted in him spinning into the barriers, then back towards the track. He was then hit by Juan Manuel Correa who also suffered injuries.
In a statement, the FIA confirmed that Hubert lost his life just over an hour after the crash despite immediate medical attention. Sunday's F2 race has been cancelled.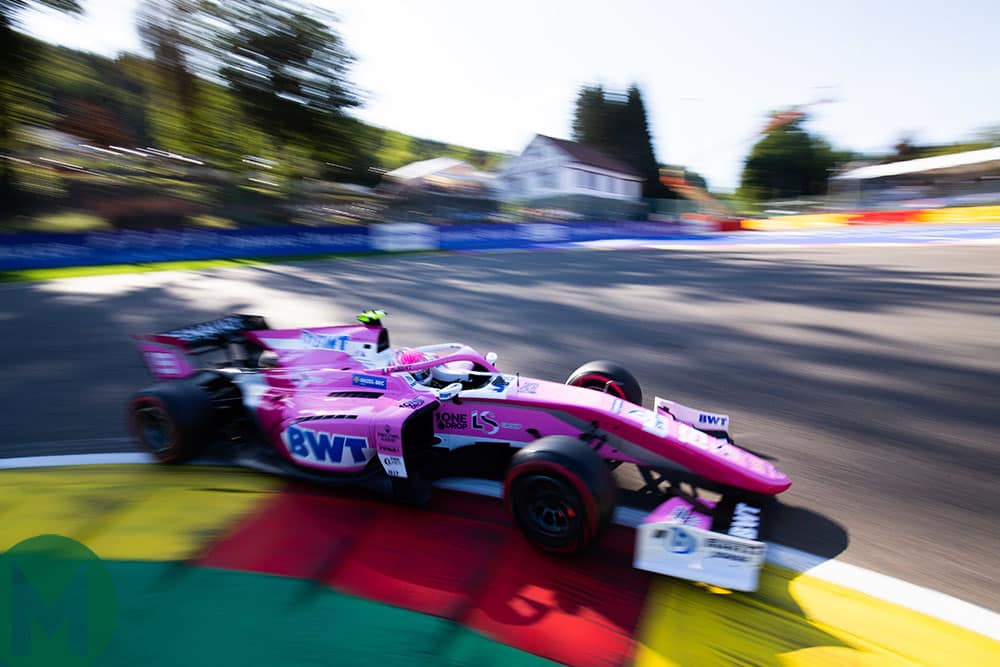 Hubert, earlier in the weekend at Spa Photo: Motorsport Images
Hubert, who lived in Oxford and Paris, was a driver in demand after a string of successes early in his career, despite limited funding.
He received his first go-kart at the age of three. His father, an amateur rally driver, trained him by creating coned courses in supermaket car parks.
Hubert began single-seater racing in 2013, when he won half of the races in the French Formula 4 Drivers' Championship to take the title in his debut season.
Two years in Formula Renault Eurocup followed, and he joined the GP3 grid in 2017 as a team-mate to George Russell, winning the championship the next year. Russell has paid tribute to Hubert in a Tweet (below).
Hubert was signed to the Renault Sport Academy in May last year and had already tested a Formula 1 car: the 2017 R.S.17 at the Red Bull Ring. He also had the assistance of Alain Prost who he had been compared to, thanks to his race management technique.
Earlier this month, he said that he was targeting the Formula 2 title next year, with several top teams interested in signing him.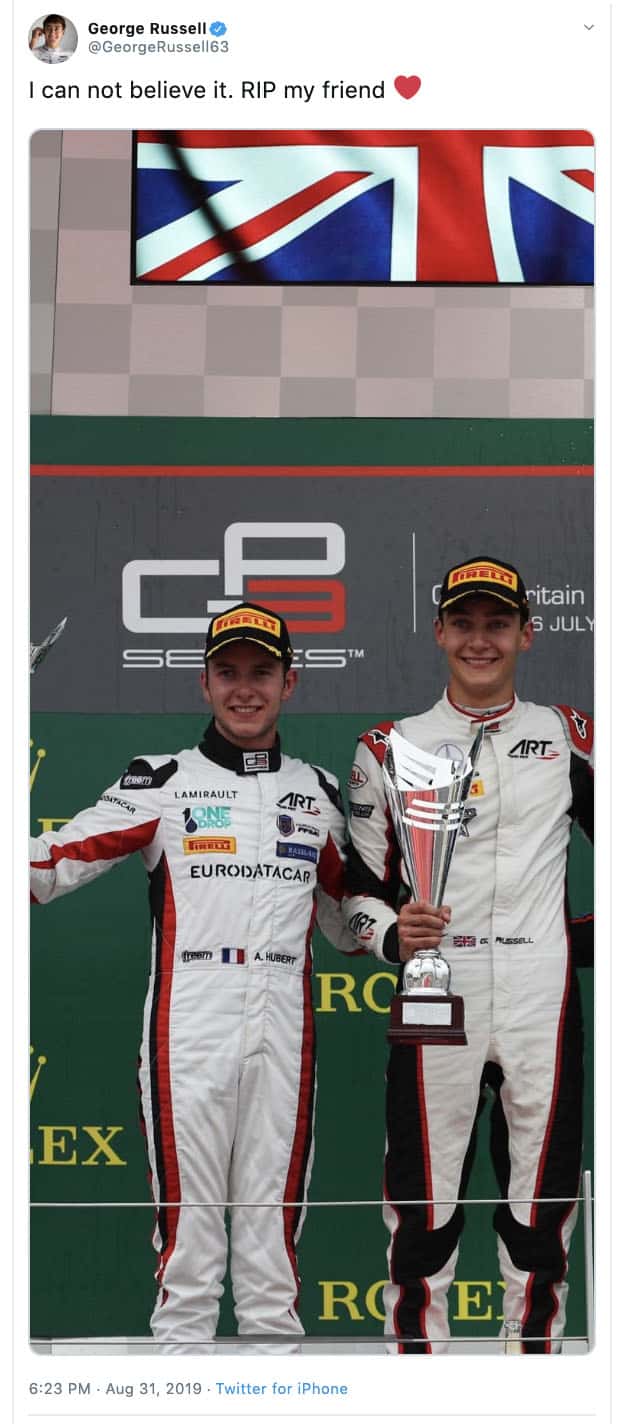 Lewis Hamilton posted a tribute to Hubert on Instagram, reminding followers of the risks that drivers take, which is directly quoted below.
"If a single one of you watching and enjoying this sport think for a second what we do is safe your hugely mistaken.
"All these drivers put their life on the line when they hit the track and people need to appreciate that in a serious way because it not appreciated enough. Not from the fans nor some of the people actually working in the sport.
"Anthoine is a Hero as far as I'm concerned, for taking the risk he did to chase his dreams. I'm so sad that this has happened.
"Let's lift him up and remember him. Rest in peace brother."
Cyril Abiteboul, managing director of Renault Sport Racing, said: "Our thoughts are with Anthoine's friends and family at this tragic time. Anthoine was a bright young man.
"His performance and conduct on and off track was that of a true gentleman and it was a pleasure and honour to have had him within our Academy. He will be sorely missed by our teams at Enstone and Viry. His spirit will remain with the team and we will race in his memory."
Following the crash on Saturday afternoon, the FIA released a statement. "The FIA regrets to advise that a serious incident involving cars No12, No19 and No20 occurred at 5.07pm as a part of the FIA Formula 2 Sprint Race at Spa-Francorchamps, round 17 of the season," it said.
"The scene was immediately attended by emergency and medical crews, and all drivers were taken to the medical centre.
"As a result of the incident, the FIA regrets to inform that the driver of car No19, Anthoine Hubert, succumbed to his injuries, and passed away at 6.35pm
"The driver of car No12, Juan-Manuel Correa (USA), is in a stable condition and is being treated at the CHU Liège hospital. More information on his condition will be provided when it becomes available.
"The driver of car No20 Giuliano Alesi (FRA) was checked and declared fit at the medical centre.
"The FIA is providing support to the event organisers and the relevant authorities, and has commenced an investigation into the incident."