For 2021, Berisha stepped up to a three-car effort. Astier was back with Lucy, though the car had been reclassified in the Open category. In Time Attack 1, Berisha had Pikes Peak (and road race) veteran David Donohue – yet another second-gen driver – in a 2020 Porsche 911 GT2 RS Clubsport nicknamed Sunny. And drift/rallycross stud Tanner Foust was driving a Porsche 718 Cayman GT4 Clubsport racing in a spec class of its own.
Setting up cars for Pikes Peak is tricky because they need both mechanical grip for the many hairpins and serious downforce for the high-speed sweepers. "We approach it as a cross between a softly sprung canyon car and a stiff road race car," Berisha says.
But logistics proved to be an even bigger challenge. Berisha's three cars were competing in three different classes, which practised at different times on different parts of the mountain. So instead of his usual four-man crew, Berisha showed up with 19 people, and he ended up spending nearly an entire "month of madness" in Colorado.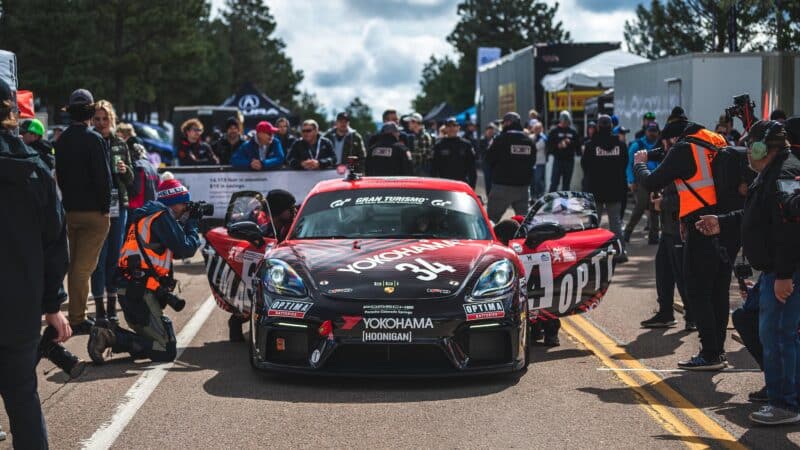 It didn't help that the cars experienced unexpected problems, some small, some major, like an idler pulley that failed, necessitating an engine rebuild. Various maladies prevented Donohue from getting enough practice time. Come race day, when bad weather forced the organizers to shorten the course to roughly nine miles, he was limited to third in class behind Dumas in another GT2 RS Clubsport and Rhys Millen in a Bentley Continental GT3 that lost turbo boost during its run.
On the other hand, Astier drove like a total bad-ass, earning top Open Class honours. And Foust was in a different time zone from the other Porsche Pikes Peak Trophy by Yokohama entrants. "He didn't show much mercy," Berisha says.
Three cars, three classes, three podiums – a feat never before achieved by a private entrant. But the results merely whetted Berisha's appetite for more. Eventually, he dreams of using a production-based Porsche to take overall honors – a tall order considering that a purpose-built race car is usually fastest up the mountain. (This year's race went to Norwich native Robin Shute in a highly modified semi-open-wheel Wolf GB08 single-seater.)
"I'm hooked on Pikes Peak," Berisha says. "As long as I can do it, I'm going back."