"But he wasn't somebody who would bust a gut to be quicker than the other guy, simply because he knew he could do it. And he was totally right about that. He was dynamically quick and didn't make mistakes."
Three years later they found themselves fighting each other – literally to a standstill – for an outright Le Mans victory as works Porsche team-mates: Holbert's overheating 956 dying underneath him as Bell's brake-less sister car made a last-minute dash.
"It was a good job that Al was in there," says co-driver Vern Schuppan. "We had led for 21 hours and I was in the car when its left-hand door blew off just after the Mulsanne Kink. Like an explosion. The hinge on the roof had fatigued."
The first ad hoc repair utilised riveted aluminium strips. The second, demanded by officials, involved punching a hole in the roof and a buckled strap so that the driver could still open the door if necessary.
"It held but didn't fit very well," says Schuppan. "The airflow over the intercooler was affected and the temps on that side started to rise.
"[Co-driver] Hurley Haywood and I were called to the Control Tower to await the finish. There, we saw on a TV screen smoke pouring from the left-hand bank.
"Al later told me that the engine had locked exiting Arnage on the last lap and that he had dropped the clutch. That freed it and it just about got him home.
"Hurley would probably have done the same – he could be fast if a car was good or bad – but Al had more empathy for how it was working and was probably more analytical."
As for Bell? "I heard him on the radio explaining how the temperature was off the clock. I pushed the button on my steering wheel: 'Bring him in! I wanted to win.
"But they ignored me. I had a reputation for being able to drive well in adverse conditions, to drive within a problem. Al was the same.
"I had been lucky enough to co-drive the likes of Siffert, Ickx, Stuck and Bellof. I always felt that they had that element of the superstar that enabled them to push a car that bit more.
"He was at his best when he was his own boss and never happy unless we were leading"
"But they weren't engineers, too.
"I always felt that Al [the driver] was at about my level. He said that I was better on the tyres than he was because I flicked the car into a corner and so got a straighter exit – he analysed that sort of stuff whereas I never did – but I have no criticism of him in any way as a co-driver."
No wonder. Their partnership ran to 19 wins from 1984-'87, a tally that included the astounding achievement of back-to-back victories at Daytona and Le Mans in successive seasons, with the able assistance of Al Unser Jr, Chip Robinson and Hans-Joachim Stuck.
Holbert's three wins in four attempts at La Sarthe from 1983 – he had finished a 'lowly' third in 1982 – did not, however, bring him the recognition on this side of The Pond that his skills and results deserve: 10 victories in Can-Am – four during a losing title battle with a precocious Unser Jr in 1982 – NASCAR top 10s and a fourth place as a rookie at the 1984 Indianapolis 500.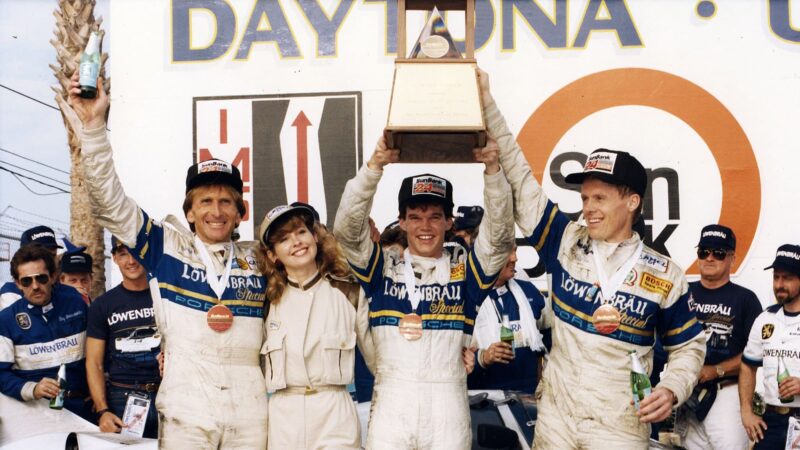 "He wasn't over here often enough and so there was nobody in Europe waving a flag for him," says Bell. "But even in The States he wasn't in your face. He wouldn't talk to you unless he had a reason to. He wouldn't necessarily wave across a paddock if he didn't really know you.
"He was at his best when he was his own boss and never happy unless we were leading. After every race, no matter what had happened, he would always say that the clock had been turned back to zero and that it was already ticking prior to the next one.
"But at Le Mans he was absolutely behind the scenes. He turned up when required, got in the car and did a perfect job before getting on the next 'plane home with a cheque in his pocket. He was always happy to learn from others' experience.
"He was so relaxed and such a delightful guy. He never said anything against anybody. He had his opinions – very strong ones – but never flouted them.
"I've read that he had been a bit of a hellraiser…
"… well, every Sunday morning they'd have their little prayer service before they went out to beat the shit out of each other in the race. Al would laughingly say, 'Come on, heathen! Are you coming to our little get-together with the Reverend?' I think I did. Once.
"Another time I went to his hotel room and the door was open and there were four or five team members inside reading Bibles. I don't need that stuff. But I do believe that it was the backdrop to Al's calmness.
"I am sure that we would have been competitive that following year. We knew that the Porsche 962 was nearing the end of its life and, being a plonker, I'd kept asking, 'Why can't we just do this or that?' But Al knew what to do – the fundamentals – because he'd done it so many times before.
"He did it all. The whole bloody lot. An amazing person unique in my lifetime.
"A massive loss."