"At some races, we were right at the back – P18. You have a whole race to go and you just know you need 17 cars to not finish for this to be a good result – it's just hopeless!
"Sometimes that can be really daunting. There are good races as well. But even the good races, after finishing in P5 or getting some solid points, I just wasn't super excited about it. At the end of the day, it's still not a win, so it's not the right feeling. I'm not here to do a job, I'm here to race and have fun doing it."
Midway through the 2020 F1 season, it became increasingly apparent that there would be no seat for Magnussen on the 2021 grid and the Dane found himself looking to one of the biggest racing outfits on more distant shores.
"I always had a dream to race with Chip Ganassi in IndyCar. I was trying to do IndyCar with him [in 2021], but that didn't happen for various reasons.
"But the talks were good, and then suddenly this opportunity came up with Cadillac and IMSA. I thought, since I couldn't do IndyCar, that would be a really good opportunity.
And so six weeks after calling time on his F1 career, Magnussen found himself in Florida, preparing to race for Ganassi's crack DPi squad at the Rolex 24 at Daytona. He had none other than five-time IndyCar champ Scott Dixon for his team-mate, along with endurance veteran Renger van der Zander.
Their no1 car was on the pace straightaway in practice, before Magnussen stole the show in the qualifying race, leading early on.
How did it feel to be fighting at the front again?
"It made me very happy. I've missed it – it just feels right. Fighting for victories is why I do what I do, it's why I'm a racing driver, why I'm a sports person, it's why I got to where I am – because I like winning.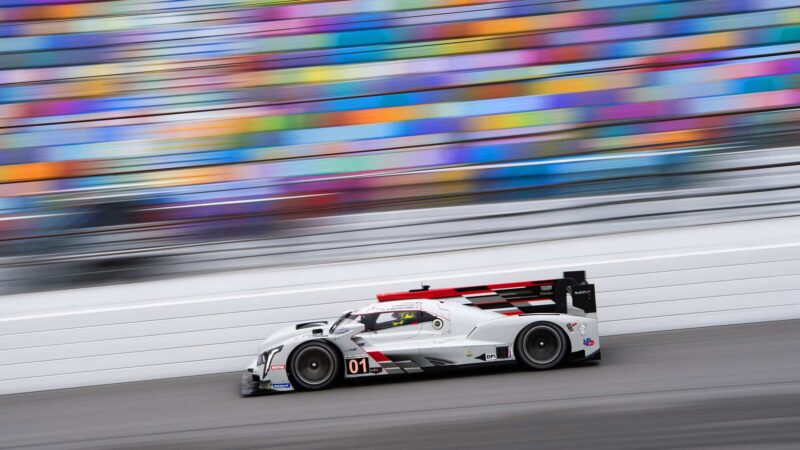 It went uphill from there. After eventually starting Daytona proper in seventh, the race came down to the wire.
Magnussen's stablemate van der Zander, now in 2nd place, was closing in leader Filipe Albuquerque of Wayne Taylor Racing as the race reached its conclusion. After 24 hours, with just minutes left on the clock, the win was in Magnussen and co's grasp. He was in no doubt of what he thought the outcome would be.
"I really thought Renger had what it took to be able to get past the Acura," he says. "You're watching and you see he caught up by like 20 seconds and so. He did an amazing job and he had so much momentum."
It was not to be. With seven minutes to go, the Ganassi Cadillac suffered a puncture on the banking. As the DPi prototype slowly made its way back to the pits, rear wing wobbling indignantly as it was lashed by a flailing tyre canvas, all hopes of an incredible debut victory were dashed.
"It was a really big, sad moment when it happened," says Magnussen. "He certainly had the speed for it. When he came in, it was a big blow. and I think he would have got past if it wasn't for the puncture.
He's still got the rest of the season to find that winning feeling again, however, and he'll be smiling as he does it.