Focus Cup track test: the arrive and drive racing series
- Last updated: December 5th 2019
The Focus Cup is a brand new concept in British club racing where nobody owns their own cars. They're picked at random, bringing the easy-going nature of arrive and drive karting to long circuits around the country.
I often wonder if club racing has been missing a trick. And it's glaringly simple. First off, national-level racing is hard work. Buying a car yourself, trailing it around and running it takes a load of effort, cash, and – inevitably – storage space. I know I don't have the sort of secure acreage to allow me to do that. So my other choice is rent a car for arrive-and-drive. The issue with that is you'll usually be behind the guys who run their own cars. Who drive them constantly and tinker with their setups day-in day-out. Equal equipment is never really guaranteed in that situation.
That's why I've always been a fan of arrive-and-drive karting. Series like EasyKart (Now BirelART UK) or Club 100 have it nailed in my eyes. You pay your entry, turn up with your gear and get assigned a chassis and engine at random, same as everybody else. It doesn't get more equal than that.
Now, that ethos has finally moved to larger circuits, too, with the launch of the Focus Cup for this year, and it's already causing some waves.
First off, let's address the concept. The Focus Cup is a new single-make series running with MotorSport Vision Racing that uses a fleet of centrally run 2-litre TDCI Ford Focus chassis, converted simply into production racers. So no teams, no cars in private hands, everything is owned and controlled by the organisers.
One other key element there is the 'D' in TDCI. Yes, they're diesel. That's unusual enough, essentially making the Focus Cup the only diesel-powered racing championship in the UK right now that isn't for trucks.
The Focus Cup has been founded by a partnership between businessman and prolific club racer Simon Walton (Mini Challenge and Volkswagen Racing Cup) and successful team owner Rob Sims. Together, they spotted a gap in the market to bring arrive-and-drive style competition to the circuits, thus removing many of the sport's barriers to entry.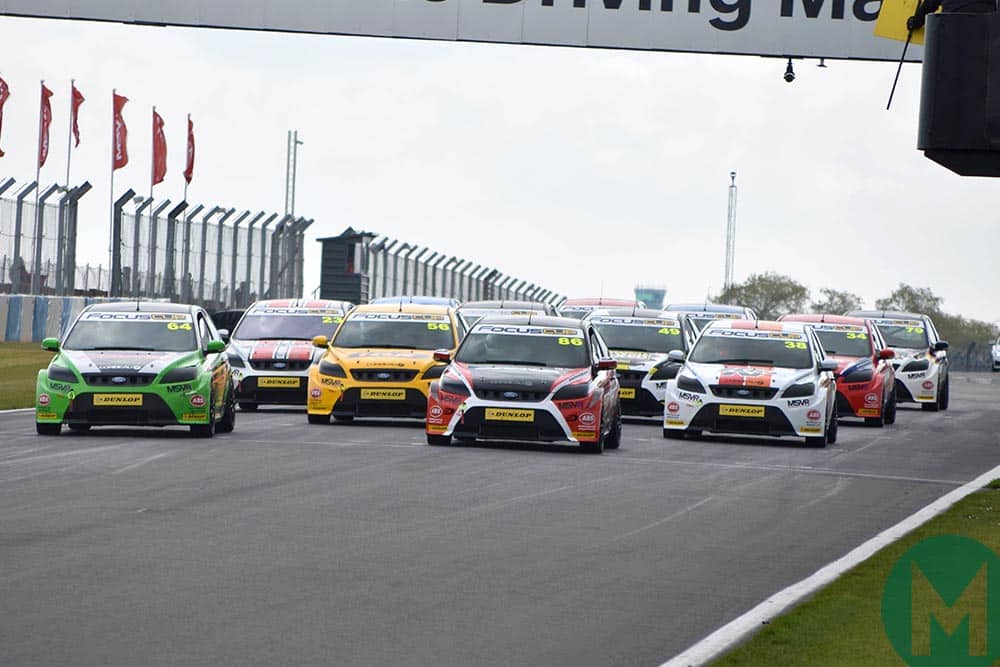 You simply sign up for the full season at around £15,000, or go round-by-round for £2,300. That outlay gets you a car, complete with fuel and used tyres (new tyres are an optional upgrade at £300 per pair and drivers are limited to only one pair of fresh tyres per round), a full test day on the Friday, then qualifying and two 15-minute races. It's a comprehensive package that means you just pay your money, turn up with your gear and everything else is there ready for you –just like karting.
At each round, a 10-strong team of technicians looks after the Focus grid, with drivers drawing a random number out of a hat before Friday testing gets underway to determine which chassis they'll get for the weekend. Each car is then liveried in difference to one of the series' main sponsors or suppliers. One round you could be in the Power Maxed car, the next the Swan Flight or Mintex, and so on. And there's always a few spare chassis, just in case anybody elects to swap or has an accident.
Of course, racing cars can become pretty personal things, and driver comfort is a big part of success on track. Therefore each driver's seat, harnesses, wheels and tyres travels between cars with them. The wrap-around Corbeau race seats are cleverly mounted on a frame within the car, meaning a position can be set exactly as the driver wants and then transferred by simply unbolting the entire frame and re-installing it to another car, seat and all. Simple single-way adjustable suspension is included, meaning setups can also be transferred without having to go into the minutiae of camber, castor, toe and spring rates.
---
Related content
---
"When we were building the Focus we wanted to keep things as simple and as stress-free as possible," says Sims. "We noticed that nobody was using the Focus as a base, and Ford has always made a good, reliable base car. We then added the race modifications, and settled on the diesel engine as we wanted to offer something a bit different – something that plays with drivers' understanding."
And 'play with your understanding' it certainly does. This Focus behaves the absolute opposite from what you'd expect of a 1300kg family hatchback. It feels light and nimble, helped by the wave of torque from the diesel engine transporting its bulk with ease. But what really takes you by surprise is the cornering ability.
The Focus Cup cars are widened by around four inches over the standard car's footprint, using a mixture of axle modifications, spacers and wheel offset. They are then wrapped in touring car-style wide-arch bodywork – think Motorbase and Team Aon's Focus designs from 2009-2012. While the cars retain the standard suspension top mount, the dampers are single-way adjustable units from AST. Running on Dunlop Direzza cut-slick track tyres, the grip is frankly startling.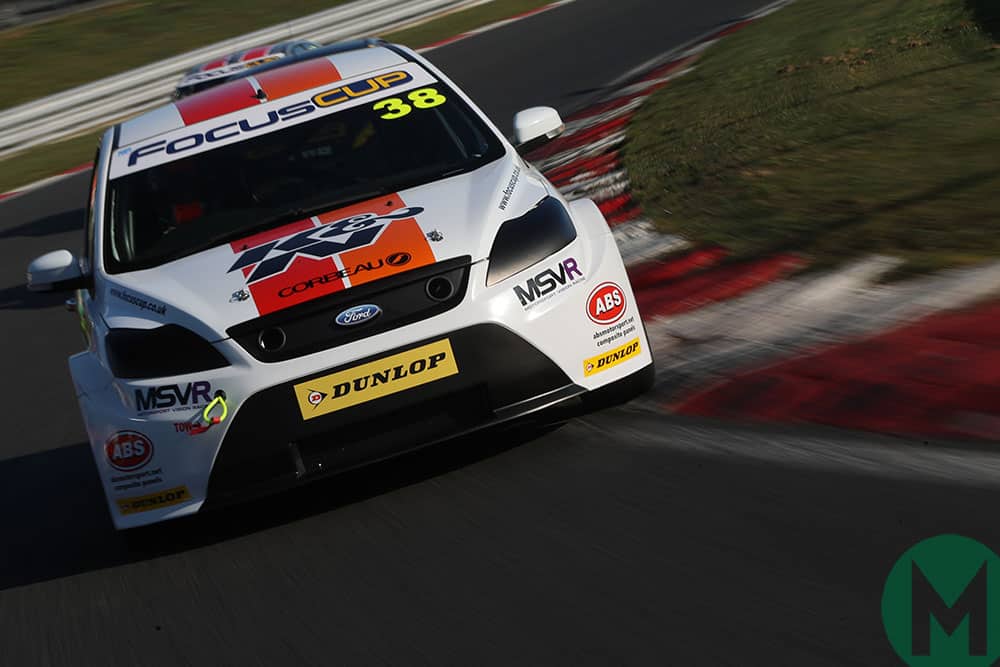 Usually with a front-wheel-drive car, especially one as heavy as this, you'd have to spot your turn in, manage any roll in the chassis to avoid understeer, before setting the car on course through the corner and getting back on the power while keeping everything as controlled and flat as possible to maximise your momentum, while not putting too much strain through those tortured front tyres that are having to deal with the steering, acceleration and braking. The best way is usually all very smooth and civilised. In this, it's the complete opposite.
Thanks to remapping and some valve work, the diesel engines now produce 170bhp – 30 more than the standard car – but the focus has been on torque. The modifications mean this car has 310lb-ft of it – a third more than the standard 230lb-ft. And using it is key through the corners.
"It plays with drivers' minds because you have to forget what you know about FWD handling," adds Sims. "Because you have so much torque, and it all comes in at 2250rpm, you have to get down the rev range and almost use it to drag the car through corners. The grip we've managed to produce actually surprised us, because the wider footprint uses the tyres so well to produce huge amounts of mechanical grip, meaning you can really be aggressive with a corner and the torque actually helps you round it."
The result is that you're back on the throttle way earlier than you think you'd be. Approaching a turn like Graham Hill Bend at Brands Hatch, you're dabbing the brake, shifting down to third and then you're hard back on the throttle almost as soon as the front end rotates toward the apex. Not only does the wider footprint of the car greatly help reduce body roll, being on the throttle also keeps the turbo spooling, ensuring drive right through, and out of, the corner.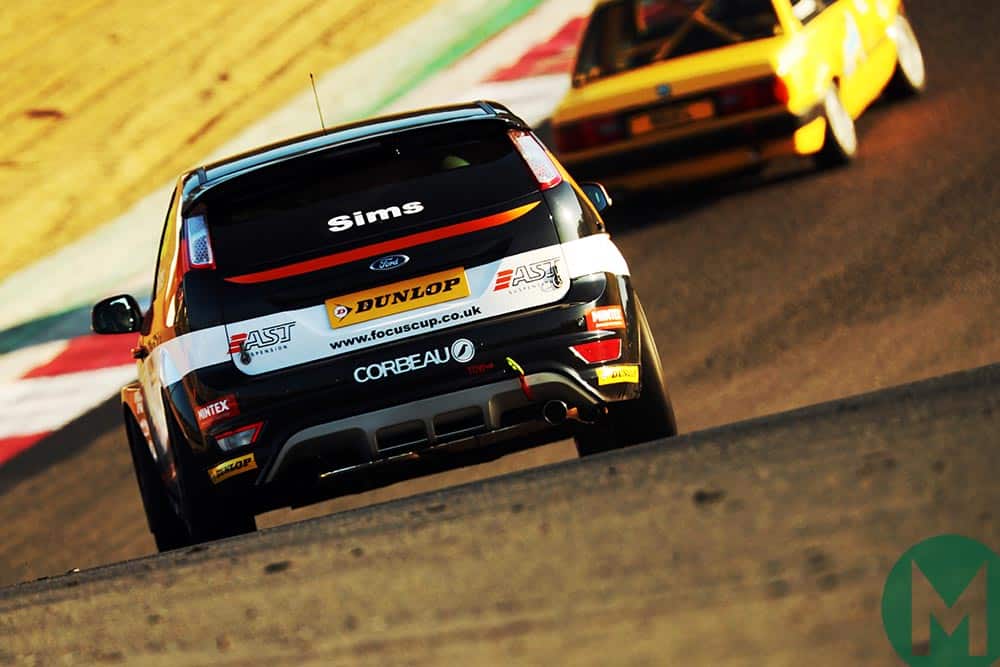 It's a sensation not unlike a rear-wheel-drive sports prototype, where the aim is to get back to full throttle as soon as possible, knowing the aero will suck the car to the track and allow you the grip under acceleration, except this time it's all mechanical.
Straight-line performance is nothing to write home about, the engine runs out of puff at about 4000rpm, and if you do fall off the turbo range you will have a fair bit of power-sapping lag to cope with. Being diesel, you also don't get a lot of noise in the cockpit, which can dull the sensation. But the whoosh and whistle when the turbo is on-song brings back a fair bit of the aural excitement. Plus I defy you not to smile when the sheer tsunami of torque kicks in even before you're even mid-corner, yet the thing just grips and goes.
The entry for this year consists of a nice mix of drivers brand new to the sport, some switching from other disciplines – like sprinting – and even some more familiar names (like sometime BTCC and Clio Cup driver Andy Wilmot and even current BTCC ace Josh Cook) just seeking some easy-going and stress-free motor sport.
So far, the Focus Cup has garnered grids into the low-to-mid teens, but there's plenty of scope to expand that as word gets out and promotion of the series begins in earnest ahead of next year.