Robert Wickens 'aiming big' in racing return after crash left him paralysed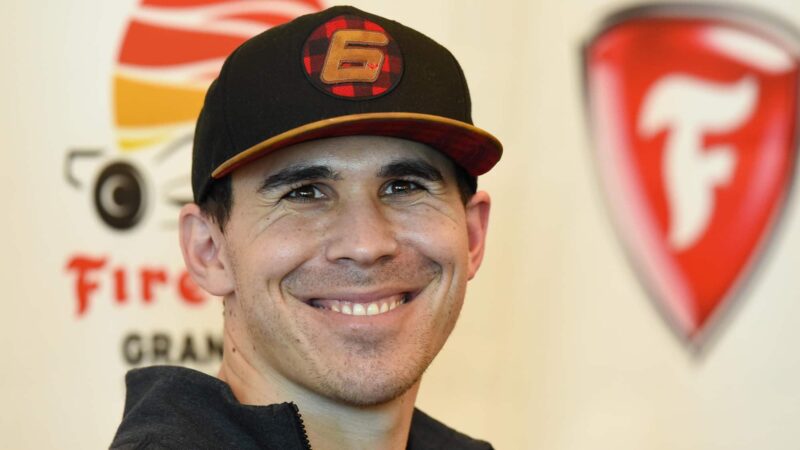 Canadian Robert Wickens, who was paralysed from the chest down in a ghastly IndyCar wreck three years ago, will return to professional racing later this month at Daytona International Speedway in a Hyundai Elantra N TCR car retrofitted with hand controls.
"I feel like we're embarking on a brand-new chapter of my story," he said Friday during a news conference. "You know, I'm not here just to play around. I'm here to win races and win championships for Bryan Herta Autosport and Hyundai. So I think it's going to be a very steep learning curve. But I think we're all ready for the challenge."
Wickens, 32, is scheduled to race the entire IMSA Michelin Pilot Challenge season with co-driver Mark Wilkins, a former series champion, as part of Herta's factory Hyundai program. Although the team is the reigning champion in the series, co-owner Sean Jones said bringing Wickens into the fold was a no-brainer.
"We had the opportunity, thanks to our great partners at Hyundai, to sign an elite-level talent," he said. "It was not a tough decision on our part."
It's been a long, winding, and difficult road to this point and the journey is not over, but thankful we'll be able to move down the road with a bit more speed!

I'll be joining @BHA for the 2022 @IMSA season and piloting one of their @hyundai Elantras.

Now, let's go win. pic.twitter.com/hoPyoorJTO

— Robert Wickens (@robertwickens) January 14, 2022
Michael Johnson, who lost the use of his legs in a motorcycle racing accident when he was 12, drove another hand-controlled Hyundai TCR car for Herta this past season. Wickens will use a similar system that's been customised for him by the team's technical director David Brown, who race-engineered Nigel Mansell and Alain Prost to Formula 1 titles during an early-career stint at Williams.
Wickens himself seemed poised to embark on a career in F1 after finishing second in the FIA Formula 2 series in 2009, second in GP2 the next year, and winning the Formula Renault 3.5 title the year after that. But a season as a test driver for Marussia Virgin Racing didn't lead anywhere. So he spent six years in the DTM series, where he claimed six victories.
Wickens moved to the IndyCar Series in 2018, driving for Schmidt Peterson Motorsports. He promptly stuck his car on the pole during his debut at St. Petersburg and almost certainly would have won the race if he hadn't been the victim of an overambitious overtaking attempt by Alexander Rossi after a late-race restart.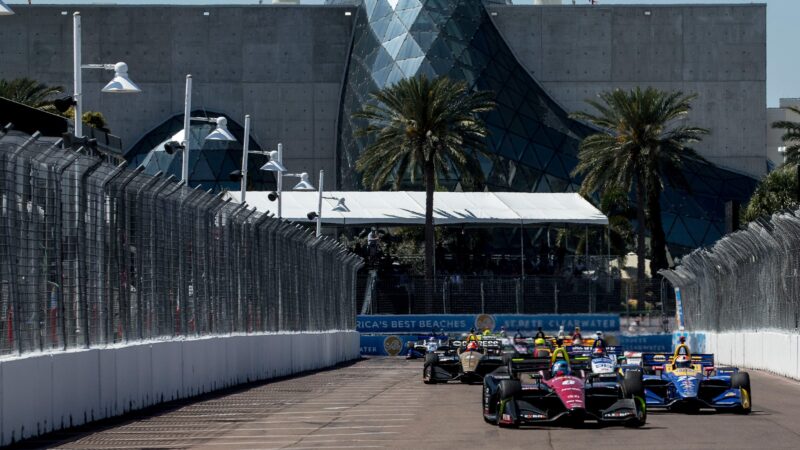 Later that season, Wickens was named Rookie of the Year at the Indianapolis 500 after leading two laps and finishing ninth. Three podiums and other strong finishes followed, and he was sixth in the standings at mid season. Then came the disaster at Pocono, where Justin Wilson had been killed in freak IndyCar incident three years earlier.
After a restart, Wickens touched wheels with Ryan Hunter-Reay and was launched violently into the catch fence. He spun at least a dozen times in the accident, which was eerily reminiscent of the one that killed Dan Wheldon at Las Vegas in 2011. Besides damaging his spinal cord, the crash fractured Wickens's neck, ribs, both legs, both hands, his elbow and his forearm. He also suffered a concussion and pulmonary contusion.
Last May, Wickens tested Johnson's TCR Hyundai at Mid-Ohio. At the time, he said, "I think the hardest pill to swallow about my accident is now I'm creeping up on three years of where I'm really at the prime of my career and the prime of my ability. And I'd love nothing more than to get the opportunity to get back behind the wheel and actually race again someday."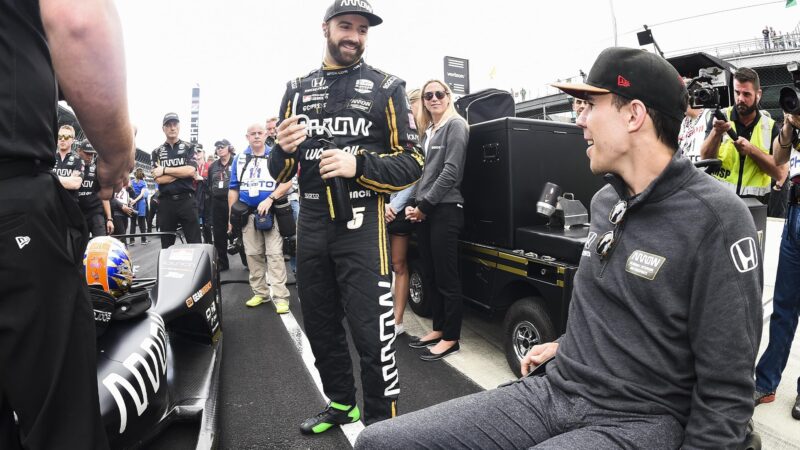 Wickens has stayed close to racing as an adviser for his old IndyCar team, which is now owned by McLaren. But the one-off experience at Mid-Ohio prompted him to start looking for a way to return to the cockpit on a full-time basis. Bryan Herta Autosport, which will campaign six TCR cars in Michelin Pilot Challenge, seemed like a plausible option.
"I want to race here in the Michelin Pilot Challenge with Hyundai in my Elantra N TCR car to just prove for myself I can do it again. You know, it's almost like a proof of concept," Wickens said. "Once we can tick that box, I think nothing's out of the question."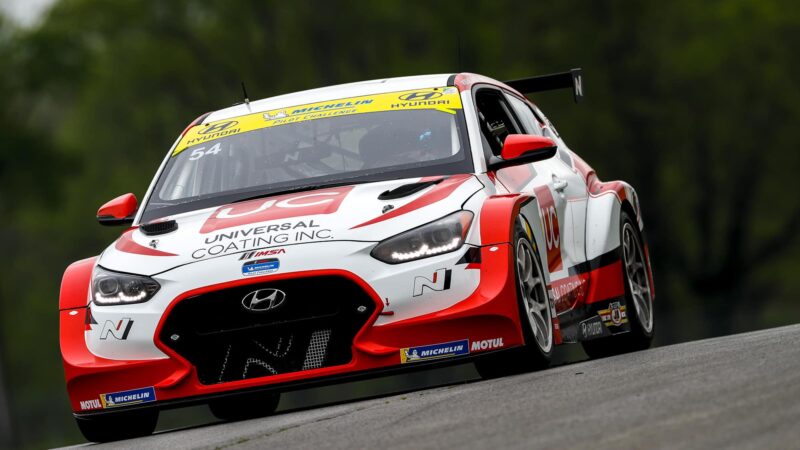 Over the years, several drivers with physical limitations have used hand controls to go racing. Clay Regazzoni, paralysed at Long Beach when the brake pedal snapped in his Ensign F1 car in 1980, later ran several rally raids and sports car races. Double amputee Billy Monger famously won the Pau Grand Prix in 2019 in a Formula 3 car. This past year, Johnson notched an excellent second-place finish at VIR with longtime co-driver Stephen Simpson.
Most famous of all is Alex Zanardi, who lost both of his legs – and very nearly died – in an Indy car wreck at the Lausitzring in 2001. Zanardi later scored three wins during a five-year stint as a factory BMW driver in the FIA World Touring Car Series. His final automobile race, coincidentally, came at Daytona, in a BMW M8 GTE during the Rolex 24 in 2019.
When it comes to hand controls, one size doesn't fit all. Wickens wasn't comfortable with the hand-brake lever that Zanardi used, so he'll work with the steering wheel-mounted brake-ring system that's already been fitted to Johnson's car. But the throttle was moved to accommodate Wickens's preference and allow him better purchase on the wheel.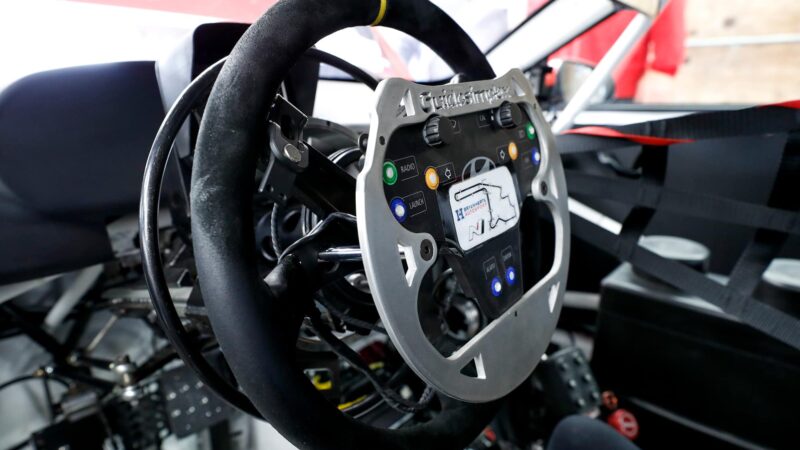 Wickens acknowledged that, for technical reasons, a return to IndyCar isn't in his future. But that still leaves him with plenty of options.
"I think racing at the highest levels of IMSA and the WeatherTech series would be amazing," he said. "Those LMDh cars just look insane. You know, Formula E is something that is very appealing to me as well. I'm kind of interested in exploring other options of motor sport outside of IndyCar at this point."
But first comes Daytona in two weeks. Asked what his goals were, considering that he hasn't raced in more than three years, Wickens flashed a huge grin. "I mean, aim big, right?" he said. "The goal is simple: To try to win the thing."