When the dust settled after Monday night's feature race at the Chili Bowl, Tanner Carrick's car was finally right-side up and the near-capacity crowd cheered the California native as he climbed out of his battered ride.
Carrick had just won the final race on Monday night at the 36th annual Chili Bowl and thus guaranteed himself a top-10 starting position for Saturday's 55-lap main event. But a stuck throttle on the No98 machine made the 20-year-old a passenger as his midget flipped in Turn 1 after taking the checkered flag.
It was a little bit more action than what the crowd paid to see, but nobody was complaining as the grandstands at the Tulsa Expo Center gradually emptied right before midnight.
For all those who attended and those who compete, they're now on Tulsa Time.
The 36th Annual Chili Bowl Nationals has drawn nearly 400 drivers from many different forms of racing to compete at the temporary quarter-mile dirt oval built inside Tulsa's Exposition Center. From NASCAR champions Chase Elliott and Kyle Larson (2020/2021 Chili Bowl winner) to IndyCar driver Conor Daly to World of Outlaws stars Brad Sweet, David Gravel and Donny Schatz to British stock car champion Tom Harris and Snowball Derby winner Travis Braden, racers from all walks of life and from numerous corners of the globe call Tulsa, Oklahoma home for the week.
A small sum of $10,000 goes to the winner and along with it, the Golden Driller trophy that is a miniature replica of the 76-foot-tall statue outside of the 455,000 square foot Expo Center.
Absolutely insane… 💣@MichaelKofoid holds off @KyleLarsonRacin to WIN Tuesday's Prelim Feature!@cbnationals | #ChiliBowl2022 pic.twitter.com/YJ00hu3WhH

— FloRacing (@FloRacing) January 12, 2022
The winner of that trophy will triumph over 23 other drivers in Saturday night's grand final. However, to get to that point requires five days of preliminary action and one day of complete chaos to set the field that will challenge even the best of drivers.
"It's definitely unique and it attracts a lot of eyes because it's in the beginning of January with nothing else is really going on," said Larson.
"All the major series aren't running, there's nothing really, there's definitely nothing open wheel dirt racing-wise that you can run anywhere this week. So yeah, it's an event that everybody marks in their calendar, whether you're a fan or a driver to come to and get to witness how big this building is, how they cram everybody in here and they watch some exciting racing."
"Why don't we run an indoor race in the winter?"
And watch people do, with households across America paying $150 for a yearly subscription of FloRacing to see the action on a nightly basis.
It all began 36 years ago when retired dirt racer Emmett Hahn was convinced by friends to organise an event to fill the empty winter months. Hahn owned a small dirt oval outside of Tulsa. After racing had concluded one season, the question was asked: "Why don't we run an indoor race in the winter?"
The Tulsa Shootout was born in 1986. After running an event featuring motorcycles and winged sprint cars among other cars, Hahn got the idea that dirt midgets could race on the same track leading to the Midget Nationals the next year sponsored by a now-defunct local Chili Bowl food company. The name stuck and the event slowly grew until the early 2000s, when the race gained airtime on ESPN and the event's popularity took off.
"Then after that, we made a deal with HBO and did a pay-per-view one year," Hahn said "The year after that is when Lucas Oil stepped up and did the Saturday night live on MAVTV. After that happened, it just got bigger every year."
Car counts hit triple digits in 1994 with 107 cars. The 200-car mark fell in 2003 with 203 entries and 326 cars entered in 2015 to break the triple-century mark.
The expanded entry list (395 cars this year) has brought with it an intense and complex competition schedule, which gives each one of the competitors a shot at the trophy.
The Cars And Alphabet Soup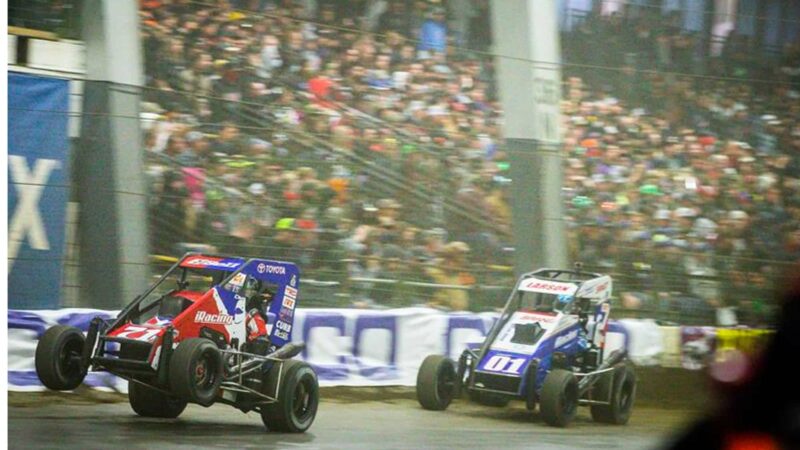 Despite having a wheelbase of just 72 inches (1,828.8 mm), these mighty machines are powered by four cylinder engines that turn almost 10,000 RPM to make nearly 400 horsepower, all without a minimum weight rule.
A complicated qualifying procedure over five days involves a daily random draw, heat races, passing points and qualifying races. The results of these qualifying days sets the stage for an all-day shootout on Saturday in one of the most dramatic racing days of the calendar year.
While 10 drivers are locked into the Saturday night A-Main based on being the top two finishers in their respective qualifier events during the week, the remaining 380+ drivers have to fight through nearly three dozen preliminary feature races to get to the main event in what is called the Alphabet Soup.
The lowest-ranked drivers during the week start the day off battling from the bottom, with the top six advancing from the P-Main events up to the O-Main. This reverse-alphabetical order driver elimination goes on and repeats all the way until the 55-lap A-Main on Saturday to make up starting positions 11-24.
A Pole Dash system of four races with four cars each finalises the first 10 starting positions for the main event.
"It doesn't pay anything to win, the trophy is tiny and you're against 400 other drivers, where else can you do that in the world?"
In the Alphabet Soup there will be broken hearts and shattered dreams for some with euphoria and jubilation for others. No driver has made the A-Main coming from the lowest letters, but some have made some heroic charges trying to.
In 2004, JJ Yeley set the record for making the A-Main (final race) from the furthest down in the Soup. Starting in an F-Main, Yeley went through an E, D, C and B tiers to race in the A event where he would finish third.
Yeley's biggest challenge was that there wasn't a real break for him. Almost as soon as the Arizona native advanced to the following feature, the Andy Bondio-owned midget went right back to the ramp leading to the track.
"You don't have enough time to go back to the pits, so you don't have time to really think about chassis set up, changing tires, you have to have everything on the ramp," Yeley said. "We had enough guys, so as I'm on the track, [the crew] were almost getting ready for the next race and it just kept going like that.
"It took a lot of luck. You have to get cautions. I mean, there's times at this race track that it has enough grip that you can go and run a 12 or 14 lap C-Main race in two or three minutes. If you don't get a caution flag and you have to start the back and you have to pass 10 cars, it might be impossible."
Ok. But how?@cbnationals | #ChiliBowl2022 pic.twitter.com/AKUSmuFd7O

— FloRacing (@FloRacing) January 12, 2022
In 2019, a Wednesday night heat race disqualification and subsequent flip in his qualifying race meant that Yeley would start sixth in the bottom letter of the Soup in an O-Main. Yeley, the 2003 USAC Triple Crown (Midgets, Sprint Cars and Silver Crown) Champion won that O-Main and also his N-Main before finishing third in his M-Main. In the L-Main, Yeley crashed from a transfer position, ending his run.
Last year, Jason McDougal wowed the Saturday crowd as he went from his I-Main all the way through the H, G, F and E-Mains. On the last corner of the last lap of his D-Main, McDougal spun from a transfer position after getting hit by another competitor.
All of that was in chase of the Golden Driller which Kyle Larson would take home for the second year in a row.
"It doesn't pay anything to win hardly and the trophy is tiny," Larson said. "But something about this event and going up against call it 400 other drivers, where else can you do that in the world besides here for the Chili Bowl?"
The Atmosphere
When he's not behind the wheel of his No. 56X machine, Cheyenne, Wyoming's Mark Chisholm can be found near the top of the Turn 2 grandstands with the aptly-named Top Row Rowdies.
After spending several years as a spectator, Chisholm drove nearly 800 miles from his home to Tulsa to make his midget racing debut in the 2011 Chili Bowl.
A professional motorcycle drag racer, Chisholm has one Saturday Soup win in the first M-Main in 2020. His peak in the Soup was in an F-Main in 2013 and 2015, but that's a few races away from being able to race for the Golden Driller.
But in the grandstands, Chisholm feels at home with the Rowdies, who have built up a cult following through recent years.
Officially named in 2007, the Rowdies raise hell, cheer wildly and cut up about as much as any group of fans would at a dirt track, with signs and banners adorning the railing behind their section of the grandstands.
"They say it's a party that a race broke out at rather than the other way around," Chisholm said. "Just the people and the notoriety of the event is what it's about. [The Rowdies] have become family, they become friends even outside of this, checking on you during the year, seeing how your family is doing, they become really good friends."
That feeling between friends permeates throughout the building. Fans and drivers are able to interact in a much more condensed setting at the Chili Bowl than they would be at a race like Indianapolis or at Daytona.
"To enjoy a race as a fan, you don't always get that intimacy, like coming up and seeing every driver (and) buying t-shirts," said Yeley. "You can get that experience here. And again, you sit in the grandstands here and there's not one seat in this place that's bad and there's never a race that's not exciting. And that you don't necessarily have to have anyone that you've ever heard of in a race, because it's just going to be exciting. So the racing is really what makes it here."