How NASCAR is nipping at F1's technical heels
- Last updated: December 5th 2019
Think NASCAR is nowhere near as advanced as F1? A man who knows tells us otherwise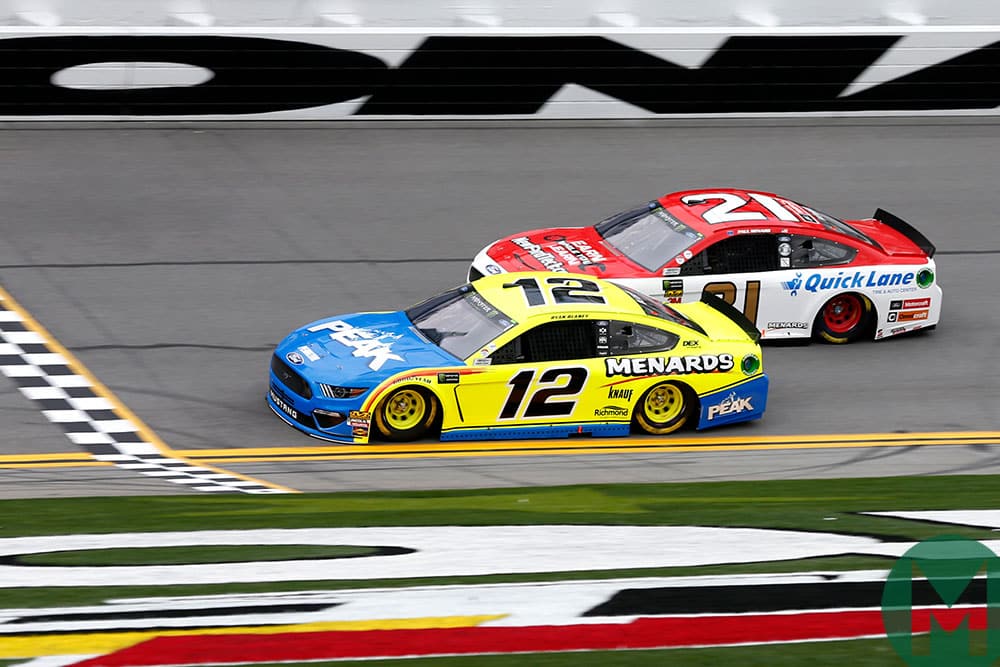 You wouldn't win a medal for identifying differences between Formula 1 and NASCAR. But Ford's NASCAR aerodynamic supervisor Tommy Joseph tells us that things are much more similar than you might think. And he should know, having two years ago moved to the American stock car series after an extended spell as an F1 engineer.
"There was quite a bit of carryover from F1 to NASCAR," Joseph explains. "Even I didn't know how much technology there was in NASCAR before I started working there.
"A lot of that was because F1 was a technically minded sport and people talk about that technology a lot; NASCAR isn't seen like that.
"People watch it for the racing and maybe even the crashes, but the fans don't see the tech. It is there, though. You can tell by the race results that the best drivers with the best car tend to win – much like F1.
"Last season they were talking about the big three drivers [Martin Truex Jr, Kevin Harvick and Kyle Busch] and they're not just there because of driver skill – they're driving good cars as well. It's just not talked about in NASCAR as much as it is in F1."
Even I didn't know how much technology there was in NASCAR before I started working there
Joseph's F1 CV started early, from when he undertook a master's degree at Southampton University.
"Every F1 team apart from Ferrari used that wind tunnel in the 1980s before they decided to build their own," he says.
"During my time there, I took up a project with BAR Honda to build a land speed record car. That was my first experience working with an F1 team and my first deep dive with F1-spec CFD [computational fluid dynamics] and wind tunnel testing."
After that Joseph worked for Williams from 2006 until '11, Sauber in 2011-12 and then Red Bull as Peter Prodromou picked him up from Sauber.
"There was a step up in resources from Sauber to Red Bull and Prodromou and Adrian Newey were the best of the best when it came to aerodynamicists," Joseph explains.
"We had a mission control room as there was a limit of 65 personnel allowed at the track, so we worked remotely sometimes communicating with the engineers at the track, processing gigabytes and gigabytes of data from the thousands of sensors attached to the cars."
Then in early 2017 Joseph made his NASCAR switch, to Ford and working on the Mustang body that has just debuted as the successor to the Fusion.
"Engineering levels in NASCAR are always increasing – you can always look back after a year and it'll look primitive," Joseph continues. "In NASCAR, and for some time in F1, people were doing things by trial and error but that takes time and it's not as predictable.
"A better way to do any time of product development is through data driven engineering like wind tunnel testing and CFD testing."
---
More: NASCAR's controversial Cup champion
---
There are differences between NASCAR and F1 though. The main problem with NASCAR CFD testing is that simulating 40 cars on track is much more difficult than simulating a couple of F1 cars. So while Toyota may benefit from having recent F1 experience, the carryover in technology doesn't apply completely.
"It could be an advantage for Toyota to have more recent F1 experience but CFD is very complex," explains Joseph, "because unlike stress analysis and other things that rely on equations, CFD has a model and it's down to computational expenses.
"There's guesswork and a lot of analysis that goes on.
"If you take a normal F1 track, you have 20 cars running over 5km whereas in NASCAR you have 40 cars and the track is less than half the length of a standard F1 track. So the cars per unit distance can be four times higher, and so the behaviour of the car in another car's wake is more important. And we also have banking and walls to deal with."
So in some ways, it's more complex to model fluid dynamics with stock cars, but with fewer wings and aerodynamic components on the stock cars themselves, F1 and NASCAR are just as complex as each other.
And while you may think that stock cars are all the same Joseph is quick to correct that, at least when it comes to the top-tier Cup Series.
"NASCAR is definitely not a spec series," he says.
"At Ford we're not interested in a spec series. We want things to be different between the cars and there is enough tolerance in the rules to allow for differentiation and different ideas. In NASCAR, especially recently, there are OEM prescribed bodies but the tolerances can allow teams to work with the body."
NASCAR is just like F1 in that regard.
"If you look at the body with the Hawkeye optical scanning system [that NASCAR uses to make sure there are no rules infringments] there's a window of opportunity for teams to make changes.
"And it takes some time to notice but if you look at the car close enough you can see areas that are pushed or pulled or moved one way or the other. Certainly on TV or far away they look the same but then again, zoomed out, in F1 the cars look the same.
"If you look closer you see curvature on the endplates and stuff. A lot of people do drawings or diagrams to illustrate those differences but you could do the same for NASCAR as well."
The big differences, of course, are obvious. And one of those is the budget.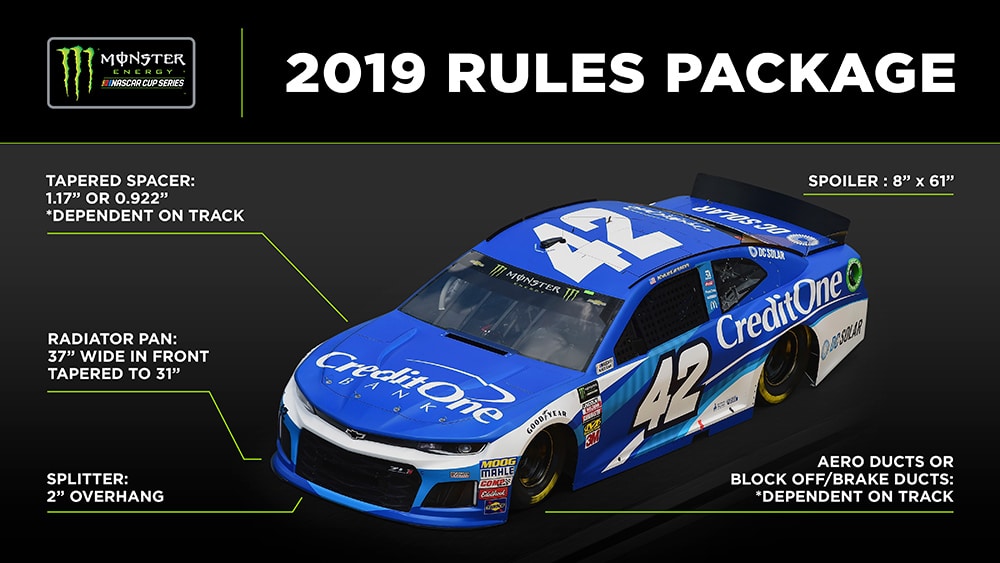 "Our budget is definitely smaller [than those of F1 teams]," explains Joseph.
"One of our views about NASCAR is that it gives a great return and it markets our cars to our audience and we can develop techniques to bring back to the production car.
"The budget is lower but that's a complaint that OEMs are having about F1 and that's a major reason we don't race there anymore," he adds.
And the tools that Joseph and his team have to model CFD are used in the World Rally Championship, Australian Supercars, the NHRA drag racing Mustang and other motor sport – as well as the road cars themselves. That's a return on investment that F1 can't boast.
How both series aim to improve overtaking
Both series are undertaking rule changes for the 2019 season in an attempt to improve the spectacle, with F1 making front wings simpler to reduce outwash and therefore wake, making it easier for cars to overtake.
NASCAR is also changing the aerodynamics of its stock cars, increasing the height of the rear spoiler and reducing power output among other things to improve – you guessed it – overtaking.
"The rule changes for 2019 bring an increase in downforce with much taller rear spoilers and a much bigger front splitter as well as design changes on the right-hand side, and all of those things produce more downforce," says Joseph.
By coincidence, Ford has a new car for 2019 – the Mustang – that it hopes will contend effectively with the likes of Toyota's Camry and the Chevrolet Camaro ZL1.
Early signs are promising if the Daytona 500 is anything to go by, as Joey Logano in the new Mustang took fourth place in the race behind the Toyotas of Denny Hamlin, Kyle Busch and Erik Jones. But that's restrictor plate racing, and in the following races starting with next weekend's bout at Atlanta, cars will sport the 2019 rules package.
That's when we might see the fruits of Ford's three-year effort in constructing the NASCAR Cup Series Mustang.
As for the rules changes themselves, the jury is out on whether a huge decrease in power – from around 850hp to 550hp at most tracks – is the way to improve the spectacle.
While F1 manufacturers were boasting about reaching the 1000hp mark with their power units last year, stock cars will be slower this season.
Perhaps hybrids are the way forward, then. At least, Ford boss Mark Rushbrook seems to think so.
---
More: Ask Roger Penske
---