Jim Clark: Nigel Roebuck's Legends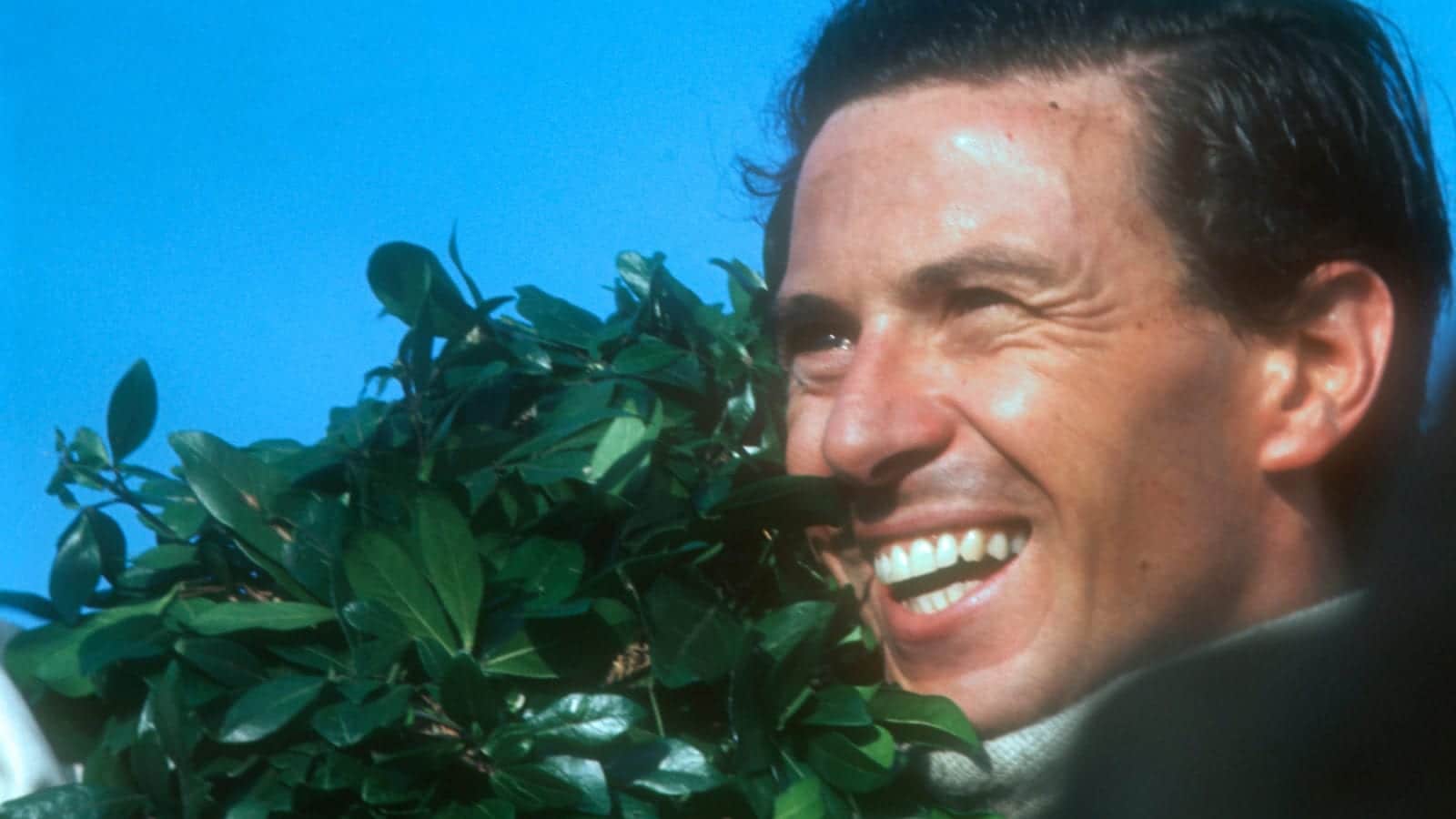 With some astonishment, I realised the other day that 40 years have gone since Jim Clark and Colin Chapman began a revolution at Indianapolis, and that 35 years have passed since that awful Sunday when Jimmy was killed.
It came to me as I watched one of my Dick Wallen videos. An ace with a camera, Wallen filmed countless American races, from Langhorne to Trenton to Salem, and thus there exists a record of how oval racing – on pavement or dirt – was back then.
I hadn't watched this particular tape for some time. After footage of the 1963 100-miler at the notorious Langhorne in Pennsylvania where Jim Hurtubise took the pole, Bobby Marshman led, A J Foyt won, and one Colby Scroggin lost his steering and T-boned the Pace Car – action moved on to another 100-miler on dirt, at Springfield, Illinois.
Of particular interest is footage from before the start. Marshman is standing by his championship dirt car, talking to a stranger in this paddock, Dan Gurney – and sitting in the car, playing with the wheel, is J Clark. We can't hear what is being said, unfortunately, but Marshman and Gurney are in hysterics as Jimmy chats away, making looping up and down movements with his head to indicate how he suspects his afternoon would end were he to race one of these things.
This was Saturday, 17 August, 1963, a USAC Championship race, and Clark was in the States for another such at the paved Milwaukee Mile the following day. Whether he and Gurney had driven the 300 miles to Springfield or hopped in a light aircraft, I have no idea, but I find tremendously appealing the fact that he was drawn there by pure love of racing, by curiosity, by a desire to see something new.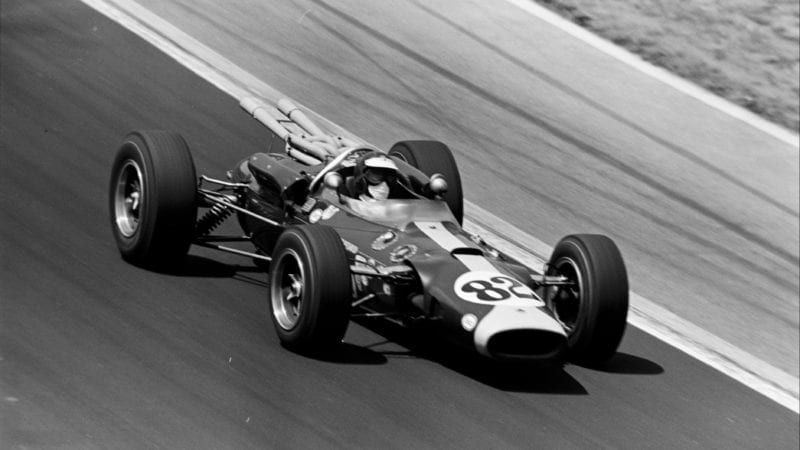 (On the Friday evening before the Indianapolis GP is either the Hoosier 100, at the Indiana State Fairgrounds, a dirt mile, or a USAC midget show at the Indianapolis Raceway Park. Quite a lot of folk from the F1 paddock are to be seen there, but I have yet to spot one of the drivers.)
Back to Springfield 1963: Ward beat Foyt, and the next day AJ was second again – this time in a roadster, behind Clark, whose Lotus-Ford started from pole and led consummately throughout. It was Jimmy's first win in the car. A few weeks earlier, he had controversially come second in the Indianapolis 500, beaten by Pamelli Jones, due to a certain ignorance of the Brickyard rule book and a chunk of Hoosier Establishment prejudice.
Still, he'd gained everyone's respect, not least because he didn't make a fuss. In the late laps Parnelli's roadster had been dropping oil, and Clark's Lotus, then the fastest car in the race, fell back on the slick surface. But while Eddie Sachs, who crashed on the oil, got into a fight with PJ afterwards, Jimmy kept his peace. Two years later he ran away with the 500 – and Parnelli was second. That, in the mind of Clark, was the right response.
Jabby Crombac, a close friend of Jimmy, attended every Indy 500 he was involved in, although he did not see him win at Milwaukee that first year. When I mentioned the dirt car incident, Crombac was not surprised.
"I remember when we were over for Indy the second time, in '64, that we all piled into Jimmy's hire car one evening and went off to Sun Valley, for the Little 500. This was an unbelievable event: a quarter-mile track, 500 laps, with 33 starters, so the guy on the front row was in the exhaust pipe of the guy at the back! And I remember in the race that Jimmy was up on his feet, cheering – he was so excited by it! He always wanted to drive a sprint car or a midget."
Crombac has always rightly contended that Clark's ability to win races in all types of car was proof of his true genius – and nowhere was this seen to greater advantage than in America. But he remembers that initially Jimmy was a little unsettled by Indianapolis. "In the first year, 1963, he didn't know what to make of it. Remember that he was from a small village in Scotland – it would amaze him to walk into Gasoline Alley and have people come up and talk to him, without having been introduced first! Americans are naturally friendly, but for Jimmy it came as a bit of a shock.
"And the rookie test made him very angry – he had almost won the world championship the year before, and he was offended by having to drive so many laps at 100mph, then 110…
"They were very friendly at Indy – but on the other hand they were trying everything to f*** Team Lotus! In qualifying, for example, there are certain procedures when you line up in the pits, and they made sure Lotus didn't know these properly: 'Sorry, man, you got it wrong we're ahead of you now.' That kind of thing. In '63, it was very much an 'us and them' thing, because they recognised that the Lotus was a threat to their roadsters, and within Team Lotus there was a general air of, 'We're crusading against these guys'.
"Jimmy was very much a part of that, but after the first year he started liking Indy more and more, because he got familiar with it. Eventually he came to love it. By then he'd got used to the States, to the way of thinking, and became much more amenable to it And he'd also realised that, financially, it was a very good deal!"
Particularly in 1965, for Clark dominated the 500 that year, and won for himself and Lotus a total of $166,621 – at a time when a grand prix victory paid around $5000!
"Jimmy desperately wanted to win Indy," Crombac says. "He was not thrilled by driving there, as he was at the Nüburgring, for example, but he never bad-mouthed it, and he rated some of the drivers very highly. Indy was a challenge, and he always revelled in a challenge. He could have won it in both 1963 and '64, and in '65 the atmosphere was even tenser because there was the feeling that, 'This time we must do it'.
"Doing Indy that year meant missing Monaco, which clashed, but he was prepared to sacrifice it. Jimmy realised that, worldwide, Indy was probably more important than a world championship. In those days, a world championship title didn't get into newspapers all over the world, but a victory at Indy did. He had never won at Monaco, of course, but he thought there was plenty of time for that. Of course, he didn't know his life would shortly come to an end."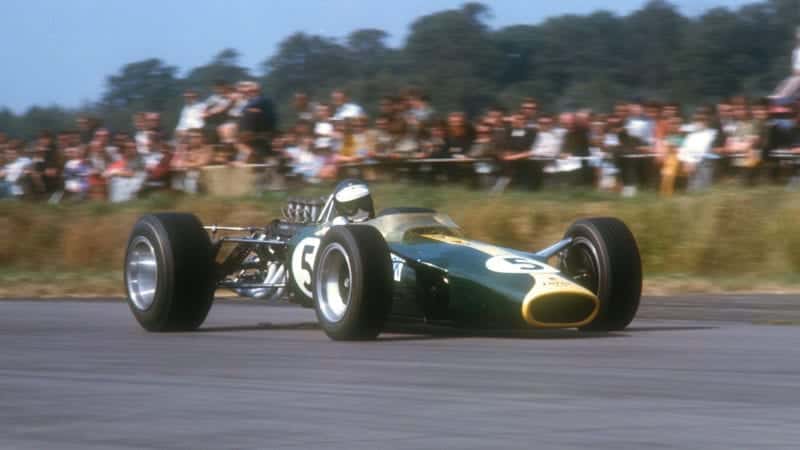 Jackie Stewart once told me he had never come across anyone who loved cars more than Clark, but Crombac puts it another way: "No, I don't think he loved cars he loved driving."
So much did Clark adore driving that in 1967, living in Parisian tax exile, he commuted to the European grands prix in his yellow Elan. Stewart rolls his eyes at the memories of his friend.
"Jimmy never could resist driving anything that interested him – he'd drive things I wouldn't even sit in! We'd do the Tasman Series over the winter, and you'd find all kinds of weird specials down there, like the Lycoming Special. He had to drive it, just couldn't help himself, and it amazed me that Chapman let him do these things."
The final grand prix of 1967 was in Mexico, and Clark won it in the Lotus 49. But while the rest of the drivers promptly returned to Europe, relieved the season was over, Jimmy went next weekend to drive a Ford in the NASCAR race at Rockingham "It was something new," he said. "How could! turn it down?" In a field of 44, he was running 12th when the engine failed.
A month later he was at Riverside for the final USAC race of the season. Lotus was not involved, so Clark accepted a ride in a Vollstedt-Ford, hardly the hot ticket, but in Jimmy's hands miraculously a competitive proposition. He qualified second to Gurney's Eagle, pressured Dan into a mistake, moved into the lead, and then missed a shift, bending a valve.
"A great day, that," Gurney beams. "I won the race – and had a reminder that even he could make a mistake! That kind of gave you heart.
"I think he and I were very similar, in that we liked to drive all kinds of cars. When I think of Rouen in '64, for example, I remember two things: that I won the French Grand Prix, and that in practice Jimmy went out in Patrick Lindsay's ERA, which was there for the vintage race. He'd never driven anything like that but, as I recall, he was quicker than Lindsay!"
"The truth was that, in a car, he liked to show off a bit," Stewart says, "and that was in total contrast to his normal character. He dreaded making speeches, and you had to push him into the VIP lounge at an airport"
Hardly a wonder that he is so well remembered.